PM defends gay marriage
David Cameron has defended his plan to legalise gay marriage saying 'I'm a great supporter of marriage'. MPs have backed the plan by 400 votes to 175 in the Commons yesterday.
Responding to last night's vote on gay marriage at Prime Minister's Questions, David Cameron said:
I'm a marriage man. I'm a great supporter of marriage. I want to promote marriage, to defend marriage, encourage marriage. And the great thing about last night's vote is that two gay people who love each other will now be able to get married and I think that's an important advance.
After MPs backed plan to legalise gay marriage by 400 votes to 175 on Tuesday, Virgin Holidays capitalised on the opportunity to advertise its travel offers by tweeting this picture: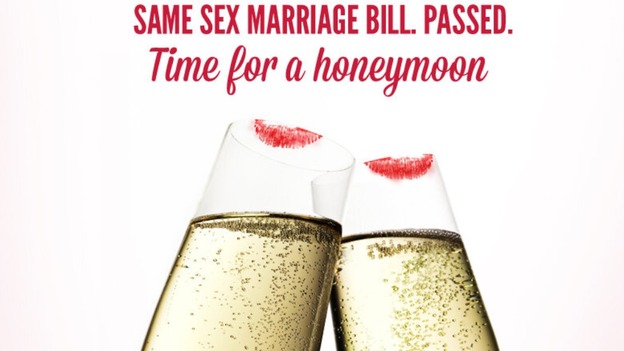 Advertisement
Culture Secretary Maria Miller has suggested the Conservative rebellion on plans for gay marriage came as no surprise to the Government.
Tonight's Conservative rebellion on gay marriage shows the Prime Minister's political strategy to rebrand or redefine his party was "inappropriate", according to a leading Tory MP.
Ministerial aide David Burrowes, one of the leading opponents of the plans to legalise same-sex marriage, said it was "unprecedented" for more than half the party to fail to support a Government Bill.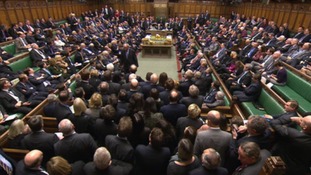 Landmark plans to legalise gay marriage got the green light in the Commons, despite a majority of Tories failing to support the Government.
Read the full story
Labour MP Chris Bryant, who has sparred frequently with David Cameron in the Commons, has welcomed a rare union with the Prime Minister on the issue of gay marriage.
I have had my differences with Mr Cameron but I'm glad we had the chance to vote on this today. Glad some Tories have moved since 2004.
Advertisement
The Liberal Democrat MP Sarah Teather has blogged about why she voted against the same-sex marriage bill. She was one of only four MPs in her party to do so.
She said it was "one of the most difficult decisions" she has ever taken and that she was torn between her support for liberal gay rights and her commitment to Catholicism.
I believe that the link between family life and marriage is important. We know that permanent stable loving relationships between parents are very important for children.

Such relationships make it much easier to offer the kind of consistent loving parenting that enables children to grow into healthy happy adults able to play their part in society.

I recognise that this kind of stability can exist outside of marriage, but the act of giving and receiving vows in front of others and making a commitment for life is an aid to stability.
– sarah teather mp
The Coronation Street actor Antony Cotton has tweeted about today's vote:
No matter who you are and who you love, we are all equal. #equalmarriage
David Cameron has split the Conservative Party in half on gay marriage and failed to win a majority of Tory MPs. Labour win.
Load more updates
Back to top