IFS warns over public sector
The Institute for Fiscal Studies has warned that government borrowing will rise, public sector spending cuts will increase. The OECD has also said the UK must do more to boost growth and tackle inequality, which it says are key to economic recovery.
The OECD said the UK economy may need more stimulus and a further round of quantitative easing may be necessary.
The OECD said UK growth remained flat, and is only expected to "pick up momentum" towards the end of next year. The Paris-based economic think tank forecasts that the UK economy will grow just 0.9% this year, after shrinking 0.1% in 2012.
Angel Gurría, the OECD's secretary general, said a "particularly bright spot" in the UK was employment figures.
The Organisation for Economic Co-operation and Development said the UK must do more to boost growth and tackle inequality, which it says are key to the economic recovery.
Speaking at a press conference with George Osborne, Angel Gurría, the OECD's secretary general again gave the Chancellor broad support:
Fiscal consolidation needs to be embedded in a comprehensive package that also promotes growth. Further structural reforms are key to a stronger, more inclusive and prosperous Britain.
In its annual report on the state of the economy the OECD said:
Fairness is important to ensure public support for the necessary fiscal consolidation effort, which will need to be sustained over a protracted period.

Restraint on spending on public services, imposed by the budget situation, will hit the poor hardest, as their consumption of public services is higher relative to their income than for the more affluent and they have less access to alternative services.
Advertisement
Rachel Reeves MP, Labour's Shadow Chief Secretary to the Treasury said the Green Budget, released today by the IFS, shows the government's plan has failed.
The IFS report shows how badly the Government's plan has failed. By choking off the recovery the Chancellor is now borrowing billions more than he planned as the costs of economic failure mount.

The IFS also confirms that changes this April – including a tax giveaway to millionaires while tax credits are cut for millions of working families – are regressive and will see the richest tenth gain most while the bottom 50 per cent lose.
This kind of trickle-down economics just isn't going to work. After two and a half years of stagnation it's time we finally had a plan for jobs and growth to kick-start this flatlining economy. The longer this economic failure continues the longer families and businesses will pay the price."
Paul John, director of the Institute for Fiscal Studies, said the effects of further spending cuts on government departments already having their budgets slashed would be "hard to contemplate" and it was more likely that "protected" departments would be hit in the next parliament.
The effects of concentrating all those cuts on currently unprotected areas of public service spending look hard to contemplate.
A more likely scenario perhaps is that other choices will be made after the next election.

Taxes could rise, hitherto protected elements of public spending, like the NHS and pensions, could be hit, or the date at which we reach fiscal balance will be pushed further out.
The Institute for Fiscal Studies said the Chancellor will borrow £64 billion more than intended during this parliament.
The increased figures is due to Osborne's original borrowing predictions being based on a more optimistic economic outlook. The IFS explain:
He will be borrowing £64 billion more in 2014-15 than he planned just two years ago. This is because he is choosing not to offset the forecast deterioration of £65 billion driven by a worse economic outlook. Announced policy measures will reduce borrowing by just £1 billion. As a result he is on course to miss his own target of debt falling in 2015.
Indeed he is now pursuing a looser policy than that permitted by the last government's Fiscal Responsibility Act. Had he not repealed that legislation he would have been obliged to cut spending or increase taxes by around an additional £8 billion next year.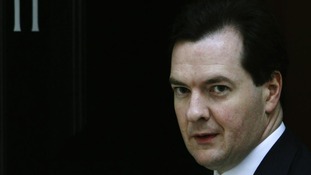 The independent Institute for Fiscal Studies warns of more borrowing, more public sector jobs losses, and more cuts to public spending.
Read the full story
Advertisement
The IFS has predicted that public sector employment will fall by 1.2 million by 2017-2018, should the current spending cuts continue. This figure is higher than previously predicted:
Departments are planning to cut pay bills quicker than other forms of spending and so far they are doing it through reducing employment much more than through real pay cuts.
This means that public sector jobs look likely to be cut faster than implied by Office for Budget Responsibility forecasts. If departments continue to cut their pay bills beyond 2014-15 at the rate they are currently planning then public sector employment would fall by 1.2 million by 2017-8, rather than by 900,000 as the OBR forecasts.
The Institute for Fiscal Studies (IFS) has released its Green Budget, outlining the impact of the government's budget plans in the coming years.
Based on its analysis, public service spending in "unprotected" Whitehall departments (health, schools and overseas budget are "protected") could fall by a third between 2010-2011 and 2017-2018. This figure could even reach 35%:
Current spending plans imply an average cut in public service spending of one third across unprotected Whitehall departments, i.e. all excluding health, schools and overseas aid, by 2017–18. If the defence equipment budget were to be added to the list of protected areas then spending in unprotected areas would need to fall by around 35%.
Back to top