EU budget deal agreed
European leaders have reached a deal on a €908 billion (£773 billion) EU budget for the next seven years, at a summit in Brussels.
European leaders have reached a deal on a long-term budget for the European Union, EU Council president Herman Van Rompuy has said.
David Cameron had an all night 'ding-dong' effectively with French President Francois Hollande and at the end of it, the key to his win, if it turns out to be that, is that he managed to persuade Germany's Angela Merkel to come down on his side.
The French press have taken this very badly, they're used to Paris and Berlin running things in the EU, now they see London and Berlin doing it as they perceive it.
They don't like it, it's thought the French may still be causing some difficulties about a final agreement and it may be some time yet before we know if there is one.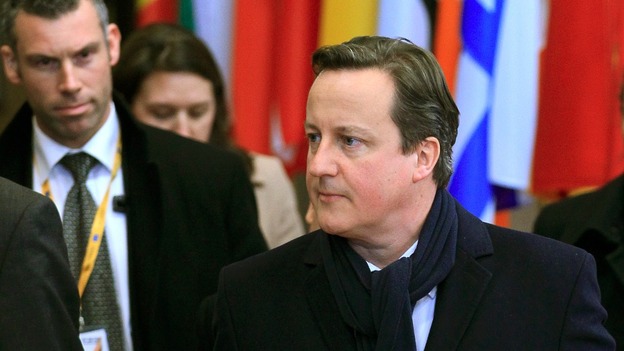 Advertisement
EU leaders are edging closer to a final agreement on a budget deal this morning after all-night talks in Brussels. David Cameron wants a either a freeze, or cut in European spending for the next seven years.
The opening bid amounted to a budget proposal of 913 billion euros, or £778 billion for 2014-2020
Twelve hours of discussions produced a new figure early this morning of an estimated 908 billion euros, or £773 billion
Yesterday UK government sources insisted David Cameron wanted to see "tens of billions" of cuts on the opening bid
UKIP leader Nigel Farage has told ITV Daybreak that Britain cannot afford to be a part of the European Union, when finances back at home are "stretched".
Reuters has reported that EU leaders have agreed the broad lines of a deal of a spending budget of €960 billion for 2014-2020.
Yesterday, David Cameron had said that he would veto a deal unless the numbers "come down".
EU leaders have agreed the broad lines of a deal on the bloc's budget for 2014-202 that would fix total EU spending at 960 billion euros over the seven-year period, Reuters reports.
"We feel pretty confident that we have the framework for a deal," said one EU official told said on condition of anonymity.
"The deal is not completely finalised, but we feel sure it will be done today."
Leaders will continue negotiating in the expectation that they can sign off on a final agreement later today, the official added.
David Cameron is continuing his battle in Brussels today to try and reduce the amount of money Britain contributes to the European Union.
The Prime Minister says the EU budget should reflect the austerity cuts in place across Europe.
ITV Daybreak spoke to members of the public to see what they thought about Britain's place in the EU.
Advertisement
EU leaders have agreed a broad framework for a deal on 2014-2020 budget, officials confident that full agreement can be completed on today, Reuters reports.
The European Parliament President has warned that if EU leaders try to slash the proposed budget, it would be rejected by MEPs.
Martin Schulz said: "We, the representatives of the people, are willing to accept savings. But the further you depart (from the original figure on the table), the more likely it is that your decision will be rejected in the European Parliament.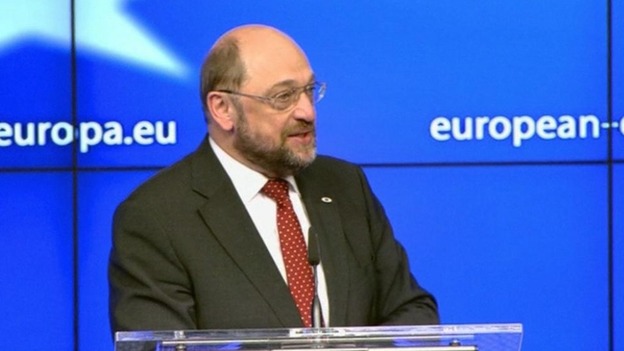 In a dig at David Cameron, who has called for budget cuts, Mr Schulz pointed out that the seven-year budget being negotiated will cover "a time span during which at least one member state has said that it may leave the European Union".
That was just one reason, he said, not to give in to British Government demands to freeze spending until 2020 at 2011.
"We are talking about massive real cuts. I don't know if this can be described as realistic financial planning", he added
Deep splits between member states over the next EU budget have delayed talks at tonight's summit in Brussels.
Arriving for his first round of meetings on foot, David Cameron said won't accept any budget proposal unless it cuts EU spending.
ITV News' Europe Editor James Mates reports from Brussels:
European Council President Herman Van Rompuy has chosen not to present a new budget compromise to EU leaders at a summit after sharp splits emerged between key nations, EU diplomats have told Reuters.
"There will be no new proposals [from Van Rompuy]," one source said on condition of anonymity. The impasse could mean that no new proposal is presented at all on the first night of the two-day summit, a second source said.
Van Rompuy had been expected to present a revised budget plan to leaders this afternoon, but that was delayed by more than five hours as meetings among EU leaders showed deep differences in their positions.
Load more updates
Back to top