Horsemeat scandal health fears
Ministers are facing calls from MPs for more testing of processed meat amid fears that beef products contaminated with horse meat could contain substances harmful to humans.
Food Standards Agency (FSA) Chief Executive Catherine Brown has drawn vets and horse owners into the conspiracy behind horsemeat containing bute getting into the food chain.
Ms Brown highlighted that both had to sign horse passports if an animal was treated with the drug to ensure they were not sold on for human consumption.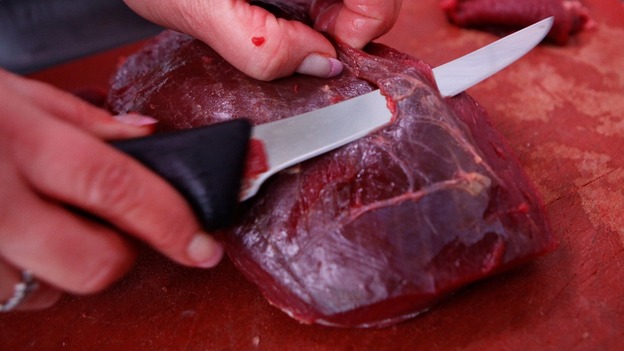 "If both these people have done the right thing, horses with bute in don't make their way into the food chain," she said. "Someone has always broken the rules".
Previously the FSA said testing for bute is a "good indicator" of whether an animal was legally slaughtered.
When asked whether it would be fair to assume that six percent of the 9,000 horse carcasses she said were exported from Britain every year - which amounts to 540 animals - contained bute, Ms Brown replied, "That seems as reasonable a basis for making an estimate as any other".
Agriculture Minister David Heath told the Commons that eight horse carcasses from the UK tested positive for the drug "bute" .
Although Mr Heath told MPs that three of those "may" have entered the human food chain in France, he later confirmed the figure was six.
A total of 206 horse carcasses were tested by the Food Standards Agency.
Advertisement
After squabbling at first about which country was to blame, EU member nations promised action tonight to tackle the horsemeat scandal.
There will be random testing across the European Union in an attempt to crackdown on any illegal trading. But those tests won't start for at least another fortnight.
Europe Correspondent Emma Murphy reports: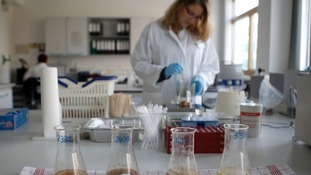 The EU is urging member states to carry out tens of thousands of tests in the wake of the horsemeat scandal - but who will foot the bill?
Read the full story
A major priority is closer co-ordination between us and Europol is the appropriate agency because it responds to requests from nation states.

It is quite clear that we also need a much more effective and rapid transfer of information on this, and that was agreed.
What was clear (at the meeting) was the absolute unity of purpose of the member states to get to the bottom of this. We do not know exactly what has gone wrong. Investigations are ongoing. We do not yet know detail of any of these incidents. We've not got to bottom of any of them.

This is a criminal conspiracy to defraud the public. It looks like it has gone beyond incompetence, and now looks as if it is criminal.
– Owen Paterson, Environment Secretary
Environment Secretary Owen Paterson emerged from talks to announce a three-month, EU-wide DNA testing regime to trace horsemeat and to check processed meat on sale for "bute" - the powerful horse anti-inflammatory which could be a health risk if passed on to humans:
The idea is to launch the regime of checks in March with 2,500 random tests on processed food for horse DNA and 4,000 for bute. The results will be declared on April 15
The scale of DNA tests for April and May will be decided later
Ministers also agreed on tightening co-ordination between national authorities, using Europol, the Hague-based EU law enforcement agency whose normal remit is create a "safer Europe" by helping member states "in their fight against serious international crime and terrorism"
Advertisement
Some processed food products have been recalled from stores in Norway. Findus is among producers recalling all such possible products. Officials say consumers have "nothing to fear", with the concern revolving around the mislabelling of food.
Environment Secretary Owen Paterson is in Brussels this evening, for emergency talks over the horsemeat food-labelling scandal.
Meanwhile, in the UK, one of the meat plants which was implicated in the crisis denied it had done anything wrong, despite allegations by the Food Standards Agency it had.
Consumer Editor, Chris Choi reports:
EU Commissioner proposing tests in all member states for horsemeat. Three months of tests for horsemeat across the EU will be published in April. 4,000 tests over 30 days will look for bute.
Swiss supermarket chain Coop has found horsemeat in its own-brand lasagne, which was supplied by Comigel - the French food supplier at the heart of the scandal in Britain.
Growing revelations about the use of horsemeat in products labelled beef have raised questions about the safety of the European food supply chain and prompted governments to send out a European Union-wide alert.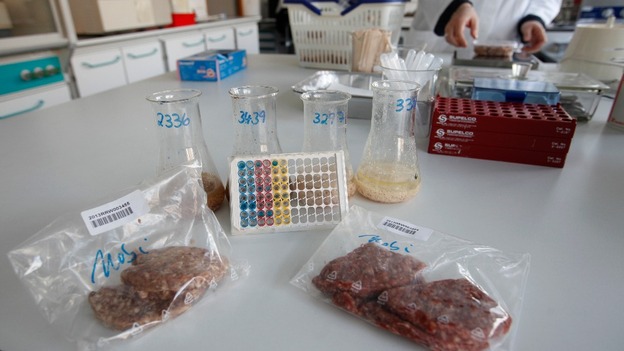 Switzerland's Coop had already withdrawn the suspect lasagne from its freezers earlier in the week for tests, which confirmed today the products contained horse meat.
The news comes as Germany announced it was investigating a consignment of beef lasagne sent from Luxembourg to an unnamed retailer in North Rhine-Westphalia on suspicion it might contain horsemeat.
Load more updates
Back to top