Pope thankful for 'prayers'
The Pope has made his first appearance at St Peter's Square window since his resignation announcement and thanked the faithful for their "prayers and support."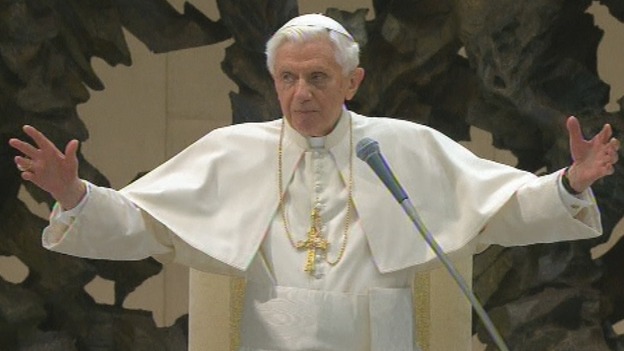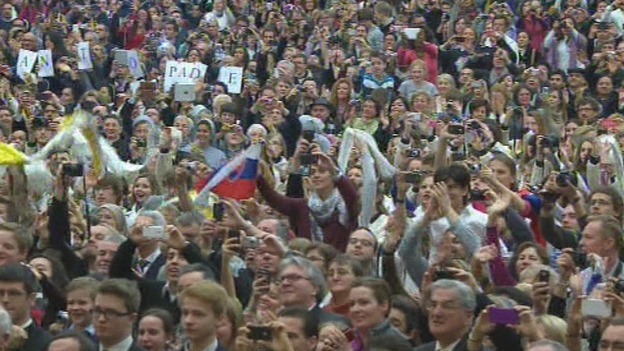 Cardinal Arinze has described being in the room when Pope Benedict XVI made his shock resignation, yesterday. He said the Cardinals were all very surprised. He told the Catholic News Service:
"He said, please sit down, I have something to say, important for the Church. So it was for us, a surprise, like thunder that gives no notice it is coming. As he went on, I began to fear what was coming. There was silent. We all looked at each other, in silence and surprise. "
Cardinal Francis Arinze is among the favourites to replace Benedict.
Advertisement
The Vatican has insisted that Pope Benedict XVI will have no influence on who succeeds him as leader of the Roman Catholic Church.
One of the Cardinals tipped as favourite to become the next Pope, Cardinal Peter Turkson, said he was not aspiring towards the role. Europe Editor James Mates reports.
Read: The runners and riders to replace Pope Benedict XVI
More: 'First African Pope' favourite not 'lobbying for the job'
Gay rights campaigner Peter Tatchell said the shock resignation of Pope Benedict XVI provides a great opportunity for the Catholic Church to modernise, by allowing women priests and bishops, promoting contraception, and embracing equal rights for gay couples. Writing for MSN he said:
Having broken the tradition that a Pope is for life, millions of grassroots Catholics hope the new Pope will seize his moment to revise harsh Vatican policies that have caused so much harm, and which have left the papacy socially marooned and out of touch with the modern world.
Unless the new Pope makes significant changes in doctrine and articulates a new caring, compassionate Catholicism, his church will become increasingly out of step and irrelevant to modern life - as well as continuing to cause great misery to millions of people.
Cardinal Peter Turkson, one of favourites to replace Benedict XVI as the leader of the Roman Catholic Church, told ITV News he had not "even thought" about the possibility of becoming Pope. He said:
I've not even thought about it, not dreamed about it, not hoping for it, not aspiring towards it.

Every Cardinal is a candidate, but we don't have the option of lobbying for the job.
Asked whether he thought it was time for Pope from Africa he responded:
For me it has always been the time for a Pope from Africa. It just depends on the Cardinals and their choice.
A Vatican spokesman said Pope Benedict XVI has been wearing a pacemaker "for some time" but his health is generally good.
Advertisement
The shock resignation of Pope Benedict XVI has made headline news around the world.
Here's how the leading newspapers covered the first pontiff resignation in almost 600 years:
Ann Widdecombe, who has just been honoured for her work in politics by Pope Benedict, has told Daybreak that she was "very surprised" to hear Pope Benedict XVI had announced he was resigning.
She added that this could be a "great comfort to the church", as popes can choose to resign should they want, in stead of "struggling on to the end".
There are currently several papal contenders in the running to replace Pope Benedict XVI, but no obvious front-runner has come to light as yet.
It was an announcement that shook the Roman Catholic Church to its ancient foundations. The Pope has said he is giving up his role as leader of its one billion followers.
He even surprised a gathering of Cardinals in the Vatican - who were there for a different occasion.
Not for six centuries, has a Pope stepped down. Pope Benedict said illness and old age meant he could no longer fulfil his ministry.
ITV News Europe Editor James Mates reports from the Vatican:
A family from south London, who followed Pope Benedict XVI around the country during his visit to the UK, have reflected on his decision to resign today.
John Green, fundraising director of Catholic organisation Apostleship of the Sea, said that the 85-year-old Pope looked "tired", when he met him in November last year.
ITV News Special Correspondent Rageh Omaar reports:
Load more updates
Back to top