Nuclear test sanction threat
The United Nations says it "strongly condemns" North Korea's nuclear test. The United States is calling for an increase in sanctions against the communist state.
Following yesterday's nuclear test by North Korea, Foreign Office Minister Hugo Swire summoned the country's Ambassador.
In a statement he said:
I summoned North Korea's Ambassador today to stress in the strongest terms the UK's condemnation of yesterday's nuclear test.

This is a clear violation of UN Security Council Resolutions, and the UK supports the resolve of the UN to implement more stringent measures against the regime. Yesterday all fifteen members of the UN Security Council signed up to a statement condemning the latest act of hostility and its grave implications for international security. It is essential, as ever, that the international community is united in its approach to this situation and that we speak with one voice.
I call on the North Korean regime to act in the best interests of its people and to choose the path they really want. Amid reports of widespread hardship and human rights abuses, the priority must be the health and welfare of North Korean people.
A third nuclear test by the North Koreans has brought predictable condemnation from the United Nations and the Americans - but now even their traditional allies, the Chinese, are angry.
Tougher sanctions against the secretive state are now on the table after it defied existing UN resolutions.
China Correspondent Angus Walker reports:
Advertisement
US President Barack Obama has spoken to South Korean President Lee Myung-bak about North Korea's nuclear test and agreed to work with the UN Security Council to address it.
They agreed to work closely together, including at the United Nations Security Council, to seek a range of measures aimed at impeding North Korea's nuclear and ballistic missile programs and reducing the risk of proliferation.

President Obama unequivocally reaffirmed that the United States remains steadfast in its defense commitments to the Republic of Korea, including the extended deterrence offered by the US nuclear umbrella.
– White House statement
UN Secretary-General Ban Ki-moon has "strongly condemned" North Korea's nuclear test, branding it a "reckless act, which shows out right disregard for the repeated calls of the international community to refrain from further provocative measures."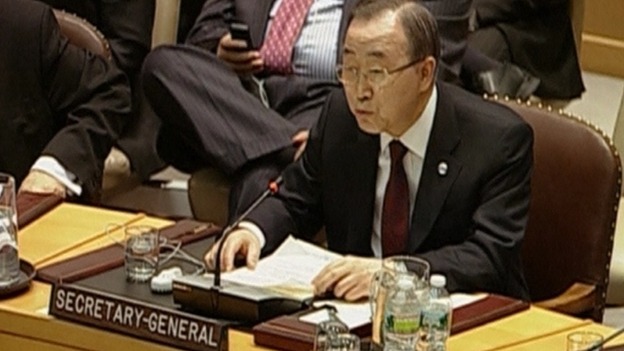 He added: "The test is a clear and grave violation of the relevant resolutions of the security council."
Susan Rice - the US representative at the UN - has said North Korea "does not and will not benefit from violating international law," following the country's nuclear weapons test.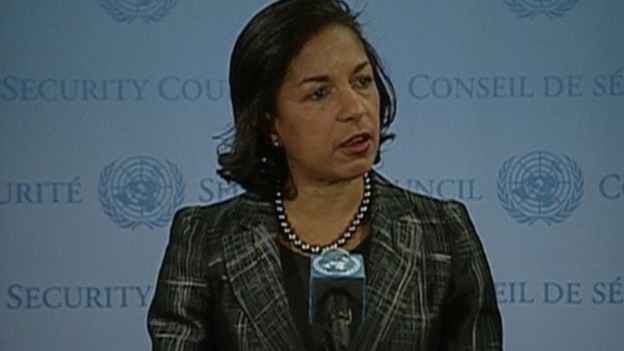 She said North Korea had "increasingly isolated and impoverished its people through its ill-advised pursuit of weapons of mass destruction."
She added that Washington and its allies intended to "augment the sanctions regime" already in place due to Pyongyang's 2006 and 2009 atomic tests.
Following a meeting of the UN Security Council, Kim Sung-Hwan - Minister of Foreign Affairs for South Korea - said council members "strongly condemned" North Korea and its nuclear weapons test, adding the country was a "clear threat to international peace and security".
Advertisement
US Secretary of Defence Leon Panetta on North Korea: "They represent a serious threat to the USA and we have to be prepared to deal with that."
In his speech later, Barack Obama will urge North Korea to stop the threats and will say their nuclear programme has done nothing to feed North Korean people.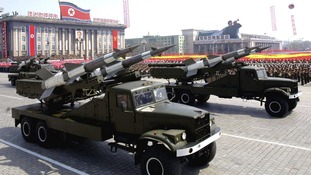 Welcome to a more dangerous world, welcome to a world with a new nuclear power and to a world where the global powers are threatened.
Read the full story
UN Security Council is meeting today on North Korea. UK calling for a robust response
Load more updates
Back to top