Pistorius is 'humbled and broken'
A preacher who prayed with Oscar Pistorius yesterday in a police cell has told ITV News he "saw a very humbled and broken young man." The Paralympian is in court tomorrow charged with the murder of girlfriend Reeva Steenkamp. He denies the charge.
Preacher Olga Booysen described Oscar Pistorius as a "very humbled and broken young man". She said she prayed with the Olympic and Paralympic hero last night, and the experience was "very devastating."
Oscar Pistorius will be in court in Pretoria tomorrow morning to seek bail after being charged with the premeditated murder of his girlfriend, Reeva Steenkamp.
The hearing will take place as the family of the 29-year-old law graduate and model gather for her funeral in her home town of Port Elizabeth. Africa Correspondent Rohit Kachroo reports:
Advertisement
A preacher has described praying with Oscar Pistorius for an hour yesterday, describing the athlete as 'humbled and broken'.
The preacher, Olga Booysen, said: "It was very devastating... I saw a very humbled and broken young man."
She said she prayed with Pistorius last night:
"For me it was very devastating and a very sad moment when I entered the cell."
See the interview on ITV News at Ten.
South African broadcaster eNCA has revealed new details from the night Reeva Steenkamp died in the home of her boyfriend, Olympic and Paralympic hero Oscar Pistorius.
CCTV footage from earlier in the evening shows Ms Steenkamp entering the property at 6:30pm, and neighbours reported hearing the couple argue, according to eNCA.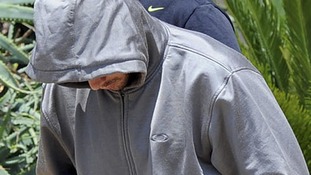 Pistorius will concentrate on defending himself against allegations that he murdered his model girlfriend on Valentine's morning.
Read the full story
Oscar Pistorius will spend a fourth night in custody and a day later he will go to court to apply for bail. The case against him, and his version of events, will be laid out in front of the court.
ITV News' Africa correspondent Rohit Kachroo reports:
Advertisement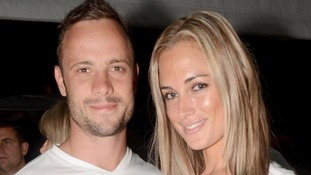 The South African press say the weapon is a key piece of police evidence, but Pistorius' family said the death is a 'tragic accident.'
Read the full story
Oscar Pistorius' agent made a brief statement to reporters after visiting the Olympic star at the Brooklyn Police Station in Pretoria. He confirmed he has cancelled all of the athlete's contracted upcoming races, and thanked the public for their many supportive messages. He said:
I have decided that following these tragic events that we have no option but to cancel all future races that Oscar Pistorius had been contracted to compete in, to allow Oscar to concentrate on the upcoming legal proceedings and to help and support all those involved as they try to come to terms with this very difficult and distressing situation.
Regarding sponsors and partners, I can confirm that at this point in time, all parties are supportive and their contractual commitments are maintained. They have said they are happy to let the legal process takes its course before making any change in their position.

On Oscar's behalf, we, as his management company, would like to formally thank the thousands of people who have sent supportive messages which have come from all over the world.
Oscar Pistorius' agent has spoken about his sponsors saying that 'all parties are supportive and contractual commitments will be maintained'.
But the agent added that he has cancelled all races the South African athlete was 'contracted to compete in'.
He said his key focus is defending the athlete against the serious charge.
Police in South Africa are reportedly investigating the discovery of a bloodied cricket bat in the home of Oscar Pistorius, according to media reports in South Africa.
South Africa's City Press said police are investigating a number of scenarios involving the bat, one of which being that Oscar Pistorius used it as a weapon to viciously beat his former girlfriend, Reeva Steenkamp.
Pistorius and his family 'strongly refute' the murder charge against him.
City Press said they spoke to three sources close to the investigation, who all ruled out the possibility that Pistorius could have mistaken Steenkamp for an intruder.
A police spokeswoman told the Guardian they could not explain how the claims had emerged, but did not deny them.
Load more updates
Back to top