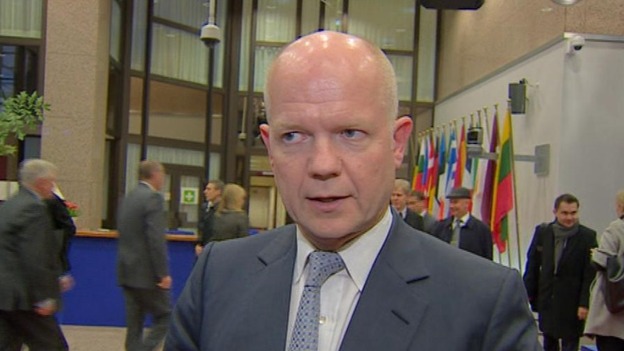 William Hague said the European Union have decided to amend the arms embargo to Syria to enable them to send more "technical assistance" to the Syrian opposition. Speaking from Brussels the Foreign Secretary said:
"It will allow us to supply a greater range of non-lethal support but also technical assistance to the Syrian opposition, to the National Coalition.
It will allow us to supply a greater range of equipment to help protect civilian life and also enable us to give assistance and advice we have been restricted from giving before."
Mr Hague also reiterated his condemnation for the human rights abuses perpetrated by the Syrian government. He said today's report by the UN painted a "devastating picture" of suffering:
"The report by the UN Commission of Inquiry on Syria paints a devastating picture of human rights abuses and suffering. Our thoughts are with all the Syrian people who continue to endure this terrible situation.
The Commission's report confirms that the Assad regime bears overwhelming responsibility for the situation in Syria, and for the worst human rights violations and abuses."