IVF age 'should increase to 42'
The health watchdog says the age limit for IVF treatment in England and Wales should be raised from 39 to 42.
The government's health rationing watchdog, NICE, says the age limit for IVF treatment in England and Wales should be raised from 39 to 42.
NICE says is has been able to change its guidance because of a number of key medical advances.
ITV News Medical Editor Lawrence McGinty reports:
The government's health rationing watchdog, NICE, have released a number of new guidelines on treatment for those suffering from infertility.
Under the new recommendations women will be offered IVF treatment earlier, older women will be able to have treatment up until the age of 42, and gay couples will also be entitled.
Read: What the new IVF guidelines could mean for patients
The plans are intended to end the 'postcode lottery' but health experts are worried that they will not be implemented by local health authorities. Medical Editor Lawrence McGinty reports.
Advertisement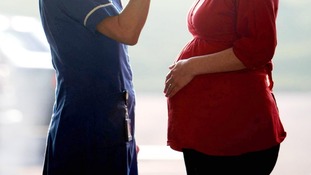 The guidelines by the government's health advisory board, NICE, mean more couples are eligible for treatment.
Read the full story
Today's new fertility treatment guidelines should make three IVF cycles available to couples unable to conceive as standard, across the NHS, thus ending the so-called 'postcode lottery'.
Professor Tim Child from the Oxford Fertility Centre said the new recommendations, if implemented properly by NHS providers, will improve access to treatment and make it more fair.
More couples struggling to conceive are to get IVF under new guidelines finalised today.
The age at which women can have treatment on the NHS will be raised from the current age limit of 39 to 42.
Mandy Parry spent £60,000 to have her daughter Violet, after seven cycles of IVF.
She told Daybreak that the experience of infertility is "so devastating", women needed all the help they can get.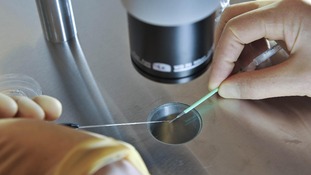 Today's fertility treatment guidelines offer hope to couples unable to conceive, but they need to be properly implemented, across the NHS.
Read the full story
Advertisement
Chief Executive of NICE, Sir Andrew Dillon, says including same-sex couples in the IVF guidelines for the first time "reflects the right thing to do".
The National Infertility Awareness Campaign warned that as NICE guidelines are not mandatory, fears still remained over local implementation.
By updating the fertility guideline and extending the range of people it is recommending receive treatment, NICE clearly understands the impact which infertility has on people.

And we must be clear that infertility is a medical condition that causes significant distress for those trying to have a baby and has a devastating impact on people's lives.
The current 'postcode lottery' approach to the treatment of infertility here has gone on for far too long and it is vital that the Government supports the measures in the updated guideline and communicates the need to implement them to those who commission fertility services in the NHS.

We know the current system leaves many people unable to access NHS treatment and we need reassurance about the future of NHS fertility treatment as we move towards GP commissioning in 2013.
– Clare Lewis-Jones, Chairwoman of National Infertility Awareness Campaign
Dr Clare Searle, who works as a GP says the guidelines from NICE are not about addressing social change, but about taking advantage of clinical effectiveness.
The guidelines from NICE also recommend the following:
IVF treatment for eligible women who have been unable to conceive after two years of regular intercourse - one year earlier than previously recommended
Women who have been having artificial insemination, which can include same-sex couples
Women aged 40-42 who have not conceived after two years of regular unprotected intercourse or 12 cycles of artificial insemination should be offered one full cycle of IVF, if they have never previously had IVF treatment
Where women are under 40, and have not conceived after two years of regular intercourse or 12 cycles of artificial insemination, three cycles of IVF should be offered
Load more updates
Back to top