Oscar family query cop evidence
The family of Oscar Pistorius have said they find the contradictions in the investigating officer's evidence to the Paralympian's bail hearing "extremely concerning." Pistorius denies murdering girlfriend Reeva Steenkamp.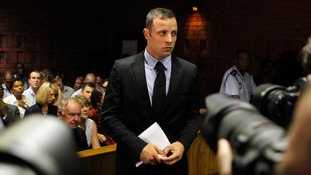 On the second day of Oscar Pistorius' bail hearing, the court heard how witnesses heard shouting and gunshots from the runner's home.
Read the full story
The so-called star witness of the prosecutor's case against Oscar Pistorius appeared to crumble under pressure in a dramatic second day of the runner's bail hearing.
ITV News' Africa correspondent Rohit Kachroo describes the atmosphere in the courtroom:
Advertisement
The investigating officer has challenged Oscar Pistorius' account because of the angle of several shots fired in the athlete's bathroom.
In an affidavit given on Tuesday, Pistorius said he woke in the night and thought an intruder had climbed through his bathroom window and entered the adjoining toilet.
He said he went into the bathroom without his prostheses and fired at the locked toilet door, believing the intruder to be inside.
But investigating officer Hilton Botha said the "top to bottom" trajectory of the bullets suggest Pistorius was wearing his prostheses.
He also said the angle of the shots suggests they were aimed at someone sitting on the toilet.
Oscar Pistorius stands as today's hearing closes, appearing composed. The hearing will resume tomorrow.
There was laughter from friends of Oscar Pistorius when Hilton Botha claimed the runner would risk fleeing South Africa, despite his celebrity.
Investigating officer Hilton Botha has met Oscar Pistorius before, he reveals, following an incident at the latter' house after which he was arrested.
Advertisement
The prosecutor is questioning the lead investigator Hilton Botha again and is urging him to "be calm and focus" as he gives evidence.
There are then more gasps from Pistorius' family as Botha struggles to answer questions. Two female relatives glance to each other and smile.
Oscar Pistorius is back in the courtroom sitting up straight and appearing alert.
His relatives appear to be confident as the cross-examination of the lead investigator resumes.
A relative of Oscar Pistorius has told me he is delighted with the way the hearing has gone this morning.
"The truth is finally coming out," the relative added.
Oscar Pistorius has left the courtroom for a 45-minute break. His eyes appeared bloodshot.
His relatives in the public gallery are embracing.
Load more updates
Back to top