Unemployment falls to 2.5m
Unemployment fell by 14,000 between October and December to 2.5 million, official figures showed.
Today's official figures revealed that the number of people in work had increased to 29.73 million, a record figure, with 12,000 fewer people claiming benefits.
There is a mixed picture, however, with youth unemployment rising by 11,000 in the past month.
ITV News Economics Editor Richard Edgar reports:
Border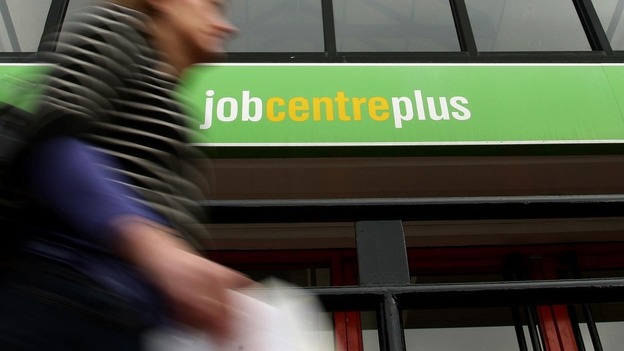 New figures released show that there has been an increase in the number of unemployed people in Cumbria and southern Scotland.
Over the past month the number out of work in Dumfries and Galloway went up by 188 to 3542 which is 3.9%.
In the Borders the jobless figure of 2102 is up by more than 100 and stands at 3%.
Unemployment in Cumbria has risen in the last month to 2.9%.
There are 8,982 people claiming Jobseeker's Allowance - that is almost 550 more than December.
Advertisement
Secretary of State for Work and Pensions Iain Duncan Smith has said that the recent employment figures are positive with unemployment figures dropping and those "never expected to work, sickness benefits, lone parents - they're now going back to work."
The fall in the unemployment rate again shows positive signs, especially as the number of people in full time work is up. The continued increase in self-employment, while partly a consequence of job losses elsewhere, highlights the remarkable resilience of the labour market at a time when the economy remains fragile.
These people, with the right support, will be the job creators of the future. With only a month to go until the Budget, we need to see the Government take concrete steps to support enterprise and recognise the critical social and economic role played by small firms in the labour market.
– John Walker, National Chairman, Federation of Small Businesses
Wales
The number of unemployed people in Wales rose in the last three months of 2012, to reach 127,000.
Between October and December, 6,000 more people were out of work, bringing the unemployment rate to 8.6 percent.
Wales is suffering compared to the UK as a whole, where the jobless figure fell in the final quarter, to reach an unemployment rate of 7.8 percent.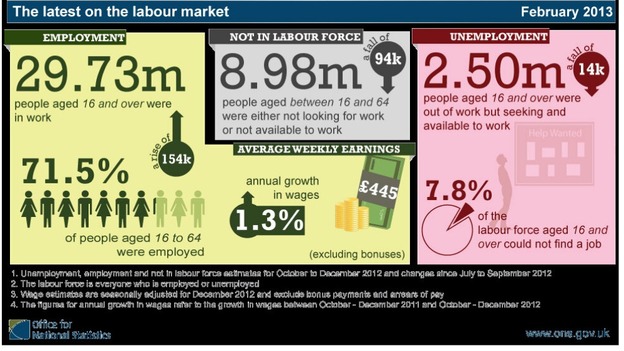 Advertisement
The fall in long-term unemployment is particularly welcome and shows that the training and support we are offering is helping people move off benefits and into work.

These figures show another big increase in full-time jobs, half a million more British people in work over the past year and more women in employment than ever before.

The UK is now ahead of many its international rivals when it comes to cutting unemployment and creating jobs which is so important as we compete in a global race.
– Iain Duncan Smith, Secretary of State for Work and Pensions
The Office of National Statistics (ONS) have produced a short Q&A video on today's Labour Market Statistics: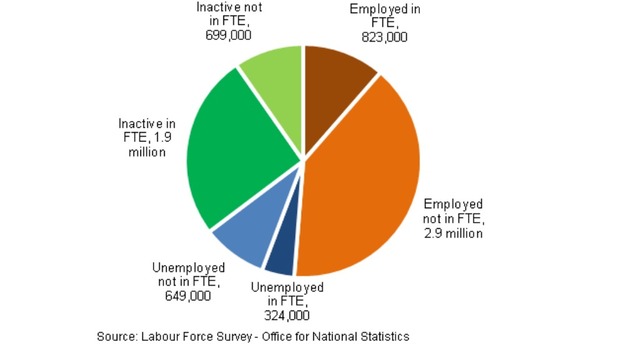 Youth unemployment up 11,000, while overall unemployment is down. Tough on the young.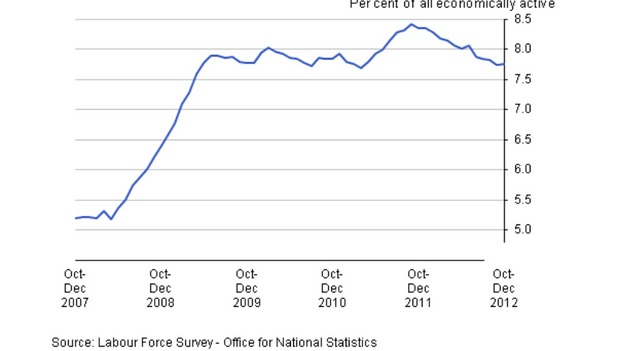 The unemployment rate was 7.8% for October to December 2012, down 0.1% from July to September 2012 and down 0.6% from a year earlier. This chart from the Office for National Statistics shows the unemployment rate for those aged 16 and over for the last five years.
Load more updates
Back to top