Oscar family 'respect process'
Oscar Pistorius's family say they and the athlete "fully respect the bail hearing process and the sequence of events leading up to this point." It comes after the lead detective was replaced after it was revealed he is facing attempted murder charges
Oscar Pistorius' family have issued a statement this evening, saying that it is a "unique, emotional and difficult time" for them.
Arnold Pistorius, uncle of Oscar Pistorius, said:
Oscar Pistorius and his family fully respect the bail hearing process and the sequence of events leading up to this point. They understand it is in the full interest of justice that the process associated with the bail application be followed in its entirety.

We are strong and supportive as a family, for Oscar, but we understand that this is in the best interest for all.

This is a unique, emotional and difficult time for us all. Our hearts and thoughts are with the family of Reeva Steenkamp during their time of bereavement.
– Arnold Pistorius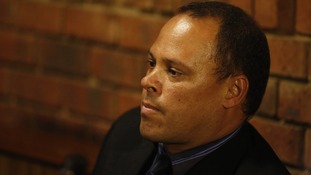 Police investigating Oscar Pistorius have taken their lead detective off the case after it emerged he is facing attempted murder charges.
Read the full story
Advertisement
Today was the third day of Oscar Pistorius' bail hearing.
Today's twist centred on the police officer who gave evidence against Pistorius.
He was brought back into court, being investigated over accusations he opened fire on a minibus full of passengers.
ITV News' Africa Correspondent Rohit Kachroo reports:
Oscar Pistorius holds his head in his hands at today's bail hearing.
His defence lawyer Barry Roux told the BBC he expects the court to reach their bail decision tomorrow.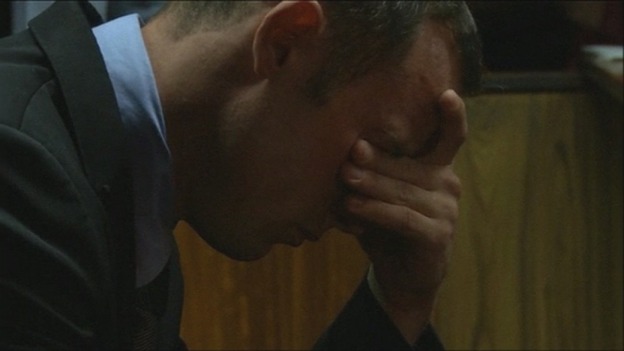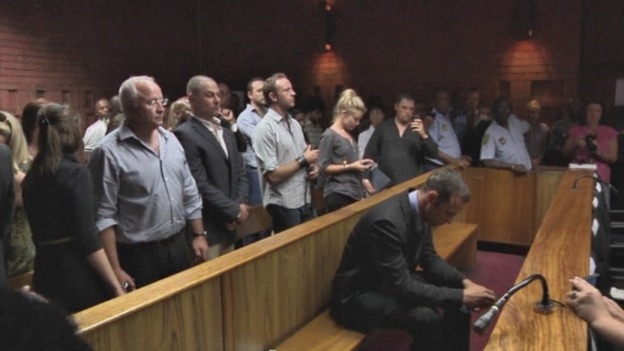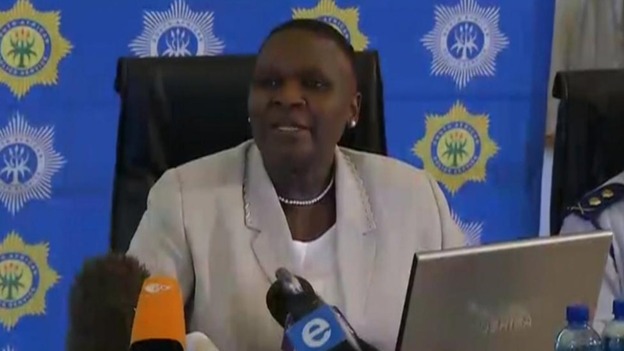 The South African police service have announced they will replace the lead police officer in the Oscar Pistorius prosecution case.
Police Commissioner Riah Phiyega said Detective Hilton Botha has now been replaced by a senior detective in the South African Police Service. Making the annoucement she said:
"This matter shall receive attention at a national level."
The bail hearing for Oscar Pistorius has been halted and will start again at 10am tomorrow, according to local media.
Advertisement
The prosecution has questioned Pristorius' claims of threats and violence against him, asking "why did he never file a police report?".
The prosecution says Pistorius was ready to kill. He calls his version of events "improbable." He says:
The only reason you'd fire four shots is to kill.
Oscar's brother Carl slouches back into his seat.
Carl Pistorius, who is sat in court behind his brother Oscar, has tweeted his annoyance at the claims made by the prosecution as the bail hearing goes into a third day.
How does the prosecution lie with a straight face. Passport was tendered to IO! I went to collect in Johannesburg upon the IO's request.
The prosecution says Pistorius has displayed a lack of realisation of what he has done, and that he shows a total lack of insight.
The prosecution argument against bail begins. Gerrie Nell finds it:
Astonishing that two parties can have such diverse arguments about one set of facts
He argues that "I'm Oscar Pistorius, I'm a world renowned athlete" is not an exceptional circumstance in itself.
With regard to the cartridges discovered in Pistorius' bathroom, the prosecution lawyers says this backs claims of a deliberate killing at close range.
The prosecution says there is nothing exceptional as far as the applicant's personal circumstances go. He is a man of means.
Load more updates
Back to top