Three men guilty of terror plot
Three men from Birmingham have been found guilty of being "central figures" in a terrorist bomb plot that would have been bigger than the 7/7 attacks if it had not been foiled by the authorities.
Police are deeming a surveillance operation which tracked the movements of three men plotting a terrorist attack a "success", after managing to foil the attempt.
Irfan Naseer, 31, Irfan Khalid, 27, and Ashik Ali, 27, all from Birmingham, were convicted at Woolwich Crown Court of planning the attack.
ITV News Correspondent Juliet Bremner reports: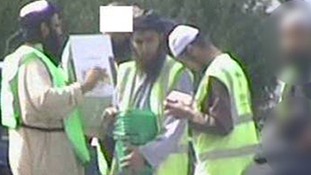 Three men are facing life in prison, after being found guilty of a terror plot to detonate up to eight suicide bombs in the UK.
Read the full story
Advertisement
West Midlands Police have said the public is a "whole lot safer", after three men were found guilty of leading a terrorist bomb plot that could have been bigger than the July 7 bombings.
Assistant Chief Constable Marcus Beale, from West Midlands Police Counter Terrorism Unit said that Irfan Naseer, 31, Irfan Khalid, 27, and Ashik Ali, 27, all from Birmingham, were "critical" of the 7/7 bombers, because "they didn't kill enough people". Mr Beale added:
They wanted to create their own 9/11. As a group, had they been able to achieve their objective, we think they would have killed numerous people and caused a whole lot of misery and injury on others.

We don't have any specific information that says that they knew that this was what these guys planned to do.

Our interpretation of the evidence was that they hadn't settled on any specific target.

They aspired to make and detonate bombs in crowded places, places where we go shopping, for our entertainment, to travel, they wanted to attack these places with a mixture of bombs and suicide bombs.
– Assistant Chief Constable Marcus Beale, West Midlands Police Counter Terrorism Unit
A total of twelve people have been charged following the police investigation into the terror plot in 2011. Three men were found guilty today of leading a terrorist bomb plot that could have bigger than the July 7 bombings.
The six others from Birmingham, who have already pleaded guilty are Rahin Ahmed 26, from Moseley; Mujahid Hussain, 21, from Yardley; Naweed Ali, 25, Ishaaq Hussain, 21, Khobaib Hussain, 22, and Shahid Khan, 21, all from Sparkhill.
Central
Watch Muslim Aid's response above to today's guilty verdicts.
Irman Madden from the charity says the terrorists abused the name of Muslim Aid, and is a victim of their fraudulent activity.
Central
Muslim worshippers in Sparkhill have been giving their reaction to the conviction of Irfan Naseer, Irfan Khalid and Ashik Ali.
They were planning a suicide bombing campaign which could have been more deadly that the July 7th attacks in London.
Worshippers at the Jamia Mosque Amir-e-Millat, near where the men lived, say their actions spoil the relationship in the community, and in no way represents the teachings of Islam.
One worshipper at the Jamia Mosque Amir-e-Millat told ITV News:
"Everybody's disappointed. Everybody's horrified. Nobody wants this sort of plotting going on in this area. Somebody's producing these terrorists not for the good gain of Muslims. It spoils the relationship in the community and overall in the world, for that matter."
Advertisement
Mr Justice Henriques told the trio that they will all face life in prison when they are sentenced in April or May.
Speaking to Naseer, he said he had been convicted on "overwhelming evidence" and that he will face "a very long minimum term".
The judge said: "
You are a highly skilled bomb maker and explosives expert. Your mindset was similarly manifest.

You sought to persuade others that a terror plot here in this country was by far preferable to fighting jihad abroad.

The scale and extent of your ambition was similarly manifest. You were seeking to recruit a team of somewhere between six and eight suicide bombers to carry out a spectacular bombing campaign, one which would create an anniversary along the lines of 7/7 or 9/11.

It's clear that you were planning a terrorist outrage in Birmingham.
The judge told Khalid he was "virtually inseparable" from Naseer.
You were very much his confidant and his right-hand man.
He said to Ali:
I had mistakenly formed the view that you were a rather foolish recruit to this terrorist cell and rather less dangerous than your co-accused.

You have dissuaded me from that view. You are intelligent, devious and highly manipulative.
Central
The senior investigator who helped to bring the Birmingham terror plotters to court has described the three men as the "real deal".
Detective Inspector Adam Gough said they were "committed, passionate extremists with a real intent to kill and maim as many people as they could."
He described them as "Very, very dangerous people."
Special prosecutor with the counter terrorism division Karen Jones said the bomb plotters were "dangerous men with dangerous aspirations" who wanted to create an attack that was "bigger than 7/7" and "another 9/11."
Load more updates
Back to top