Pistorius family's bail relief
Oscar Pistorius' family have expressed their relief after the Paralympic star was granted bail pending his trial for the murder of his girlfriend Reeva Steenkamp.
by ITV News producer Widiane Moussa
Arnold Pistorius, the uncle of Oscar Pistorius, said after the athlete was granted bail:
Although we are obviously relieved that Oscar has been granted bail, this is still a very sad time for the family of Reeva and for us.

As the family, we are convinced that Oscar's version of what happened on that terrible night will prove to be true.
– Arnold Pistorius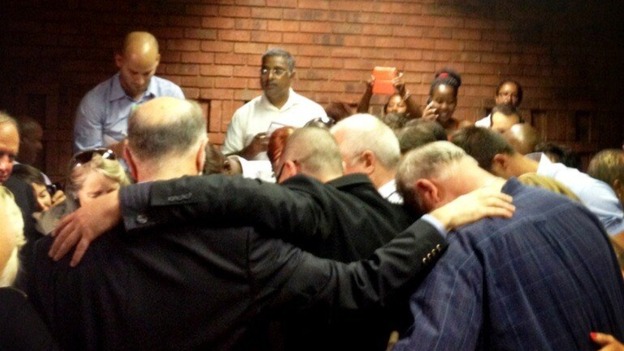 Advertisement
A loud shriek of "Yes!" was heard in court from supporters of Oscar Pistorius as the chief magistrate granted bail to the athlete:
A court in South Africa has set bail for Oscar Pistorius at 1 million rand (approx £74,000) and postponed his murder trial until June 4. As part of his bail, he must:
Surrender his passports
Avoid his home
Avoid all witnesses in the case
Surrender his firearms
Avoid consuming alcohol
Oscar Pistorius has been banned from drinking alcohol under his bail conditions and must hand over his firearms.
The bail has been fixed at one million rand (around £74,000). On payment of cash amount he will be released from custody.
Advertisement
Bail conditions are being outlined with 250,000 rand (around £18,500) bail being suggested. He must report to the police station between 7am and 1pm every Monday and Friday.
Oscar Pistorius returns to the dock looking incredibly upset, nothing like the ecstasy of his relatives.
I asked Oscar Pistorius' brother Carl whether he is happy. He replies "relieved".
Oscar Pistorius' lawyer, Barry Roux, told ITV News he is "satisfied" with the decision.
Load more updates
Back to top