SA 'police drag' suspensions
All the officers involved in the incident in which a South African taxi driver was dragged through a street by a police van and allegedly beaten in custody have been suspended.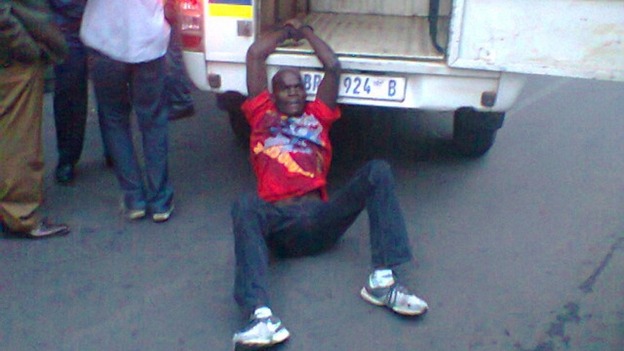 This picture was taken by an eyewitness to the apparent act of police brutality.
It appears to show the man who was dragged by the police van. He died later.
The sister of the alleged victim breaks down as she describes how her brother dreamt about moving from Mozambique to South Africa.
Advertisement
Crowds are shouting "police down" from the side of the road. The allegations have stirred suspicion of the police.
Moses Dlamini, a spokesman for the South African Independent Police Investigative Directorate, said there was a discrepancy between the police report and the video evidence.
"When we look at what was reported, they don't report anything about this man being dragged behind by the police vehicle, and that is where the difference is. You don't see that in the police statement," he said.
"We have made recommendations that the police men be suspended, however it is a matter for the police management to then do their own investigation and make a decision whether to suspend or not."
A South African taxi driver has died after being dragged through a street by a police van and beaten in custody, it is alleged.
Video obtained by the South African Daily Sun appears to show Mido Macia, 27, being tied to the back of a police van before it drives away.
The van stops briefly, at which point ITV News has cut the footage, before again driving away at higher speed.
The Daily Sun's report claims Mr Macia "made the mistake of arguing with the [police] about parking his taxi."
Load more updates
Back to top