UK 'could arm Syria rebels'
Foreign Secretary William Hague has said the UK can not "rule out" supplying arms to Syrian rebels in the future. Meanwhile, President al-Assad has accused the UK of having a "naive, confused and unrealistic" approach to his country's civil war.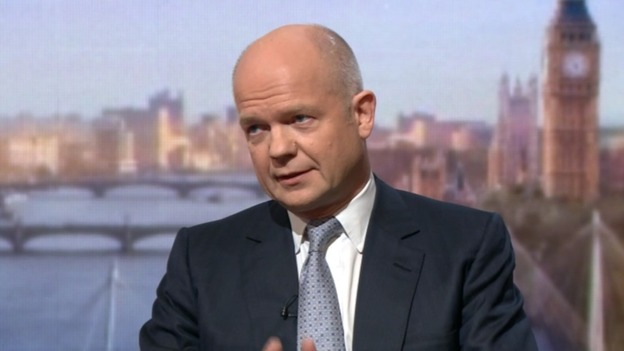 Foreign Secretary William Hague has refused to rule out supplying arms to rebels in Syria - and confirmed more equipment would be sent to them shortly.
He told BBC's Andrew Marr: "I don't think we can rule that out in the future [but] I will not be announcing, this week, arms to the Syrian opposition."
He added: "We will be giving more assistance directly to the opposition. I will announce in Parliament this week what that will consist of - it will involve more equipment to try and save lives in Syria."
He attacked Syrian President Bashar al-Assad for accusing the UK of having a "naive, confused and unrealistic" approach to his country's bloody civil war.
"This is a man presiding over this slaughter... I think this will go down as one of the most delusional interviews that any national leader has given in modern times."
After almost two years of bloodshed, Assad's regime continues to wage war against its own people with brutality and without remorse.

It's appalling atrocities include massacres, torture and an organised policy on sexual violence – which the UN Commission of Inquiry says amounts to both war crimes and crimes against humanity.
Almost 70,000 Syrians have been killed, 4 million are in desperate need and more than 2 million are internally displaced. The conflict is drawing in extremist influences and risks spreading beyond Syria's borders.

The UK's objective is to see a diplomatic solution that leads to an end to the violence and a process of genuine political transition.

This is not just our view. It is the view of the Arab League and the vast majority of UN member states."
Advertisement
Syrian President Bashar al-Assad said David Cameron's "naive, confused, unrealistic" government was trying to end an EU arms embargo to enable supplies for the rebels.
He said this would fan the flames of war when the al-Qaeda backed Jabhat al-Nusra, was "killing, beheading, torturing and preventing children from going to school".
To be frank, Britain has played a famously unconstructive role in our region on different issues for decades, some say for centuries . . . The problem with this government is that their shallow and immature rhetoric only highlights this tradition of bullying and hegemony . . .
Mr Assad made the comments in an interview with The Sunday Times (£).
Syrian President Bashar al-Assad has accused Britain of having a "naive, confused and unrealistic" approach to his country's bloody civil war.
Speaking to The Sunday Times correspondent Hala Jaber, President Assad said Britain had a poor history of negotiating peace and accused the British government of "militarising" the conflict for its own ends.
The Syrian Foreign Minister Walid al-Moallem has condemned plans by the US Secretary of State John Kerry to give the opposition more than $60 million in aid. The minister spoke at a press conference in Tehran, Iran where he is visiting the regime's supporters.
Ending the violence in Syria should begin with stopping aid resources for rebels and by increasing pressure on Qatar and Turkey and others who support, arm and provide funds to armed terrorist groups, terrorists who are spilling the blood of Syrians and demolishing the financial infrastructure of Syria.
– Walid al-Moallem, Syrian Foreign Minister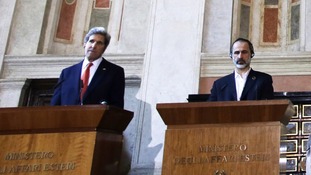 The response of the US, the UK and other Western countries to the Syrian crisis has been slow and lacking in conviction and leadership.
Read the full story
Advertisement
Leader of the Syrian opposition Moaz al-Khatib, who threatened to boycott talks with US Secretary of State John Kerry, heads a deeply divided and largely ineffective political opposition.
He urged President Bashar al-Assad to go, he said: "Behave for once in your life as a human being, make one reasonable decision in your lifetime."
As Mr Kerry and Mr al-Khatib leave the open meeting, a protester raises a sign in front of them saying, "USA, EU, Saudi support terrorists."
Secretary of State John Kerry said the US will channel $60 million in aid to Syrian groups the US chooses, which is a clear message that jihadi groups must be excluded from the aid.
Although the US aid is "non lethal", this is the biggest package and strongest back-up yet given so far by the US to Syrian rebels.
Mr Kerry said "no people should live in fear of their so called leaders" and "we must meet the moment."
US backing of the Syria rebels today is at its most public, financial, open and morally clear.
Secretary of State John Kerry said the US plans for the first time to aid the Syrian rebels with food rations and medical supplies.
US Secretary of State John Kerry said President Bashar al-Assad is a "desperate leader" and praised the opposition as the legitimate voice of the Syrian people.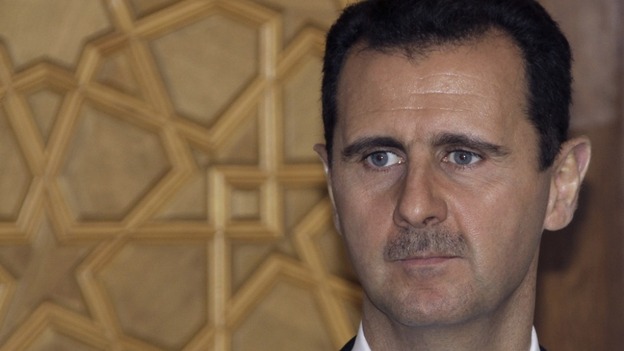 Mr Kerry confirmed the US will take "further steps" to help the opposition, which is faced by "brutal regimes" and Iranian forces.
He also added that the US will provide $60 million "immediately in non lethal assistance" to aid Syria opposition.
Load more updates
Back to top