300 Axminster staff laid off
Three-quarters of the workforce at historic carpets firm Axminster have been made redundant after the company entered administration. The Devon-based company blamed a sharp increase in raw material prices and the UK's continuing economic difficulties
Carpet firm Axminster will keep just 100 staff after deciding to downscale the company's carpet manufacturing operations at Axminster and Buckfast.
It will also end yarn production but two factory outlet stores will remain open.
Trading has been difficult and although it saddens the board to make the decision to enter administration it could not be avoided.

The management have been working with key suppliers, creditors and lenders to resolve the company's financial difficulties and while the last few weeks have been stressful, the company managed to pay the wages yesterday.
– Axminster director Joshua Dutfield

The company, which warned last month that it would go into administration, is one of the world's largest makers of Axminster, Wilton and Tufted carpet.

It is one of Devon's biggest employers and its plight prompted more than 6,000 people to sign a petition calling for it to be saved.

The company wants to fulfil existing orders while its main suppliers have offered their continued support for the business.

The original Axminster carpet was laid in Brighton Pavilion, while the firm's products were bought by King George III and Queen Charlotte, and are found in UK stately homes.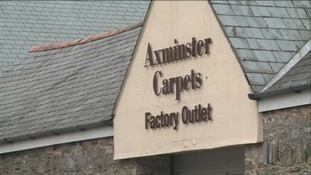 Three-quarters of the workforce at Devon-based historic carpets firm Axminster have been made redundant
Read the full story
Advertisement
Some 300 workers have been made redundant at carpets firm Axminster after the company entered administration.
It means three-quarters of the workforce at the Devon-based company lost their jobs.
The company, which dates back 250 years, blamed a sharp increase in raw material prices and the UK's continuing economic difficulties for the decision to go into administration.
Restructuring firm Duff & Phelps, which has been appointed to run the firm, said it will continue the company's search for a buyer but said it had been necessary to make around 300 staff redundant.
Back to top