Venezuela election date set
Venezuela will hold a presidential election on April 14 as acting President Nicolas Maduro, the successor to Hugo Chavez, tries to win his own term in office.
Among some 30 world leaders and other dignitaries attending Hugo Chavez's funeral are the following:
President Mahmoud Ahmadinejad of Iran
President Raul Castro of Cuba
President Evo Morales of Bolivia
President Rafael Correa of Ecuador
President Dilma Rousseff and former President Luiz Inacio Lula da Silva of Brazil
Film actor and director Sean Penn
President Alexander Lukashenko of Belarus
US civil rights activist Rev. Jesse Jackson

About 50 countries have sent delegations, including the US and Canada.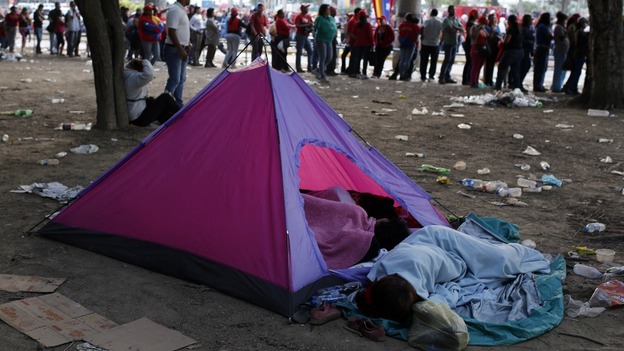 Hugo Chavez's funeral got under way with a 30-gun salute and formal introductions of some 30 world leaders.
But still there are crowds of people queueing for their chance to see the leader's body in its open casket. Many are chanting "Chavez lives and so does the revolution!"
An estimated two million people have filed past the leader's open casket since yesterday.
Scenes are not as chaotic as yesterday when dozens were injured in the crush.
Advertisement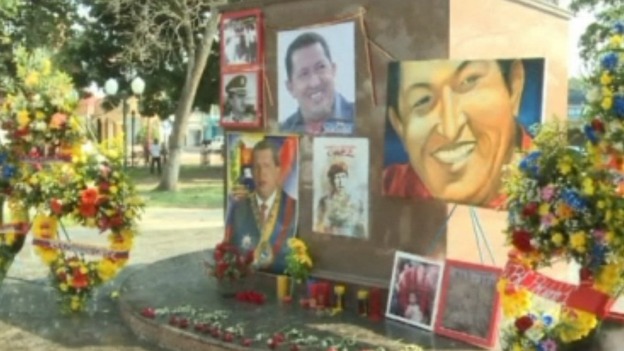 Portraits and flowers have been left in the centre of Sabaneta, Barinas State - Hugo Chavez's home town.
Crowds have gathered at the makeshift shrine to pay their respects, the president funeral will happen today after his death at 58 after a two-year battle with cancer.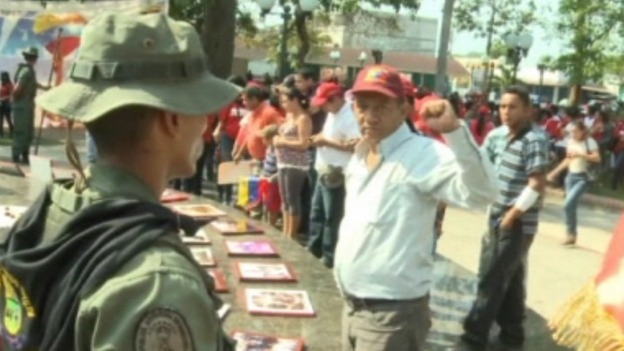 Gallery: From prison to President - Hugo Chavez a life in pictures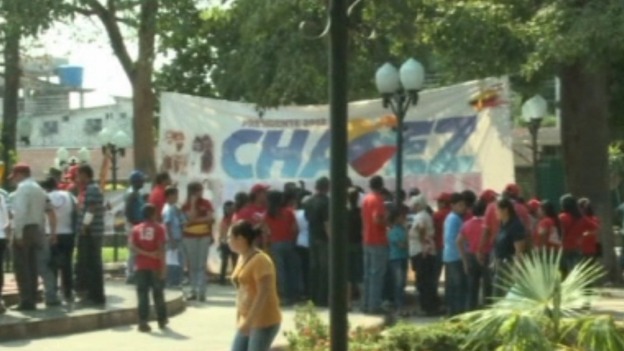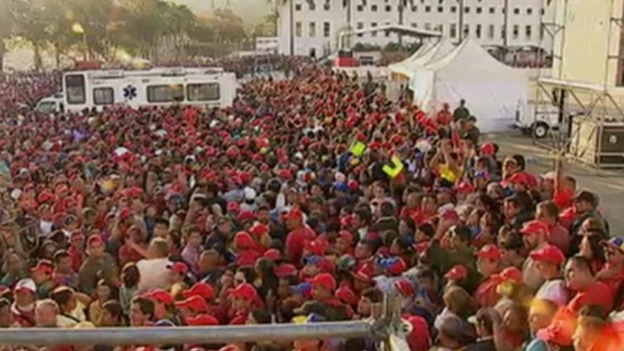 Huge crowds gathered again outside the Military Academy where the body of Hugo Chavez has lain in state since his death.
His funeral is due to start shortly.
Yesterday dozens were injured in the crush to view the president's body.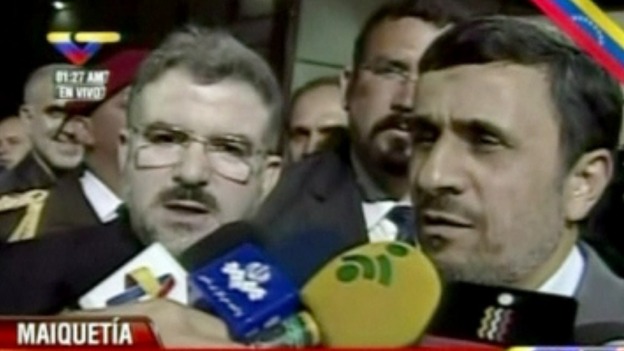 Iranian President Mahmoud Ahmadinejad has arrived in Caracas for funeral of ally and 'close friend' President Hugo Chavez.
Speaking to reporters President Ahmadinejad said;
"He was a dear friend to all the countries of the world. To us, President's Chavez loss is very painful because we've lost a friend, a close friend and a revolutionary and just leader. To me, he had a big personality and a very close friend and brother. I feel like I lost myself."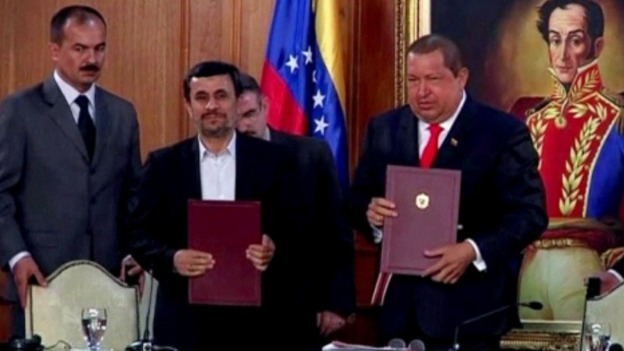 "He was a great man with very big, humane dreams. I express my solidarity with the people of Venezuela, with all of the people of Latin America and with all the countries of the world. And we promise to realize and materialize his ideas which were so valuable.
"I am certain God will help us and the spirit of President Chavez will be watching us and will help us from the heavens."
It is astonishing that Hugo Chavez's cancer ridden corpse is two be embalmed and put on display in a military museum, the same museum where he was captured after leading a failed coup 20 years ago.
Embalming and displaying him, the showman's final act.
Meanwhile the veneration and deification of Chavez continues, with people queuing comparing him to Christ, his face on crucifix scenes.
The cult of Chavez was strong in his lifetime. It is about to get a much more powerful.
Advertisement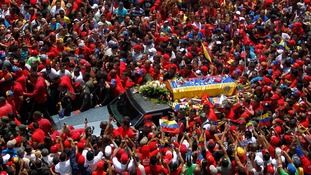 More than 20 world leaders are expected to attend the funeral today, but there will be no burial as he will be embalmed.
Read the full story
Venezuelan authorities estimate that well over two million people have now paid their respects to their dead President Hugo Chavez.
More than 20 world leaders are expected to attend the funeral tomorrow, including Iran's Ahmadinejad and leaders from Argentina, Bolivia, Uruguay.
There will be a funeral for Chavez, but he won't be buried. Authorities still can't decide where he will rest. But he will be embalmed, like Lenin.
Hundreds of thousands of Venezuelans joined the crush to view Hugo Chavez's body lying in state in the capital Caracus today.
Responding to the overwhelming demand, and the desire that Chavez should be "always be with the people", it was announced tonight that the leader will remain on display permanently.
ITV News International Editor Bill Neely reports from Caracas:
Venezuela's Vice President Nicolas Maduro has just announced on national TV that Hugo Chavez's funeral will take place tomorrow morning.
Around 30 heads of state are expected to attend along with delegations from 50 countries.
Maduro also said that Chavez's body will return to lying in state for public viewing for seven further days after the funeral to allow more people to see him.
Chavez's body will then be preserved like that of Lenin and Mao Zedong so "he will always be with the people". A special tomb is now under construction in the mountains where he launched his revolution.
Maduro again called for calm and thanked the public for respecting the solemnity of the occasion.
Load more updates
Back to top