Venezuela election date set
Venezuela will hold a presidential election on April 14 as acting President Nicolas Maduro, the successor to Hugo Chavez, tries to win his own term in office.
The body of Venezuela's late president Hugo Chavez will be embalmed and laid to rest at a military museum in the capital Caracas.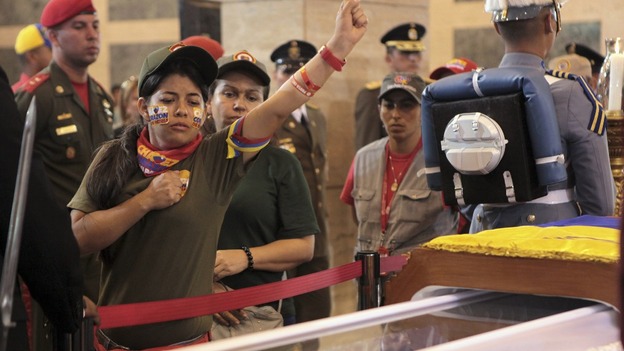 Acting President Nicolas Maduro said Chavez would lie in state for a further seven days so Venezuelans waiting in long lines to view him would be able to do so.
Maduro added that his body would later to moved from the military museum to his final burial site. It was not immediately clear where that would be.
Venezuela's Vice President Nicolas Maduro has declared seven more days of mourning for Hugo Chavez, Reuters reports.
Advertisement
Dozens of people were injured in a crush today as hundreds of thousands of people queued to see the mortal remains of Hugo Chavez.
A continuous stream of mourners filed past the leader's open casket in the Military Academy in Venezuela's capital Caracas.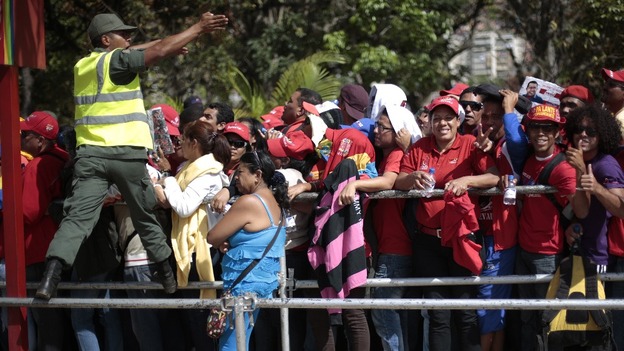 Outside the Academy, riot police struggled to maintain order and were seen carrying away several people injured in the crush.
Barriers failed to hold back the surge of people, some of whom had waited for more than 18 hours to bid their leader farewell.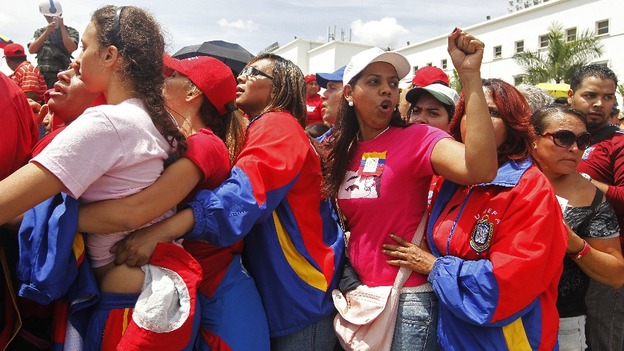 ITV News International Editor Bill Neely on why Chavez mourners dress in red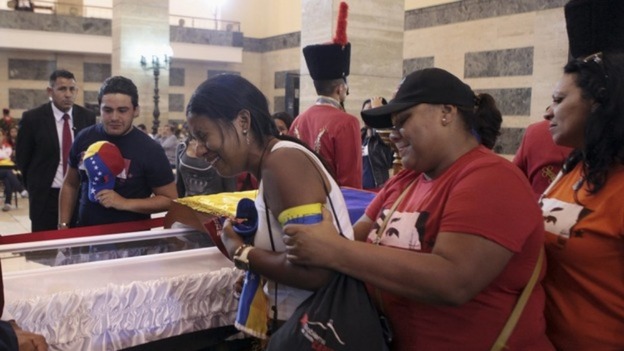 Most people queuing to see Hugo Chavez are dressed in red - the colour of his revolution.
Many tell me the revolution will live on.
The funeral begins tomorrow at 8am local time (12:30pm GMT.)
Dozens of people are being taken away injured after repeated crushing in the queues to see the body of Hugo Chavez.
Huge crowds surge forward and crush barriers fail to hold them, soldiers are fighting to push them back. Many are hurt.
Queues to see the body of Hugo Chavez stretch for miles.
There are hundreds of thousands of people waiting - one man said he has queued for 18 hours so far.
Advertisement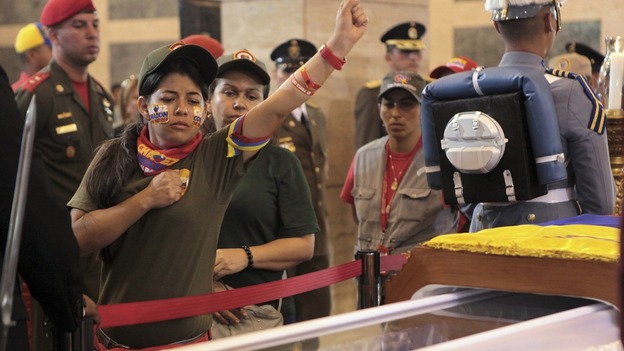 Supporters the late Venezuelan President have been paying their respects as the body of Hugo Chavez is lying in state at the military academy in Caracas.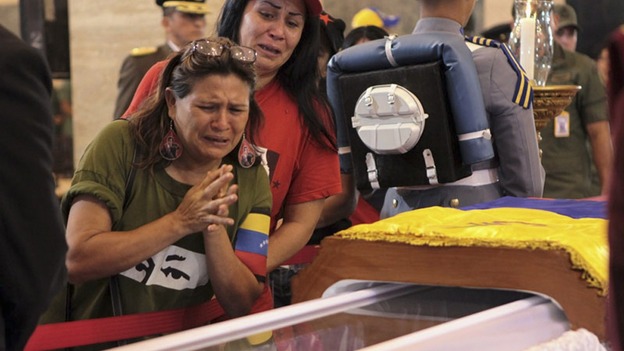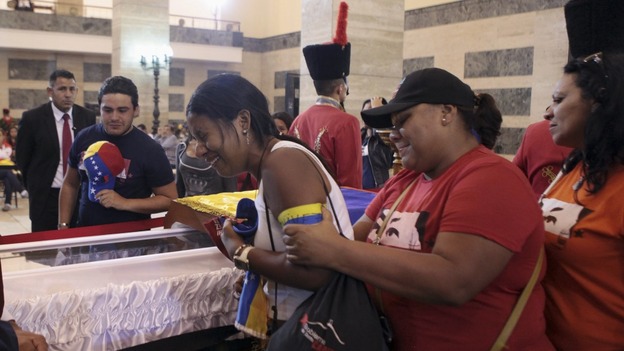 The head of Venezuela's presidential guard says a heart attack killed a suffering Hugo Chavez, the Associated Press reports.
General Jose Ornella also said Chavez mouthed his desire to live during his final moments:
He couldn't speak, but he said it with his lips ... 'I don't want to die. Please don't let me die,' because he loved his country, he sacrificed himself for his country.
Venezuelan authorities have not said what kind of cancer Chavez had or specified exactly where tumors were removed.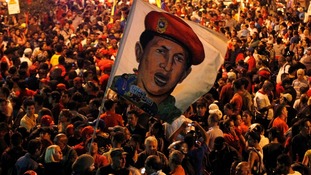 Thousands flocked to the streets of Caracas to see the coffin of Chavez travel through the city to lie in state until Friday's funeral.
Read the full story
There was near-hysteria on the streets in Venezuela today following the death of President Hugo Chavez, whose passing has created a power vacuum in the country.
International Editor Billy Neely reports:
Load more updates
Back to top