Cameron's aspiration nation
David Cameron is trying to reassure Tory activists by promising to foster aspiration. The Prime Minister addressed the party's spring forum after a turbulent fortnight following the disastrous Eastleigh by-election.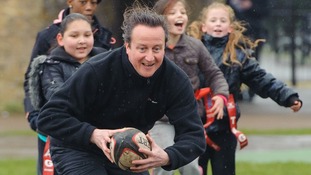 When questions are being asked about your leadership, one thing you can't afford to do is drop the ball.
Read the full story
David Cameron warned his party today that the Government's task was not going to get any easier as it battled to revive the UK economy.
Mr Cameron said that the party was "here to fight" and "here to win".
Advertisement
Labour vice-chair Michael Dugher has hit out at the Prime Minister, after David Cameron insisted he was engaged in fighting for an "aspiration nation" at the party's spring conference today.
Mr Dugher said:
When the Tories talk about aspiration, they mean looking after their friends at the top, whilst people on low and middle incomes can go whistle.

Cameron gives speeches claiming he's helping people, but he's actually delivering a tax cut for millionaires whilst asking millions of working people to pay more.

We need a change of direction with a One Nation Labour Government to build a country where everyone has a stake and prosperity is fairly shared. Fat chance of that with David Cameron.
– Michael Dugher, Labour Vice Chair
Braving rain and an extremely muddy pitch, the Prime Minister - who said he used to play the position of hooker - passed a rugby ball around with children who were having a taster session at Millwall Rugby Club in east London.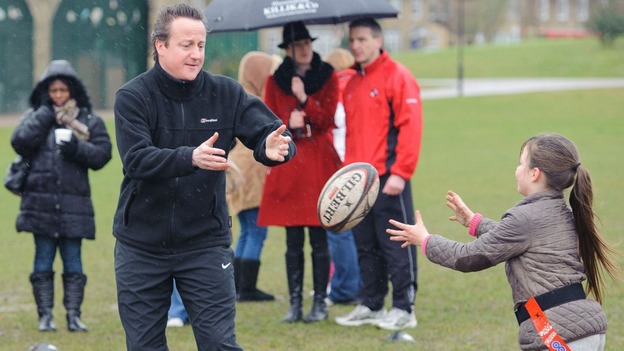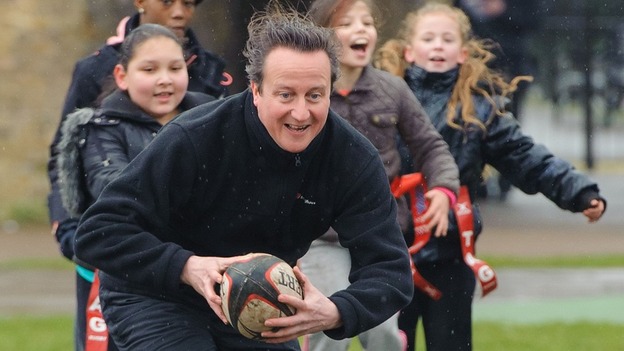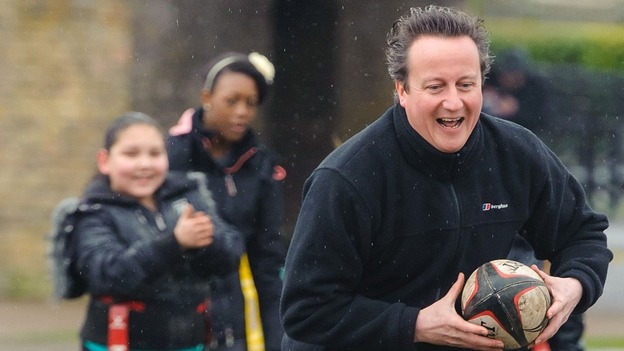 The Prime Minister has invoked both Margaret Thatcher and Winston Churchill so far in his address to the Conservative Spring Conference.
His pledge of £150 million per year in funding for sports in schools is still not worth quite as much as the Labour fund that Education Secretary Michael Gove got rid of.
The Prime Minister has revealed that he played rugby with Olympics chief Seb Coe this morning at Millwall football club.
He quipped that it was "the only time I'm going to beat him in a race doing anything".
He is now unveiling new funding for more sports tuition in schools.
Advertisement
David Cameron has come to the central theme of his speech - that of building an "aspiration nation".
Spelling out the difference between the Conservatives and Labour, he said they "want the little people to stay little".
He also invoked Winston Churchill: "We are for the ladder, let all try their best to climb".
David Cameron has opened his speech at the Conservative Spring Forum by saying that his party came to power in "perilous" times and that it was "wrestling with historic debts".
He added: "We are here to fight, we are here to win and we have never been more up to the task of turning our country around."
School sport is to get a £150 million a year cash injection to help bolster coaching for pupils in England, Prime Minister David Cameron will announce today.
A primary school with 250 pupils would receive £9,250 per year - this is around two days a week of a primary teacher or a coach's time, according to Mr Cameron.
There will be a lump sum for each school with a per-pupil top-up, he will say.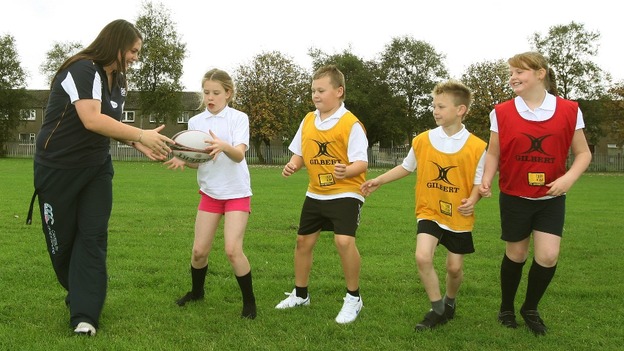 It is part of a strategy, announced on the back of the successful London 2012 Games, geared towards improving sport provision in state primary schools in England.
Mr Cameron is seeking to "ensure the Games count for the future too and that means capitalising on the inspiration young people took from what they saw during those summer months".
David Cameron will attempt to reassure party activists at the Conservative's spring conference by promising to foster "aspiration" and give school sport a £150 million cash boost.
The Prime Minister's speech follows a turbulent few weeks since the devastating Eastleigh by-election, in which the Tories were beaten into third place by UKIP.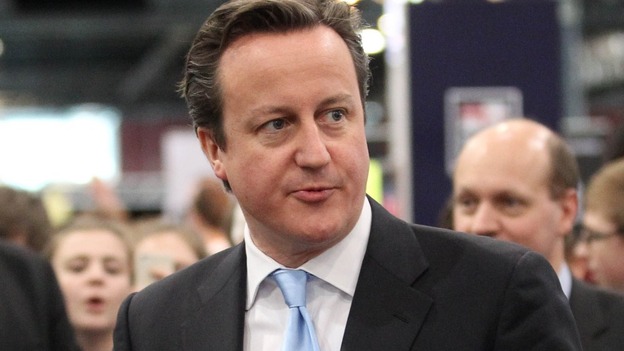 Mr Cameron will tell activists his approach chimes with the Conservative values of figures such as Margaret Thatcher and Winston Churchill.
"The global race is not just about GDP," he is set to say. "It's about saying to the mum who's worried about her children's future, we are building a country where there is a future, so your kids won't have to get on a plane to get on in life, they can make it right here in Britain".
"It's what this party's always been about - aspiration", Cameron will add.
Back to top