UK on credit downgrade review
The Fitch credit rating agency has put the UK on negative rating watch, meaning it is on review for a potential downgrade, because of the Chancellor's worsening debt forecasts. It comes after Moody's downgraded the country's top AAA rating last month
This is yet another blow to a downgraded Chancellor who made keeping the confidence of the credit rating agencies the number one test of his economic policy.

What really matters are the economic realities which Fitch are responding to including, as their statement says, 'the persistently weak performance of UK growth'.
George Osborne's plan has catastrophically failed on growth, living standards and the deficit.

But instead of a change of direction and action to kickstart the flatlining economy all we got this week was more of the same failing policies.

That's why this more of the same Budget will be remembered as a wasted chance to change course before it was too late.
– Shadow treasury minister Chris Leslie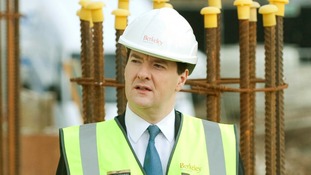 It's Friday, a rating agency has just issued a verdict on the British economy and sterling has slumped. That sounds bad – but is it?
Read the full story
Advertisement
A warning by ratings agency Fitch that it may cut the UK's AAA credit rating in the coming weeks shows how deep the country's economic problems are, a Treasury spokesman said.
"This serves to underline that there are no easy answers to problems built up over many years.
"But we are, slowly but surely, fixing our country's economic problems," the Treasury spokesman said.
"As the Chancellor said at the Budget: it's taking longer than anyone hoped, but we're on the right track," he said in a statement after Fitch's announcement.
Fitch has puts the UK on a negative watch - not a downgrade.
It will be a relief for the Treasury at the end of a big week that it is only a watch and not the loss of AAA status yet.
But it does mean that a downgrade from a second agency is now more likely by the end of April. This could be followed by a third downgrade, from Standard and Poor's.
Read more: Political Editor Tom Bradby on why the Budget presents a very gloomy economic outlook
A Fitch Ratings statement outlined its reasons for placing the United Kingdom on a negative watch:
Downward revisions of UK economic growth forecasts
"Persistently weak" UK growth, "in part due to European growth"
A Fitch Ratings statement said its placement of the UK on a negative watch indicated a "heightened probability of a downgrade in the near term."
It added:
The RWN reflect the latest economic and fiscal forecasts published by the Office for Budget Responsibility (OBR) that indicate that UK government debt will peak later and at a higher level than previously expected by Fitch.
Advertisement
The Fitch ratings agency has placed the UK on a negative ratings watch, causing sterling to fall sharply.
A "negative ratings watch" means that the country is on review for a potential credit downgrade.
It lost its top AAA credit rating by another ratings agency, Moody's, last month.
Back to top