Miliband: 'I'm quitting politics'
The former foreign secretary David Miliband told ITV News "I am quitting politics" as he announced he is resigning as an MP to become the head of a US charity. He admitted life was "tough" after losing the Labour leadership contest to his brother.
Ed Miliband told ITV News that if he becomes prime minister he will make sure his brother David is involved in British public life.
"I will make sure that he serves the country in one way or another because I think he's a huge talent," he told deputy political editor Chris Ship.
He said the brothers had "got past" the pain caused by the pair standing against each other for Labour leadership.
And he added that although he'd miss his brother in New York, he was "only a phone call away" and would "continue to be a support" across the pond.
Labour leader Ed Miliband has said British politics will be a "poorer place" following his brother David's decision to step down as an MP.
The former foreign secretary, and the elder of the Miliband brothers, announced this morning that he will be moving to New York to become head of a US-based charity.
ITV News political correspondent Alex Forrest reports:
Advertisement
Sunderland football club has said David Miliband will continue as vice chairman and non-executive director, despite quitting as a Labour MP for South Shields:
I would never begrudge a politician the right to take a change of direction in their own life and that of their families if they wish to.

It seems to me he was one of the big characters in Labour who understood that an opposition can't just shout at a Government. An opposition also needs to come up with its own alternative.

So, to that extent I think it is a real loss to the Labour Party that he is no longer around making that point within Labour Party circles.
– Nick Clegg, Deputy Prime Minister
David Miliband told ITV News "I am leaving politics" as he steps down as an MP to take on a charity role based in New York.
He admitted life had been tough since losing the leadership election to his brother Ed.
Political Editor Tom Bradby began by asking him whether the move means an end to his political career:
Read more: The 'nearly man' of British politics steps off stage
The former Foreign Secretary David Miliband has told ITV News: "I am leaving politics."
He told political editor Tom Bradby it is "not fair for me to spend my time looking backwards and inwards" about losing the Labour leadership election to his brother Ed.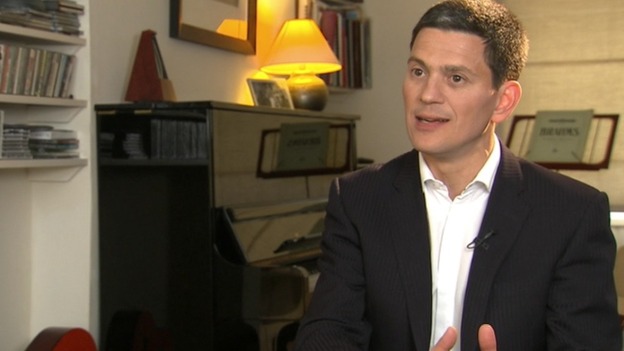 He denied any falling out with his brother: "We fought a leadership election but we don't fight each other, Ed and I. That's not the Miliband way."
But he admitted: "Is it tough? Of course it's tough."
He said he "kept him [Ed] informed" about his new role.
Read more: The 'nearly man' of British politics steps off stage
Advertisement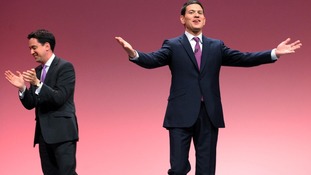 David Miliband was nearly Prime Minister, and nearly Labour party leader, but his brother's rise has led him to take a back seat.
Read the full story
David Miliband's local Labour party has said they want to choose their own MP, something he said they have not done in living memory.
John Anglin, secretary for the Constituency Labour Party in South Shields, said: "We are very surprised and it's a great loss to the Labour Party but that is what he has decided to do.
"He's done a lot of good work up here, with schools especially, but he's got a family and he knows what he wants to do.
"We wish him all the best but now we have to concentrate on South Shields and make sure we get a good MP.
"We want to make sure we are allowed to choose our own MP, something we have not done in living memory.
"We have a Labour-run council, which is doing great work, and we have the people up here who are capable of becoming an MP."
Read more: Tony Blair: 'I believe it's time out not time over for Miliband'
Bill Clinton has congratulated David Miliband on his appointment with the International Rescue Committee.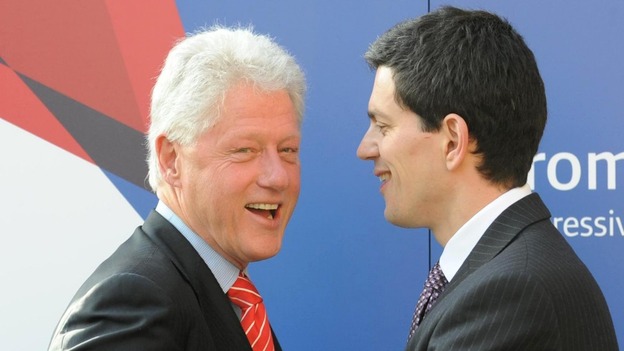 He said: "I congratulate the IRC on the appointment of David Miliband as its president. I have known David almost twenty years. He is one of the ablest, most creative public servants of our time."
Ed Miliband has said the "door was open" for his brother David to return to front line politics but he has taken the decision to take on a new role based in New York. The Labour leader said his brother will be "serving the world" with his new charity position:
Load more updates
Back to top