S Korea on alert for missile test
South Korea and the US remain on high alert for a North Korean missile test. Pyongyang has stationed as many as five medium-range missiles on its east coast, according to defence assessments made by Washington and Seoul.
South Korea's defence ministry says new nuclear test by North Korea is "not imminent", a spokesperson told Reuters.
China warned against "troublemaking" on its doorstep in an apparent rebuke to North Korea, whilst the United States said it was postponing a missiles test to help calm tensions.
Read: US delays missile test amid North Korea tensions
Chinese President Xi Jinping did not name North Korea specifically, but said no country "should be allowed to throw a region and even the whole world into chaos for selfish gain."
North Korea, under the stewardship of the world's youngest head of state leader Kim Jong-un, has been issuing threats of war against the United States and South Korea since the United Nations imposed sanctions in February.
China, North Korea's sole financial and diplomatic ally, has shown growing irritation with Pyongyang's warning of nuclear war. ITV News International Correspondent John Irvine reports on the growing paranoia in North Korea.
Read: William Hague US decision to halt missile test 'sensible'
Advertisement
South Korean ministry has said there is an "Indication" that North Korea is preparing for a fourth nuclear test.
North Korea could be preparing to launch a "ballistic missile" later this week, a South Korean security official has said.
Defence Ministry spokesman, Kim Min-seok, said: "We are aware of the possibility of North Korea launching a ballistic missile around the 10th (April)".
He added that North Korea's movements were being "closely monitored" using joint South Korea-US intelligence assets.
China has warned against "troublemaking", in an apparent rebuke to North Korea, after the country's authorities told diplomatic missions they could not guarantee their safety from Wednesday.
Chinese President Xi Jinping, addressing a forum on the southern island of Hainan, did not name North Korea but said no country "should be allowed to throw a region and even the whole world in chaos for selfish gain", according to Reuters.
He added that stability in Asia "faces new challenges, as hot spot issues keep emerging and both traditional and non-traditional security threats exist".
Heightened tensions with North Korea have led the US to postpone congressional testimony by the top American military commander in South Korea and delay an intercontinental ballistic missile test from a West Coast base.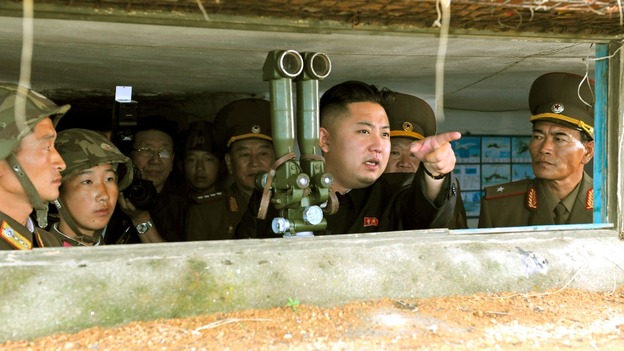 US General James Thurman, the commander of the 28,000 American troops in South Korea, will stay in Seoul as "a prudent measure" rather than travel to Washington to appear this coming week before congressional committees, Army Colonel Amy Hannah said in an email today.
The top US military officer, General Martin Dempsey has said that he does not foresee North Korea taking military action soon, but "can't take the chance that it won't", and thus the Pentagon has bolstered its missile defences and taken other precautions.
Advertisement
Speaking to Dermot Murnaghan, Foreign Secretary William Hague has called America's decision to postpone a missile test as "sensible."
I think that is a sensible thing to do, as was the cancellation in South Korea of a live-fire est. One of the dangers here is of a miscalculation and of the North Korean regime coming to believe their own paranoid rhetoric.

So I think that sort of action by the United States is sensible. We have to take this seriously, this is a regime developing its nuclear weapons in contravention of all international treaties and resolutions. But our response must be very clear, very measured and calm at all times. It is important not to feed that frenetic rhetoric that we've seen over the last few weeks.
– William Hague, Foreign Secretary
China has said its embassy in North Korea is operating as normal and asked Pyongyang to ensure the safety of its diplomats, citizens and investments there.
"At present tensions on the Korean peninsula are rising unceasingly, and China expresses grave concern about this," the country's Foreign Ministry said in a statement on its website.
North Korean authorities told diplomatic missions they could not guarantee their safety from Wednesday - after declaring that conflict was inevitable amid joint US-South Korean military exercises due to last until the end of the month.
US Defence Secretary Chuck Hagel decided on Friday to push back the testing of Minuteman 3 missiles until next month to avoid exacerbating the North Korea crisis, an unnamed senior official has said.
The Associated Press said the test was not connected to the US and South Korean military exercises in the region which have stoked North Korean anger and ramped up the rhetoric coming out of the nation.
The Pentagon's decision to delay a long-planned missile test is "the logical, prudent, and responsible course of action to take," according to a senior US defence official.
The official, speaking on condition of anonymity, said the test had been halted "to avoid any misperception or miscalculation" in regard to North Korea.
Load more updates
Back to top