Di Canio: I don't support fascism
After three days of intense public pressure, the new Sunderland head coach Paolo Di Canio has insisted: "I am not a racist and I do not support the ideology of fascism." He had refused to say if he was a fascist during a news conference yesterday.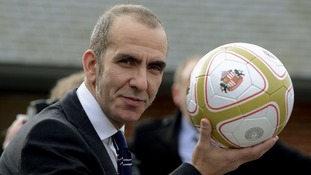 Paolo Di Canio refused to answer questions on whether he is a fascist but said the controversy surrounding his appointment was "ridiculous."
Read the full story
Anti-discrimination in football group Kick It Out has urged Sunderland manager Paolo Di Canio to make a "full and frank commitment" against discrimination.
It is not part of Kick It Out's remit to sanction the selection of staff of football clubs. However, football clubs have a responsibility to ensure that their employees demonstrate a commitment to anti-discrimination and equality of opportunity.

It may be in the interest of both the club and Mr Di Canio to acknowledge a full and frank commitment to these policies. It is all too easy for positive progress and engagement to be compromised by inappropriate statements, and both Sunderland supporters and members of its local community will be looking for reassurance on these points.
– Kick It Out statement
Advertisement
Sunderland's shirt sponsor Invest in Africa has confirmed that they are "reviewing" their relationship with the club, but denied that the review was down to Paolo Di Canio's controversial appointment as manager.
Former foreign secretary David Miliband quit as the club's vice-chairman over the Italian's past statements professing to be a "fascist but not a racist".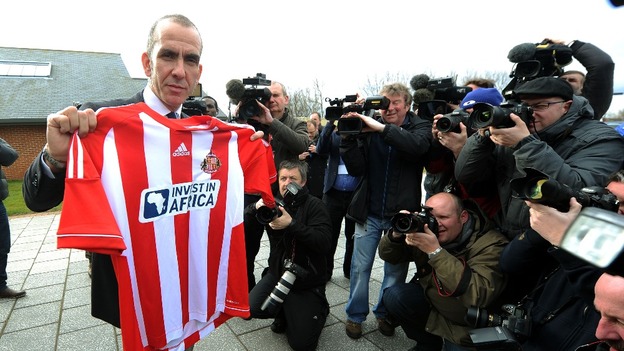 It had been reported that Invest in Africa were considering their position due to the controversial appointment of the former Swindon manager, but a spokesman for the sponsor denied that claim.
A spokesman told ITV News: "We have a one year sponsorship deal with Sunderland AFC with options to renew for the future.
"As a matter of course during this time in the sponsorship term and unrelated to events over the weekend Invest in Africa is currently reviewing its partnership with the club."
Watch: Di Canio dodges ITV News' question on his fascist beliefs.
The Nelson Mandela Centre of Memory, which has a partnership with Sunderland AFC, has released a statement reaffirming its relationship with the club in light of Paolo Di Canio's appointment. The statement reads:
The Nelson Mandela Centre of Memory and the management of Sunderland Football Club met in England on Monday to discuss the public debates around Sunderland's new coach. Mr Di Canio participated in the meeting ...

At the heart of the partnership is a commitment to our Founder's values with a special focus on human rights and anti racism.

At the meeting on Monday Sunderland reaffirmed its commitment to these values and the ethos of the partnership.

It must be stressed that the Centre's relationship is with the club, not with any individual in the club.
– spokesman, Nelson Mandela Centre of Memory

The organisation, which promotes the legacy of Nelson Mandela, formed a partnership with Sunderland last month.

The club has organised several fundraising events for its benefit, and plans to "utilise" its knowledge to "support football's quest to eradicate racism".
Paolo Di Canio refused to talk about his political views during his first press conference since being appointed the head coach of Sunderland.
In the video below, he says he is "not in the House of Parliament" and then dodges ITV News' Martin Geissler's question about whether he still considers himself a fascist:
Paolo Di Canio will work alongside four other coaches who served with him at his former club Swindon, according to a statement on Sunderland AFC's website:
Following the arrival of new head coach Paolo Di Canio, there's a few other new faces at the Academy of Light.

First team coach Fabrizio Piccareta, goalkeeping coach Domenico Doardo, fitness coach Claudio Donatelli and physiotherapist/masseur Giulio Viscardi have all joined the club's backroom staff.

The four all served alongside Di Canio at Swindon Town from May 2011 to February 2013.
– safc
Advertisement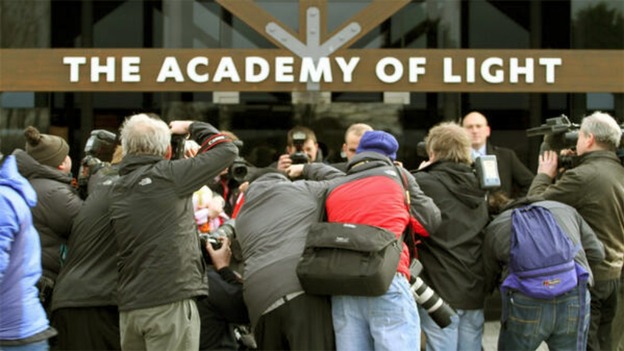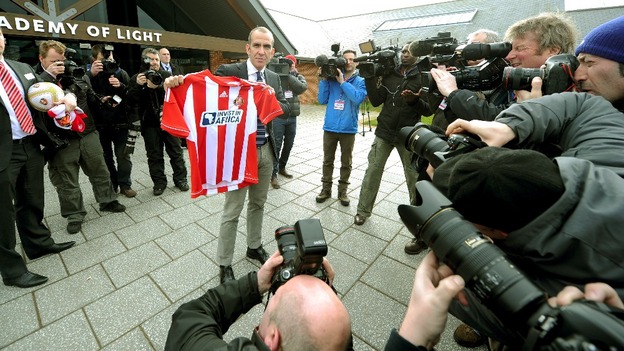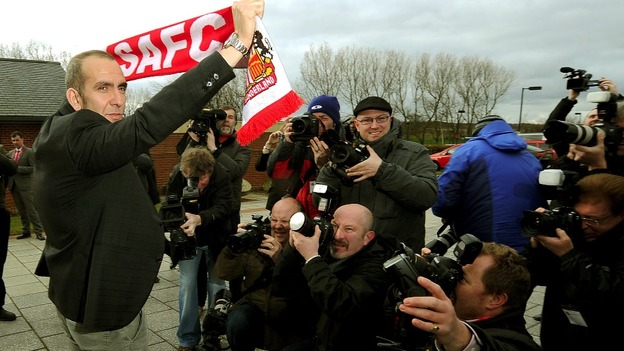 Sunderland fans have had a mixed reaction to Paolo Di Canio's appointment as head coach. Some, like Rob Johnson, said they would boycott the club while he remains in post:
Words can hardly express how sickened and ashamed I am by the appointment of Paolo Di Canio as our new manager.

Lest we forget, during WW2 267 people were killed and over 1000 wounded in Sunderland by Nazi bombers.
– Rob Johnson
For the first time in nearly 40 years, I find myself questioning whether I can continue to support our great club in the way I have done over the years.

I am sickened by our appointment of Paolo Di Canio.
– Richard Parker

Others felt Di Canio should be believed when he said his words had been twisted, and urged fellow fans to judge him by his results on the pitch:
Let Paolo Di Canio do his job of turning round a sinking ship and judge him on his ability to motivate the team and avoid relegation.
– Terry Reilly
PDC: 'Players need to fight for the shirt - go out on that pitch ready to sweat and shed blood for the club!'
PDC: 'As much as I like talking to the press, I'd much rather be out on the training pitch with my players.' http://t.co/CYETZJ1sdP
Load more updates
Back to top