Di Canio: I don't support fascism
After three days of intense public pressure, the new Sunderland head coach Paolo Di Canio has insisted: "I am not a racist and I do not support the ideology of fascism." He had refused to say if he was a fascist during a news conference yesterday.
Paolo Di Canio appeared riled when he left the press conference, asking reporters: "What do I have to apologise for?"
He says he has never made any statements about his political beliefs, and that it was just the media twisting his words.
Asked whether he still considers himself a fascist, Paolo Di Canio says: "I don't have to answer any more this question, there was a very good statement from the club".
"I don't want to talk any more about politics ... I'm not in the House of Parliament," he adds.
A press officer is cutting off any further questions on the subject.
Read: Di Canio calls claims of racism 'stupid and ridiculous'
Advertisement
PDC: 'Press like to call me the mad Italian, but I would confidently bet everything I have on Sunderland remaining in the top flight!'
PDC: 'The players worked very hard in my first training session. My arrival is good motivation for them.'
Reporters at the Paolo Di Canio press conference were given strict instructions that we would only answer questions about football.
Di Canio says he initially thought the phonecall in which he was offered the job was a "joke".
Now he says he has passion and focus, and doesn't care about the headlines in the press. He said he would bet "everything he has" on the club staying up.
Paolo Di Canio is telling reporters: "With my energy I am sure we can get something from the next seven games.
"I hope my ways give the team more confidence on the pitch."
Advertisement
Sunderland's new head coach Paolo Di Canio is giving his first press conference since taking over at the club.
Asked for his initial reaction to being offered the job, he said: "I felt fire in my belly. I would have swam to Sunderland to take the job.'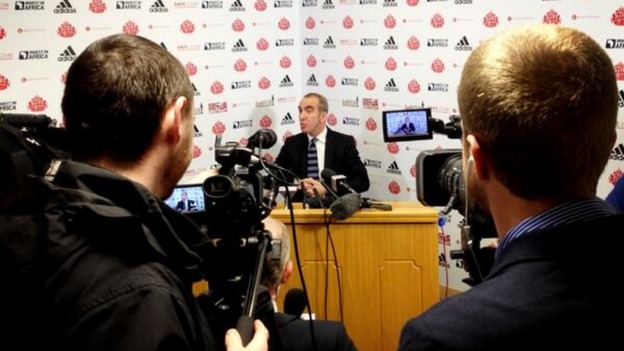 Sunderland has released a video in which Paolo Di Canio - the club's new head coach - shares his thoughts about the future. Watch the full 16-minute interview here.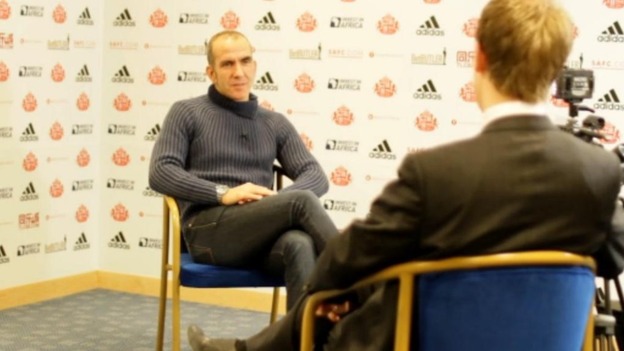 Paolo Di Canio is to be unveiled as the new head coach at Sunderland at a press conference this morning. The announcement of his appointment prompted David Miliband to quit his role at the football club, citing the Italian's "past political statements".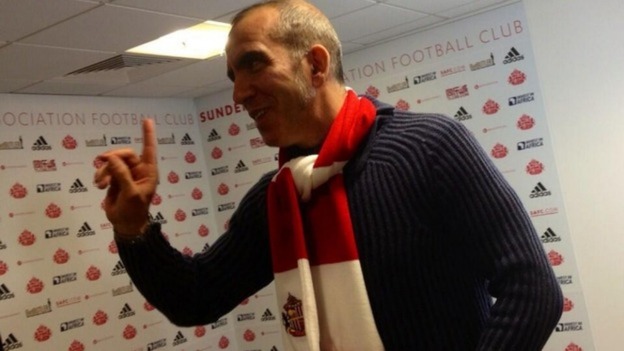 Following Miliband's departure, Di Canio, who was reported to have said he was a fascist and appeared to give an open-handed salute while playing for Italian side Lazio in 2005, denied he was a racist and said his comments were taken out of context.
The Durham Miners' Association has waded into the row over the appointment of Paolo Di Canio as Sunderland head coach.
Dave Hopper, general secretary of the association, said he was writing to the football club to demand the return of the Wearmouth Miners' Banner, which is on permanent display at the Stadium of Light, in protest at the decision to appoint Di Canio.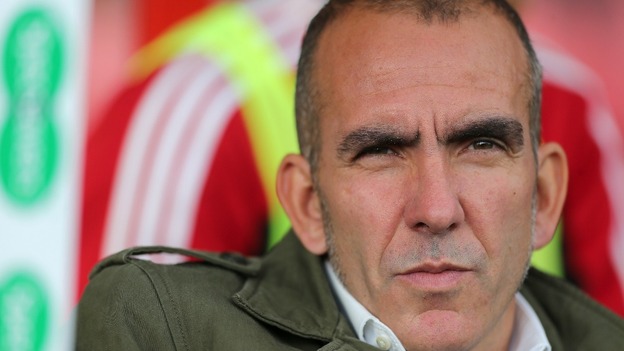 Mr Hopper, who worked for 27 years as a miner at Wearmouth Colliery, the site on which the Stadium of Light stands, described Di Canio's appointment as "an outrage" and "a betrayal of all those who fought and died fighting fascism."
In a statement on the association's website, referring to club chairman Ellis Short, he continued: "Everyone must speak out and oppose this outrage and call on Ellis Short and the Sunderland Board to reverse their decision."
Load more updates
Back to top