Kate recoils from royal doll
The Duchess of Cambridge recoiled when she came face-to-face with the doll version of herself during a visit to Scotland.Today the couple were joined by Prince Charles on day two of their trip.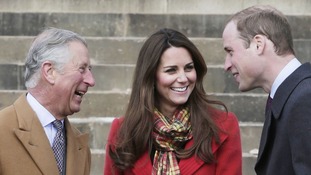 The Duchess of Cambridge came face-to-face with a doll version of herself on a visit to Scotland, but seemed unimpressed by its haircut.
Read the full story
Prince William jokingly told employees at BAE Systems in Barrow-in-Furness, Cumbria that they can "get back to work" after watching him unveil a plaque at the factory.
The occasion was to mark the opening of a new suite of offices where the next generation of Britain's nuclear submarines will be designed.
Advertisement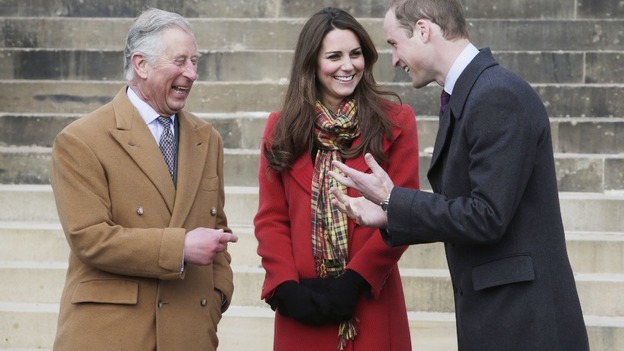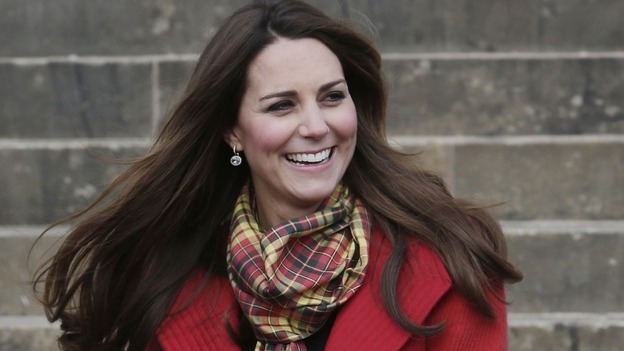 The Duchess of Cambridge recoiled when she came face-to-face with the doll version of herself during a visit to Scotland.
Dayna Miller, 11, from Coylton, showed Kate the doll which she was given as a Christmas gift from her mother and the royal exclaimed: "No, is that what my hair looks like?"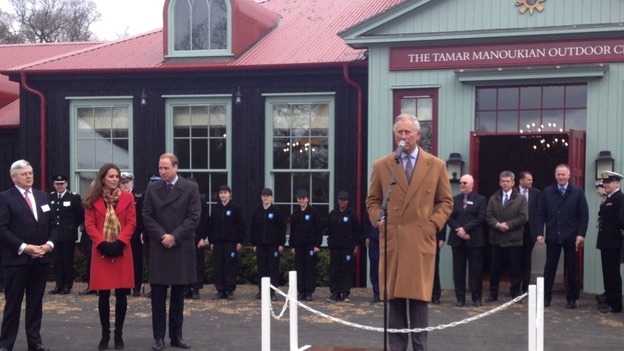 The Duke and Duchess of Cambridge braved the cold to attend the opening of an outdoor centre in Scotland today.
The couple joined the Prince of Wales at Dumfries House in Ayrshire, where Charles has led a regeneration project since 2007.
As Charles prepared to address the crowd, William rubbed his cold hands and told his father to "make it brief". Charles promised the hundreds of locals and youth groups assembled he would oblige to prevent anyone from passing out due to "secondary exposure."
The Duke and Duchess of Cambridge were greeted by crowds of eager well-wishers in Glasgow today as they toured the Commonwealth Games venue.
Kate revealed the couple have agreed a shortlist of baby names, and that she has taken up knitting ahead of the birth of the baby, due mid-July. Royal Correspondent Tim Ewart reports
Watch: Little girl spurns Prince William's kiss
More: Duchess says it is difficult to choose a name for her baby
Advertisement
The Duchess of Cambridge has revealed her baby is due in mid-July, and that she and William have agreed upon a shortlist of names.
Kate, who is six months pregnant, opened up about how excited she is about becoming a mother during a visit to a homeless shelter in Glasgow.
She also revealed she has taken up knitting ahead of the birth, and that she planned to go on maternity leave from her Royal duties in June.
When asked whether she had decided on what to call her baby, and when it was due, she said:
It's around mid-July but apparently babies have their own agenda...We have a shortlist for both (boy and girl) but it's very difficult....My friends keep texting me names.
The Duke of Cambridge was left rather embarrassed in Glasgow today as he attempted to greet a young admirer with a kiss, and take a flower she was holding, only to be roundly rejected on both fronts.
Four-year-old Shona Richie had been waiting all morning to ask the Prince for a kiss, but then "got really shy and pulled away" when he appeared, her mother told Sky News.
Prince William gave the youngster a good-humoured pat on the back instead. He told the shocked crowd: "It always happens, all the girls do that."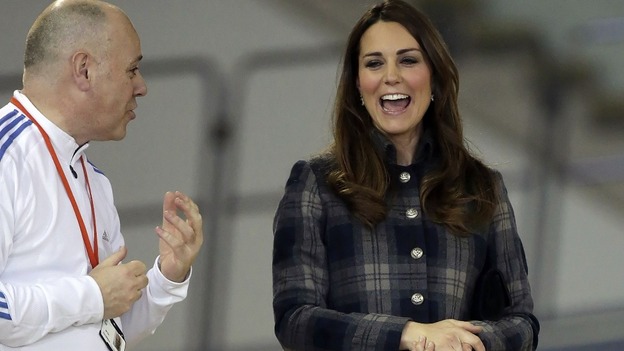 The Duchess of Cambridge wore a tartan coat for her visit to Scotland by the British family-run design company moloh.
Kate's £425 pure wool blue and grey plaid coat, called a worker's coat, was created by Caroline Smiley, designer and founder of moloh, which is celebrating its 10th anniversary this year.
A spokeswoman for the company said Kate has worn a belt from the firm in the past.
She said: "She's worn the brand before a few years ago but it's great to see she's a loyal fan."This coat is from our collection released this year. Only 20 have been made, so once they've gone, they've gone."
The pregnant Duchess of Cambridge met a baby girl during her visit to Glasgow and said she was "feeling much better" after she suffered from a rare form of pregnancy sickness.
Kate, who was carrying a bunch of flowers that the little girl was keen to try and eat, told her: "It's probably not so tasty."
Load more updates
Back to top