Measles cases rise to 886
Public Health Wales has reported that the number of measles cases has risen to 886, as children have gone back to school after Easter. 25-year-old Gareth Williams died during the epidemic, it has not been confirmed whether measles was the cause.
Wales
Health chiefs at Abertawe Bro Morgannwg University Health Board say 1,800 people were vaccinated at the area's four drop-in MMR clinics today – the highest number so far.
The full numbers are:
Princess of Wales Hospital: 727
Neath Port Talbot Hospital: 455
Morriston Hospital: 341
Singleton Hospital: 302
Many of the 1,825 given MMR jabs were older schoolchildren, teenagers and young adults - the target age group for vaccines.
I'm really pleased. We have seen a steady flow of people throughout the day; and I'm particularly delighted to see a higher number of older children and teenagers come through the door, as they are our main target group.

I'm also impressed with how smoothly the clinics are running. Our staff are working very efficiently and for most of the day there have been very few queues. After the initial rush, many people have arrived and either been seen straight away or waited just 10 or 15 minutes.
– Sara Hayes, Director of Public Health at ABMU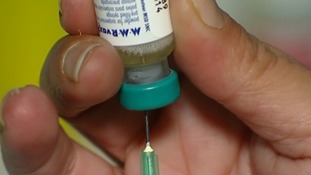 A man who died in from a suspected case of measles in Wales was infected with the disease at the time of his death, health officials said.
Read the full story
Advertisement
Wales
Dr Marion Lyons of Public Health Wales says with 20 new cases of measles daily in Wales at the moment a death would not be surprising.
An investigation is underway on Friday to find out if a 25 year-old man from Port Tennant near Swansea died from the virus.
by Emily Morgan - ITV News Correspondent
The Coroner in Swansea confirms the 25-year old man who died yesterday morning did have measles at time of death.
The coroner for Swansea, the centre of the epidemic, has ordered an examination of the body of a 25-year-old man to establish whether measles caused his death.
We are aware of a possible death from measles, and extend deepest sympathies to the family and friends at this difficult time.

We continue to be in close contact with Public Health Wales and to stress the importance of vaccination as the most effective way to protect against measles.
– Welsh Government spokesperson
Public Health Wales has said that it is aware of reports that the death of a 25-year-old man in Swansea is due to measles, but that no diagnosis has been confirmed.
Public Health Wales is aware of a death being investigated by the Swansea Coroner. A diagnosis of measles has not yet been confirmed. Testing the deceased for measles is forming part of the investigations being overseen by the Coroner.

My sympathies are with the family at such a tragic time. Whatever the cause of death in this case, we should not be surprised if, as the outbreak grows, we start to see deaths in Wales.
Symptoms of measles include fever, cold-like symptoms, fatigue, conjunctivitis and a distinctive red-brown rash that appears a few days into the illness. Anyone who thinks they or their child may have measles should speak to their GP immediately.
– Dr Marion Lyons, Director of Health Protection
Advertisement
Wales
It is reported that a 25 year old man found dead at a flat on Port Tennant Road in Swansea yesterday died from 'suspected' measles.
South Wales Police have confirmed that the death is not being treated as suspicious and that officers are awaiting the results of a post mortem examination.
Public Health Wales have told ITV News that they will be releasing a statement 'shortly.'
More than 800 people have now been infected with measles in South Wales, following 43 more confirmed cases in the last two days.
Health officials are warning that the outbreak won't end until unvaccinated children are given the MMR jab, but some parents still believe the jab can cause other problems.
ITV News Correspondent Emily Morgan reports:
Dr Helen Bedford, Senior Lecturer in Children's Health, Paediatric Epidemiology Unit, UCL Institute of Child Health has highlighted the importance of immunisation to just for individuals but also for the community to help protect those who are at a greater risk or who cannot be immunised themselves.
Read more: Mother's anger with parents who failed to give children MMR
Read more: Mother's autism fears despite debunked MMR theory
Dr Mike Fitzpatrick, a GP and author of "MMR & Autism: What parents need to know", has said that the measles outbreak in Wales is the result of now discredited claims by Dr Andrew Wakefield in 1998 which linked the MMR to autism.
Read more: Mother's autism fears despite debunked MMR theory
Load more updates
Back to top