Measles cases rise to 886
Public Health Wales has reported that the number of measles cases has risen to 886, as children have gone back to school after Easter. 25-year-old Gareth Williams died during the epidemic, it has not been confirmed whether measles was the cause.
Wales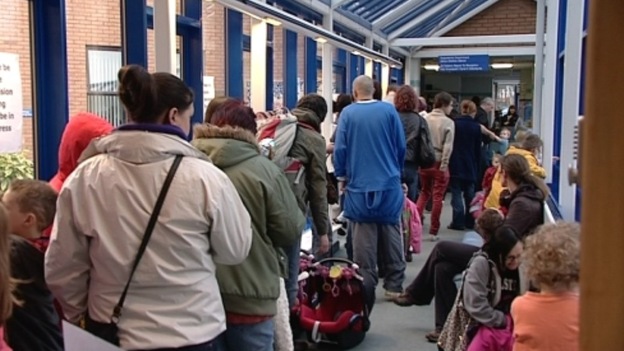 Public Health Wales says vaccinations are being offered to parents in Swansea "on a scale never seen before."
It says the measles virus has continued to circulate and spread among children in the easter holidays, and is expected to spread further among those susceptible now they are back at school.
Read More: Measles - How it's caught, symptoms and treatment
Wales
Public Health Wales says the number of cases in the measles outbreak has reached 765.
An extra 72 cases have been reported since Thursday.
A total of 77 people have now been hospitalised during the outbreak.
Advertisement
Wales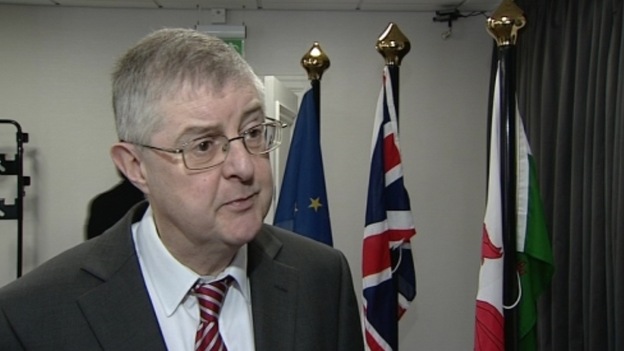 Wales' Health Minister says he "remains concerned" about the measles outbreak, and anticipates that the number of cases "will continue to rise over the coming weeks."
In a written statement, Mark Drakeford reiterated the calls of public health officials for as many people as possible to have MMR vaccinations.
Abertawe Bro Morgannwg Health Board begins vaccination clinics in schools in Swansea tomorrow, and Mr Drakeford said other health boards will also be offering catch-up clinics targeting schools with low vaccine uptake.
He said: "The Welsh Government, Public Health Wales and the Health Boards will continue to take all necessary and appropriate measures to reduce the impact of the outbreak as far as possible."
The latest figures on the number of cases in the outbreak are due later today. Last week they reached 693.
by Emily Morgan: ITV News Correspondent
There are obviously fears that this outbreak could spread across Wales and on in to England . The health officials do not want to be alarmist about this, but there are 40,000 children who have not been vaccinated across Wales, there are 6,00 in this area in Swansea alone.
It has not spread significantly yet, but the movement of children and the fact they have gone back to school today means that there is an increased risk.
The vaccination programme at the moment does seem to be targeting the right people, children went home today with letters for their parents it is hoped they will then fill in consent forms and if all the children who need to be are vaccinated at school they could reach 2,000
That would go some way to help allay the fears about this outbreak, but they are a long way from cracking it yet.
Wales
Public Health Wales have published more details of the number of cases of measles in an outbreak centred on Swansea.
The data shows that the number of cases has risen rapidly in February and March.
It also shows that children aged between 10 and 14 years old are the most at risk.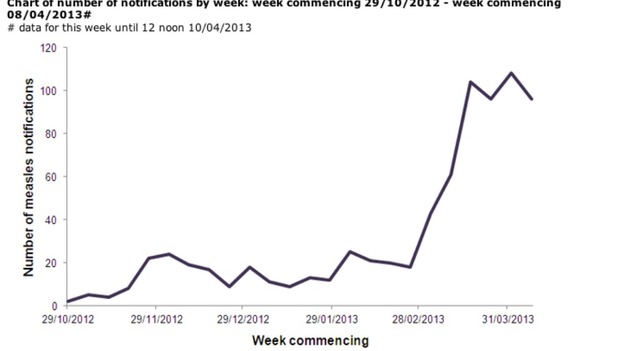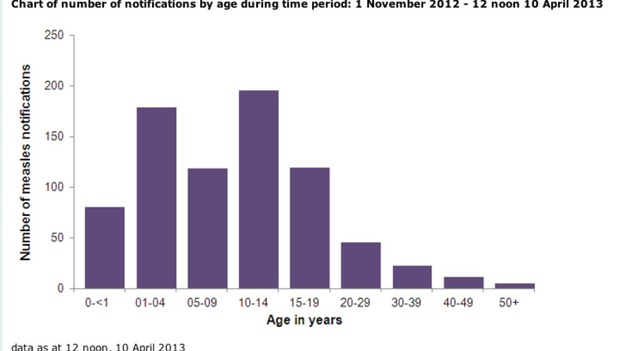 Lauren Scrine has said that she is angry and blames parents who did not have their children vaccinated for the spread of measles.
Her 11-month-old daughter Lily was too young to have the MMR (usually given at around one-year-old) and is now being treated after contracting the disease.
For measles immunisation to be effective 92-95% of the population must be immunised to provide full 'herd immunity.'
Advertisement
Wales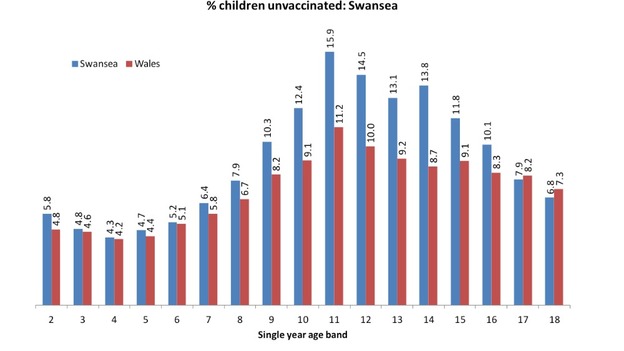 Firgures from Abertawe Bro Morgannwg University Health Board show that more than 10% of children aged 11 to 16 in Swansea have not had both MMR vaccinations.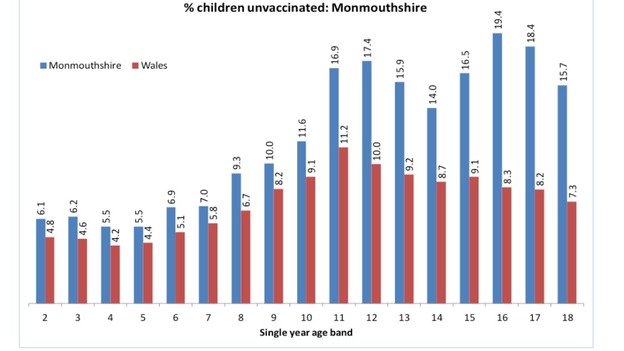 The number of children unvaccinated in Monmouthshire are also higher than the all-Wales average. More than 15% of children aged between 11 and 18 years old have not received both MMR vaccines.
More children in Powys, Newport, Ceredigion and Pembrokeshire have unvaccinated than the national average.
There are growing fears over the number of children diagnosed with measles in South Wales.
Daybreak's Health Editor Dr Hilary said that there are thousands of children across the country who did not have the MMR jab due to health scares in the 1990s. He added:
There is a big reservoir of children who have not been vaccinated or even those who haven't had a second dose, and they are vulnerable.

Parents should be asking "did my child have the MMR, and if not can they have it now?" because they are at risk.
The number of people diagnosed with measles in South Wales has risen to 693 and figures could "easily double" a health expert has warned.
Speaking to the BBC, Dr Meirion Evans of Public Health Wales (PHW) said, that 40,000 children in Wales remain unvaccinated. He added:
I think [the number of cases] could easily double, and I think we know from historical experience it is only when the summer holidays arrive that it will finally fizzle out, because it stops the spread at school.
– Dr Meirion Evans of Public Health Wales (PHW), speaking to the BBC
Wales
Parents flocked to drop-in MMR clinics across south Wales yesterday, as the measles outbreak continues.
Over 1,700 MMRs were given in the second weekend of clinics across Swansea, Neath, Port Talbot and Bridgend, with queues starting over an hour before clinics opened.
I cannot stress enough how important it is for people to have their MMR. The number of cases and people being hospitalised with measles is continuing to rise and we can only stop it by protecting those we can against it.

Measles is a horrible disease and can have long term effects such as deafness and blindness. This is why we are offering first vaccinations early to babies aged 6 months to one year. It's also very important for older children and adults born after 1970 to make sure they have had two MMRs.
– Dr Sara Hayes, Abertawe Bro Morgannwg University Health Board

Abertawe Bro Morgannwg Health Board say further clinics will be held next weekend as well as rolling out a schools campaign starting with five comprehensive schools in Swansea and Neath Port Talbot.

Around 200 at the first clinics at Cardiff Royal Infirmary and University Hospital Llandough.

Aneurin Bevan Health Board also held clinics in Newport and Ystrad Mynach.
Load more updates
Back to top