G8's warning to North Korea
G8 foreign ministers meeting in London have urged North Korea to refrain from any more provocative acts.
Foreign Secretary William Hague outlined the progress made on a host of topics under discussion at the G8 summit as follows:
G8 ministers remain "deeply concerned" about Syria and will prioritise improving humanitarian access, ensuring donors pay up and promoting stability in countries that are hosting refugees.
Committed to "further significant measures" against North Korea if there is another missile launch or nuclear test.
Warned that the "window of diplomacy" with Iran over its nuclear programme would not remain open for much longer.
Welcomed recent progress on the Middle East peace process.
Welcomed political and economic progress in Burma but expressed concern about ethnic and religious conflict.
On Iran, William Hague said the second half of this year "will be very important in resolving the Iran nuclear crisis".
He said it is then that Iran will have to decide whether it really means what it says.
Advertisement
Foreign Secretary William Hague said the G8 ministers are concerned that Syria "is now the number one destination for jihadists in the world".
He added that "the world has failed in its responsibilities to Syria" - in fact he said that three times in five minutes.
Mr Hague also said there was a strong case for the lifting of the EU arms embargo.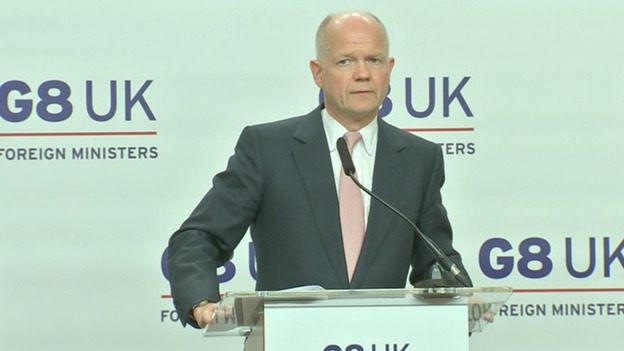 Foreign Secretary William Hague admitted that "the world has failed" in its responsibilities to Syria and that it "continues to do so".
Pressed by ITV News' International Editor Bill Neely to admit that the G8 talks had made "no progress" on the issue, he said he had never expected a breakthrough at the meeting.
But he added that the discussions, which included Syria's ally Russia, had been valuable and that it was "vital to continue the discussions if we are ever to make a breakthrough".
G8 foreign ministers have condemned North Korea's "current aggressive rhetoric" and say this will only serve to further isolate the country.
They urge to North Korea to "refrain from further provocative acts".
Their statement is strong but might have been stronger. However they wanted to refrain from aggressvie language that might further inflame the crisis.
On Syria they expressed deep concerns about what they called "the increasing human tragedy of the conflict" in the country.
They emphasised the need for a political solution but there was little other agreement - the divisions between Russia and the West have not diminished.
Foreign Secretary William Hague is leading talks between G8 foreign ministers in London, with Syria and North Korea dominating discussions.
ITV News Correspondent Neil Connery reports:
Advertisement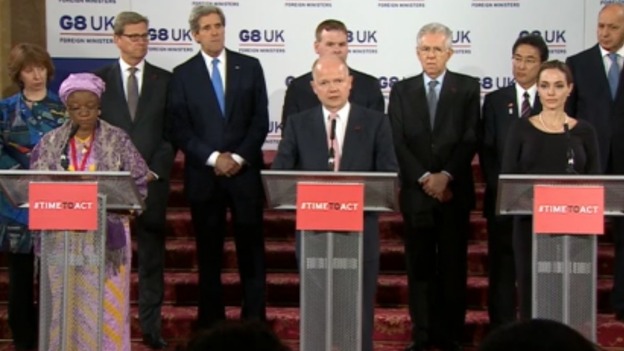 The Government will spend a further £10 million on tackling war-zone sexual violence and violence against women and girls, Foreign Secretary William Hague announced.
Mr Hague said the commitment was necessary to "end the treatment of rape and sexual violence as a secondary issue and to put women and women's rights front and centre in conflict resolution."
Half of the money (£5 million) will come from the Foreign Office (FCO), while the other half will come from the Department for International Development (DfID).
The UK's pledge will make up part of a £23 million package pledged by the G8 nations, whose foreign ministers are meeting in London today.
Actress Angelina Jolie, who attended the meeting in her role as a UN envoy, welcomed the "long-overdue stand that the G8 has taken and this landmark declaration".
G8 foreign ministers urged North Korea to refrain from further provocative acts, during talks in London.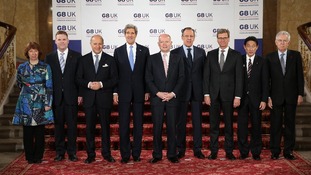 This G8 meeting is important but the countries involved are almost powerless to solve any one of the crises they gather to discuss.
Read the full story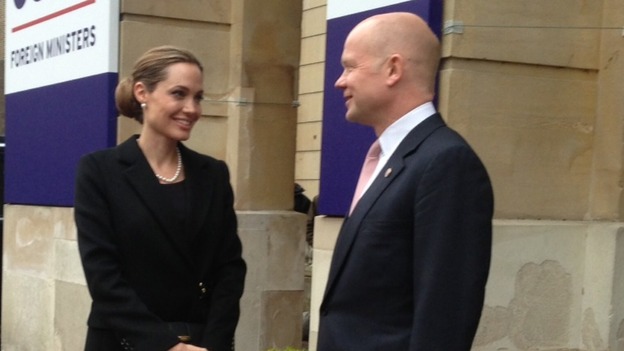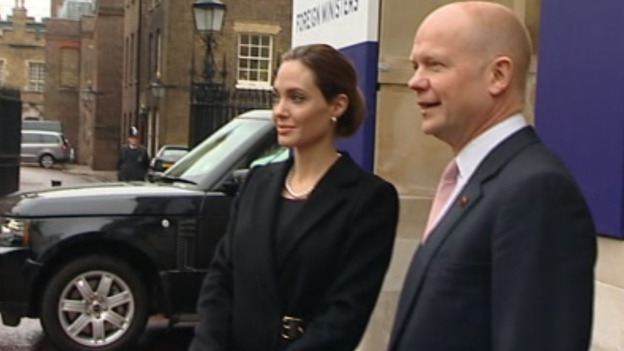 Load more updates
Back to top