New Boston suspects' images
The FBI has released two fresh images of two possible suspects in the Boston Marathon bombings.
The Boston Globe newspaper has posted a full list of people injured including fatalities in the marathon bombings. Thirty-eight people are currently listed, with name, age, hometown, nature of injury and source of information.
The family of Boston Marathon bombing victim Krystle Campbell has said they were "devastated" by the loss of their daughter today following President Obama's visit to the city. In a statement in the Boston.com, they said:
Our family is devastated by the loss of our daughter Krystle. She was an incredible and loving sister, daughter, niece, granddaughter and friend. Her presence will be missed more deeply than words can express.

We are so grateful for the efforts of the first responders, doctors, nurses and the many other individuals who aided not only Krystle, but the many others who were injured or killed in Monday's senseless attack.
Furthermore, we are thankful for the outpouring of prayers, love, and support from our friends and families, the great community of Medford, the City of Boston, the Commonwealth of Massachusetts, the nation and the world.

At this time, we ask to be allowed to grieve privately and thank everyone for your understanding.
– The Campbell Family
Advertisement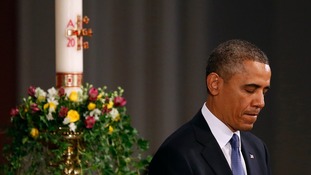 President Obama attended a memorial service in Boston today, paying tribute to the victims of Monday's terrorist attack.
Read the full story
The route of the Boston Marathon is still sealed off by the authorities, and still empty.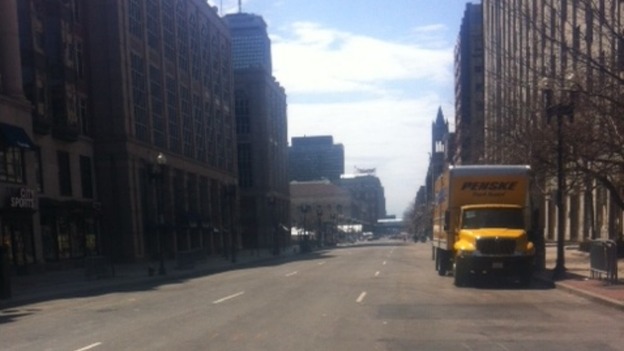 Dr Peter Burke Chief of Trauma Services at Boston Medical Center told reporters today that patients were "getting better" following injuries sustained in the Boston Marathon bombings.
Dr Burke added that 16 people remain in hospital, with one patient considered 'critical'.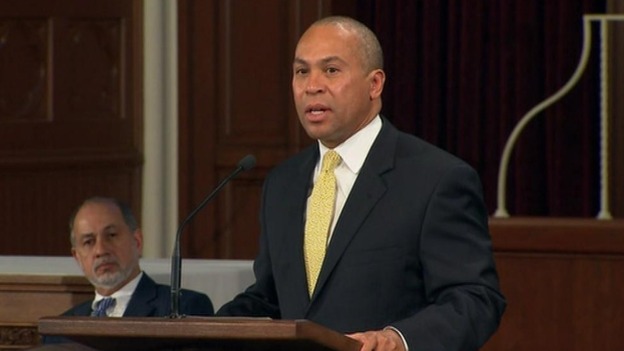 Governor of Massachusetts Deval Patrick told a memorial service for the victims of the Boston Marathon attacks that "We will have accountability without vengeance".
Governor Patrick thanked those who attended to the wounded in Monday's bombings. He added: "We will recover and repair. We will grieve our losses and heal. We will rise and endure".
Advertisement
President Obama told a memorial service for the victims of the Boston Marathon bombings that America "will find" those responsible for the attack. In a speech, Obama said:
We will find you. You will face justice... we will hold you accountable.

We may be momentarily knocked off our feet but we'll pick ourselves. We will finish the race. On that toughest mile, just when we think we've hit a wall, someone will be there to cheer us on.

This time next year the crowds will gather and cheer louder for the 118th Boston Marathon.
President Obama told a memorial service in Boston that everyone has been "touched" by the "attack on their beloved city" following the bombings at the Boston Marathon.
Obama said in a speech: "The spirit of this city is undaunted."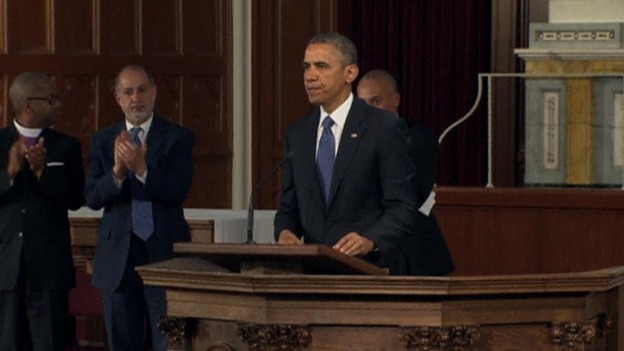 "Everyone has been touched by the attack on your city. Everyone of us stands with you. It is our beloved city too. Boston may be your home town but we claim it too.
"I know this, because there's a piece of Boston in me.
"For millions of us, what happened on Monday was personal. It's personal".
The President quoted civil rights leader Martin Luther King: "No more hurting people. Peace."
"We will all be with you as you learn to stand and walk again. Of that I have no doubt, you will run again".
President Obama is due to meet with victims of the Boston attacks today and with the families of those injured or killed, a White House spokesman told reporters aboard Air Force One.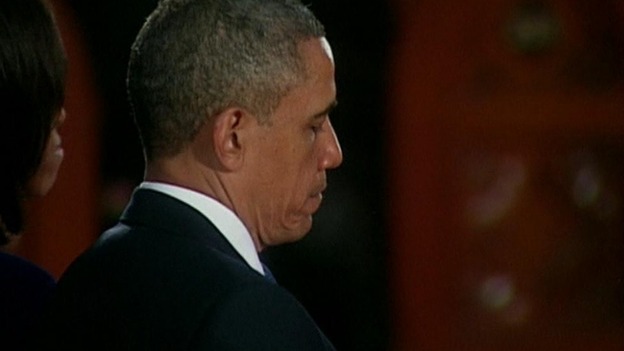 The FBI has said it wants to speak to two men seen in at least one video from the Boston Marathon, says Homeland Security Secretary Janet Napolitano, but has not referred to them as 'suspects'.
Three people were killed and more than 170 other were injured when the bombs exploded on Monday.
Ms Napolitano told the House Homeland Security Committee today that "there is some video that raised the question" of two men the FBI would like to interview but said would not describe them as suspects. She said the investigation is continuing "apace".
Load more updates
Back to top