New Boston suspects' images
The FBI has released two fresh images of two possible suspects in the Boston Marathon bombings.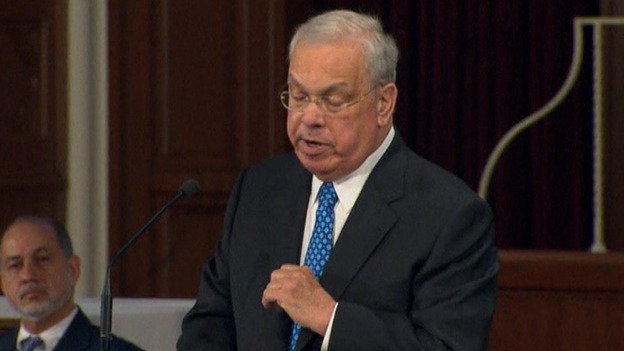 The Mayor of Boston told an interfaith memorial service for the victims of the Boston Marathon bombing that "nothing can defeat the heart of this city".
Tom Menino told the service: "We have never loved the people of the world and our great country more, for their prayers and their wishes."
He added: "This is Boston - a city with courage, compassion, and strength that knows no bounds".
An interfaith service has begun for victims of the Boston Marathon bombing. President Barack Obama is due to give an address at the Cathedral of the Holy Cross in Boston's South End, about a mile from the bombing site.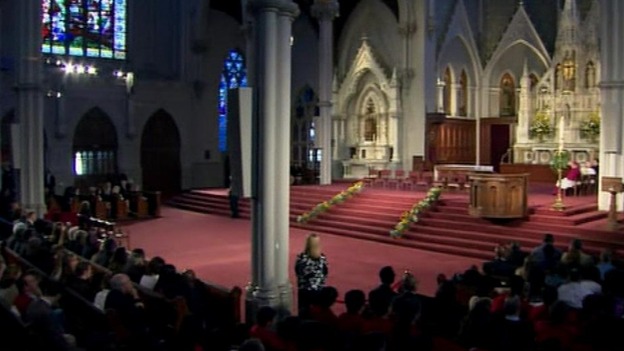 Advertisement
Boston Police have been on patrol, awaiting the arrival of President Obama, who is due to attend a memorial service for the victims of the Boston Marathon bombing today.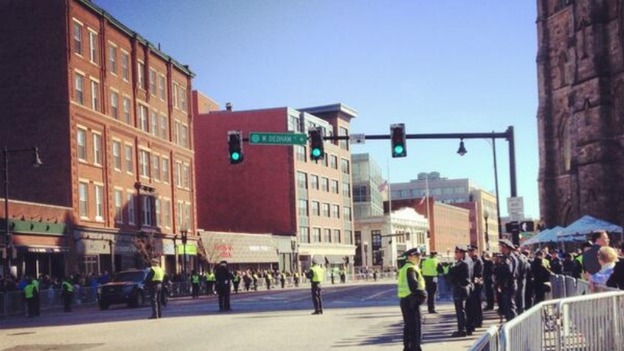 Video and photographs taken at the scene have led investigators to a number of 'people of interest' but in particular one young man wearing a baseball cap and seen carrying a bag and then dropping it off at the site of one of the explosions.
He is also seen talking on a mobile phone and investigators are now tracing those phone records to see if they can identify him.
They are also using computer facial recognition technology to see if his face matches any face on criminal records.
They are scouring rooftops, scouring parks we saw yesterday an inch by inch, painstaking surge of a huge crime scene around around.
But they are talking about a significant breakthrough.
People in this city still on edge still hurting.
Transit Police in Boston are urging people to report "all unattended bags or packages" left on public transport following the marathon bombings:
Investigators in Boston are hunting a suspect in the marathon bombings who was identified from CCTV footage.
They are trying to piece together the bombs from remnants found on site, Daybreak's Lucy Watson reports.
Advertisement
It has been reported that Investigators in Boston believe they have identified, from CCTV pictures, a suspect in the bombing of Monday's marathon. The FBI says no one has been arrested.
It seems it is now a case of trying to find the person caught on a department store security camera.
ITV News International editor Bill Neely reports:
The sense of shock after Monday's explosions has given way in Boston to confusion.
People are hoping against hope that the bomber is caught soon but they are bewildered by the leaks and changing stories emerging from the FBI.
Correspondent Robert Moore's report, contains distressing images: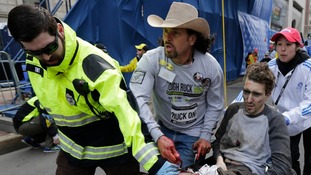 The man in the cowboy hat - Carlos Arredondo - photographed helping the injured at the Boston bombings has spoken to ITV News.
Read the full story
Michelle Obama has expressed her condolences for the attack in Boston during a speech at the US Naval Academy. Earlier it was announced the First Lady will accompany her husband on a visit to the city tomorrow.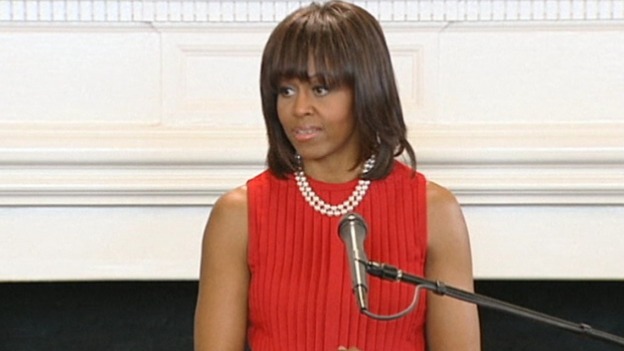 She said: "Our thoughts and prayers are with everyone in Boston. My husband continues to monitor the situation and he has directed the full resources of the federal government to assist state and local authorities as they investigate this horrific attack.
"And what happened on Monday was a reminder that in times of crisis, here in America we respond with courage and grit and selflessness.
"That's exactly what we saw from the people of Boston and from all of those who rushed to aid the victims, especially the police officers and fire fighters, the first responders, our men and women in uniform. That is the spirit of Boston, but that is also the spirit of this country."
Load more updates
Back to top