Driver killed in Alps is named
The driver killed in a coach crash in the French Alps has been named as Maurice Wrightson who was working for for Classic Coaches in Stanley, County Durham.
Our thoughts are with those involved in the coach crash in Isere. On my way with consular support.
A local French journalist is reporting that three badly injured Brits have been taken to hospital in Grenoble following the deadly coach crash near the popular ski resort of Alpe d'Huez.
Advertisement
British travel organisations Abta and the Ski Club of Great Britain said they were attempting to get more details on the deadly coach crash close to one of France's largest ski resorts.
We don't know if they were travelling with a tour operator or not.

Alpe d'Huez is one of the largest French ski resorts and welcomes quite a few British tourists
The local authorities in Alpe d'Heuz have said they can only confirm that the coach driver has died following the crash, and that and twenty people have been injured, three of which seriously.
At least one British holiday maker has died in a coach crash in the French Alps, police said. A further two tourists are thought to have died in the cash, which happened around 3pm local time in the Alpe d'Huez resort. A Grenoble police spokesperson said
There is not much information at the moment but on the face of it, at least one Briton has died. We do not know how the crash happened.
Three people are reported to have died and four seriously injured after a coach crash in the French Alps.
Local media are reporting that the bus was carrying fifty young British people from the resort when the vehicle stuck a cliff and erupted into flames.
ITV News cannot independently verify local reports.
Advertisement
We are aware of the tragic incident involving British nationals in a region in the South of France.

We are in touch with local authorities and are providing consular assistance.
– Foreign Office spokesperson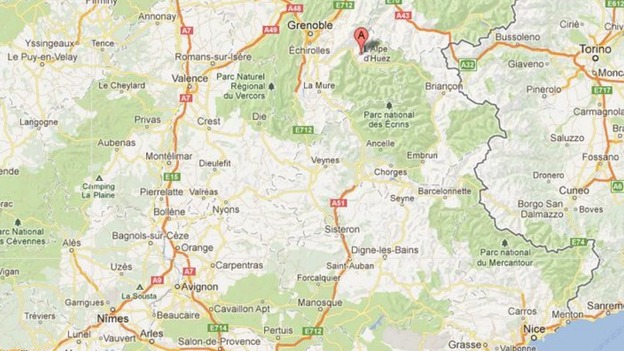 Three people have died and four have been seriously injured following a crash near the Alpe d'Huez resort in Isère, in the French Alps, Le Parisien reports.
Three people have reportedly died after a coach crash on the way back from French ski resort of Alpe d'Huez.
It has been reported locally that the three victims could be young British tourists, but this has not been confirmed.
Load more updates
Back to top