Britain reflects on Thatcher
People across the country have been paying tributes and protesting following the funeral of Margaret Thatcher.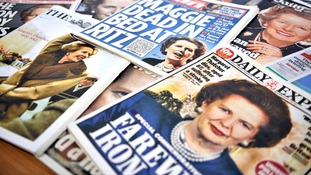 ITV News consults the historians and opinion-formers who will shape how future generations see Margaret Thatcher.
Read the full story
In contrast to the people paying their respects in London, there were celebrations in the pit village of Goldthorpe in South Yorkshire.
ITV News special correspondent Geraint Vincent was with former miners and their supporters who were heralding the end of an era.
Advertisement
Calendar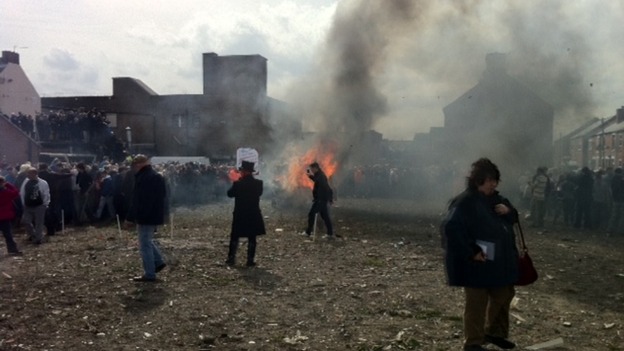 Calendar
Wales
Thomas Burley travelled to London from Barry to witness Margaret Thatcher's funeral procession He spoke to our Political Editor Adrian Masters outside St. Paul's.
Wales
Also amongst the mourners in St. Paul's was Jeff James who's Chairman of the Welsh Conservative party. He says he was there to represent all the party's members in Wales
Advertisement
Wayne Thomas, general secretary of the National Union of Mineworkers (NUM) in Wales, did not travel to London, says he still feels anger towards Baroness Thatcher, but has said that a debate on her policies should wait until after she has been laid to rest.
As a 22-year-old miner based in the Swansea Valley during 1984, his experiences of a year on strike have left an indelible mark.
Mr Thomas believes that the only fitting epitaph for Baroness Thatcher's grave would be "May God Forgive Her".
My view on the matter is quite clear - I do think that we should show respect for the family of Mrs Thatcher. They have lost a loved one.

There are grieving family members and we should respect that.

I think it has reopened the debate on the rights and wrongs of what she did. But that is a debate for after she has been buried.

I do think that people are trying to airbrush away how horrendous her policies actually were.
– Wayne Thomas, general secretary of the National Union of Mineworkers in Wales
In Scotland former miners reflected on the "hated" figure's legacy locally.
At the Dean Tavern in Newtongrange, Midlothian, the funeral was shown on a television screen in the corner of the room.
The volume was turned off and none of the patrons in the bar appeared to watch the footage.
Instead, a 1980s documentary about the village, following the closure of its Lady Victoria colliery was played at full volume on another screen.
I'm not watching that funeral. I'd rather go and fight in Afghanistan.
– John Falconer, former miner
I think the world's a better place today. I'm glad to think that perhaps it's closure for a lot of people.

I think we're still suffering from (Thatcherism) today. The current banking system was started by her, she initiated all of that.

I think the economic crisis we're suffering today is largely down to the changes that she introduced.

The loss of industry in Scotland was horrendous. What did we not lose?
– John Byrn, tavern manager
Calendar
Hundreds have gathered at Goldthorpe Union Jack working men's club in Barnsley to give their own send off to Margaret Thatcher. They have arranged a party and later will burn an effigy of the former Prime Minister. The area is home to many former miners.
Wales
The Institute of Economic Affairs, the think-tank behind many of the policies that became know as 'Thatcherism' have issued a series of tributes to Margaret Thatcher following her funeral, including this from Profesor Patrick Minford of the Cardiff Business School.
As Prime Minister, Margaret Thatcher faced overwhelming odds. The truth is that she saved us from economic disaster and turned Britain once more into an engine of economic progress. For this we must treasure and honour her memory.
– Prof Patrick Minford, IEA Trustee and former economic advisor to Baroness Thatcher
Load more updates
Back to top