Mourners bid Thatcher farewell
Final respects have been paid to Baroness Thatcher as the former prime minister was carried with full military honours to St Paul's Cathedral for her funeral.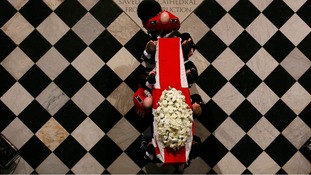 Baroness Thatcher was honoured with a ceremonial funeral at St Paul's Cathedral in the presence of the Queen and dignitaries.
Read the full story
Rupert Murdoch has tweeted his tribute to 'great radical' Margaret Thatcher:
Farewell Iron Lady. Great radical achieved huge changes, but still much to do.
Advertisement
Wife of former prime Minister Gordon Brown has tweeted her support for Amanda Thatcher saying she read well on a "daunting occasion."
Lady Thatcher's funeral service seemed to have all she wanted in it. Her granddaughter gave her reading very well despite daunting occasion
More than 4,000 police officers were joined by thousands of people on the streets of London to see Lady Thatcher's funeral procession and pay their respects. It had been feared the occasion would be marred by protests and scuffles.
But as Sejal Karia reports, the cortege passed from Westminster, where she once dominated, to St Paul's Cathedral without incident.
Lord Steel told ITV News that the number of politicians from across the political spectrum could come together for the funeral of Margaret Thatcher because, "she had such a distinguished role as Prime Minister meant that everybody was there to pay tribute."
Thousands lined the route to pay their final respects to Britain's longest serving but most divisive Prime Minister.
Protests remained muted as the coffin draped with a Union Jack flag made its way to St Paul's Cathedral for the funeral of Baroness Thatcher this morning.
Her family was joined by more than 2,000 mourners including the Queen, foreign dignitaries politicians and Prime Ministers past and present.
ITV News Political Correspondent Carl Dinnen reports on a final farewell to Lady Thatcher:
Advertisement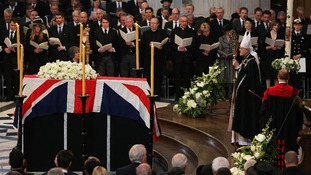 If there were protests, they certainly did not disrupt Baroness Thatcher's funeral nor sully what was indisputably a dignified farewell.
Read the full story
Former Liberal Democrat leader Paddy Ashdown spoke to ITV News Presenter Alastair Stewart after Baroness Thatcher's funeral and said: "It's an opportunity to pay respects to a remarkable Prime Minister.
"You may agree with her or not one thing is without doubt; when she came to power Britain was a wreck and disregarded by most of the world, when she left power Britain was a more successful country. For this great thanks, for this great respect."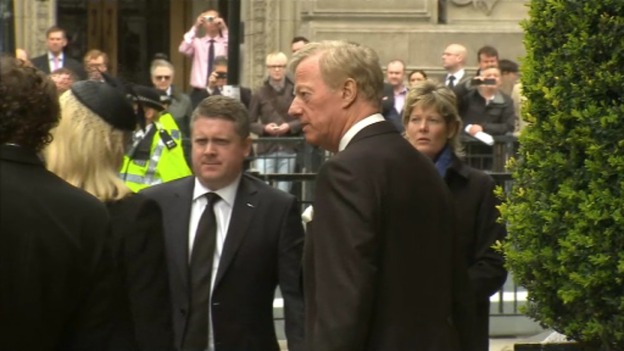 Guests begin to arrive at the Guildhall for a reception of friends and family of Lady Thatcher. A separate reception to be hosted by Foreign Secretary William Hague at the Mansion House for representatives from foreign states and other distinguished foreign VIPs.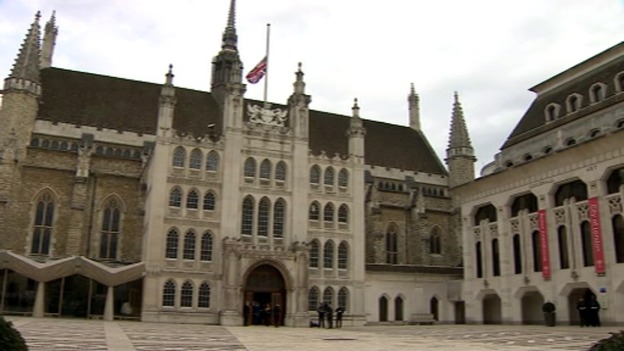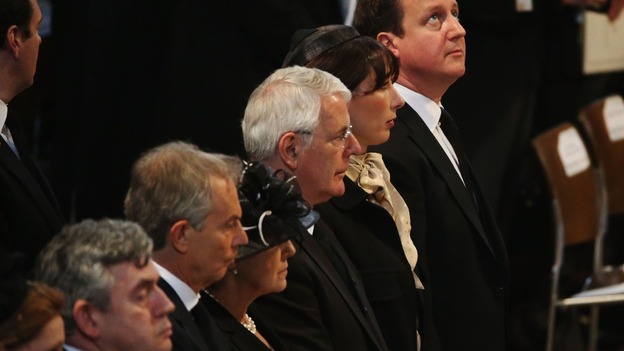 Former Prime Ministers and their spouses at Baroness Thatcher's funeral Gordon Brown, Tony Blair, Norma Major, John Major, Samantha Cameron and Prime Minister David Cameron.
Load more updates
Back to top