Chris Hoy announces retirement
Six-time Olympic champion Sir Chris Hoy has announced his retirement from competitive cycling at a press conference in Edinburgh.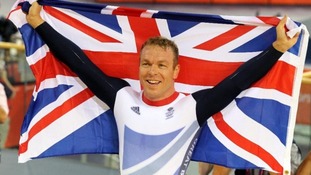 Great Britain's most successful Olympian, Sir Chris Hoy, has announced the end of his illustrious cycling career.
Read the full story
Chris Hoy's wife Sarra paid tribute to her partner on Twitter, writing:
I am in awe of Chris's achievements.His determination inspires me everyday to work harder, push further.Thank you all for supporting him.
Sarra, who married Hoy in Edinburgh in 2010, said they would be toasting his retirement later.She joked:
Just got ID'd buying the celebration alcohol. At least one of us doesn't look old enough to retire!
Advertisement
Sir @chrishoy has been an incredible ambassador for cycling, not only nationally but also globally. A huge inspiration throughout my career.
What a career for @chrishoy ! An true Inspiration and always up for a laugh!
All the best to @chrishoy in his retirement, place wont be the same without you! Inspiration to all..
Well, it's official; I've retired! I've been blown away by all your kind messages, thank you so much everyone. An emotional day!
Sir Chris Hoy's retirement marks the end of a remarkable career.His contribution to British sport & 6 Olympic golds will continue to inspire
Britain's most decorated Olympian, Sir Chris Hoy, has described being "lucky" to be part of the London 2012 Olympics and said he will enjoy being a spectator at the 2014 Commonwealth Games in Glasgow.
Advertisement
British Cycling's President Brian Cookson described Sir Chris Hoy's impact on the sport as "unparalleled" and said his achievements have inspired thousands of people to cycle.
Chris has always been a fantastic role model – his professionalism, passion for the sport and his determination to succeed at the highest level is central to the Great Britain Cycling Team ethos and is something that he has helped to foster amongst his colleagues as they look ahead to Rio. This truly does feel like the end of an era and we have a lot to thank Sir Chris Hoy for at British Cycling.
– Brian Cookson, British Cycling's President
Sir Chris Hoy said that the first thing he plans to do after retiring from competitive cycling was "to let it all sink in."
The 37-year-old told reporters said that in the immediate future he would be concentrating on his role as an ambassador for the youth Olympic bid for Glasgow for 2018 and for the Glasgow 24 team games next year.
He said he is also giving his time to Unicef and the Scottish Association for Mental Health and a range of other charities, as well as working on a range of bikes.
Sir Chris Hoy said he is stepping down today because it is time to let a younger rider shine.
He told reporters: "Nothing would have given me more pleasure than to continue on for another year, to be there in Glasgow to represent Scotland, to be part of the team.
"But I just feel that I don't want to be there just to make up the numbers I want to be there to be competitive and being objective about it I realise I got everything out in London, so I think it would be better to let a younger rider come through to give them chance to shine."
I am officially announcing my retirement from official competition today.

It's not a decision that I took lightly or came to easily but I know it's the right time.
– Sir Chris Hoy
Load more updates
Back to top