Banned Suarez up for award
Footballer Luis Suarez, who received a 10-match ban for biting Branislav Ivanovic at Chelsea last week, is nominated for the Players Football Association (PFA) Player of the Year.
The Sun has reported that Gareth Bale has won the PFA Player of the Year award for the second time, ahead of the official announcement tonight.
Banned Liverpool striker Luis Suarez has congratulated his teammates after they began the first of their 10 matches without him by recording the team's biggest win of the season.
Daniel Sturridge and Jordan Henderson both struck twice as the Reds claimed a 6-0 away win against Newcastle United.
Very happy with this great win!!! Congratulations to all my teammates!!!! YNWA!!!!
Advertisement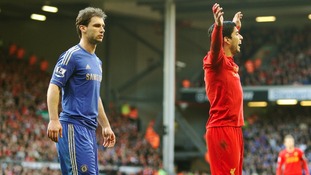 Luis Suarez failed to "fully appreciate the gravity and seriousness" of his bite on Branislav Ivanovic, an FA report concluded.
Read the full story
The FA said it compared the Suarez incident to two cases which may have required bans longer than three games.
January 2013: Chelsea's Eden Hazard kicking a ball boy (did not require longer ban)
March 2013: Brighton's Ashley Barnes tripping a referee (required six-match suspension)
It said it could not compare the incident to a 2006 incident involving Manchester City's Ben Thatcher and Portsmouth's Pedro Mendes because the latter was "serious foul play" while Suarez's bite constituted "violent conduct."
As a result, the FA said, the length of Suarez's ban had to be proportional to the six-game ban given to Brighton's Ashley Barnes:
(83) Taking these factors into account on the circumstances of the incident, we concluded that this offence is significantly more serious than that of Ashley Barnes' and, accordingly, the punishment should be significantly higher.
– FA statement
An FA statement noted that Suarez's punishment considered the danger of damage to the reputation of English football, including that the incident became "the top trend on Twitter worldwide".
(58) The FA submitted that Mr Suarez's action took place in the 65th minute of the match between Liverpool and Chelsea, two of the most distinguished and heralded clubs in England.

The match was televised live to millions of viewers both domestic and overseas. Within a few hours of the match, reference to the incident was both headline news around the country and the top trend on Twitter worldwide.
– FA statement
The FA said it wanted Suarez's punishment to "discourage any players at any level" from "attempting to copy" the player's actions:
(56) We agreed that the incidents of biting an opponent in football are very rare at the moment and, because of this situation, we need to ensure that it will remain so.

We have the responsibility for the whole game of football in England, down to the youth football at grassroots level. We believe it is our duty to discourage any players at any level from acting in such a deplorable manner or attempting to copy what they had seen on the television.
– FA statement
Advertisement
The Football Association released a statement explaining the decision to ban Luis Suarez for ten games.
It said his previous disciplinary record was not taken into consideration:
We did not take into consideration any previous Disciplinary Records of Mr Suarez and considered the offence in isolation.
It found that the Suarez's bite was clearly intentional and also "very rare":
(40) Whilst we could not reasonably be expected to consider or understand the state of mind of Mr Suarez at the time, it would be preposterous to conclude that it was not an intentional act.

(41) We found that biting an opponent in itself was extremely shocking, unexpected and truly exceptional. Whilst there are numerous violent conduct cases arising out of physical bodily contact between players, the incidents of biting an opponent are very rare.
In a statement on the Liverpool website the club's managing director said:
The charges against Luis were his to consider and we have to respect his decision to not appeal the 10-game ban.

We are all disappointed at the severity of the punishment and in particular the differing standards that have been applied across various previous incidents.

Luis is an important member of our team and nothing has changed in that regard.

We are committed to helping him improve his conduct and he will be given our full support. We look forward to him returning to the team next season when he is available for selection.
– Ian Ayre, LFC Managing director
Liverpool manager Brendan Rodgers said: "We can't hide our disappointment at the outcome of this situation, but we have to move on and support Luis in his decision.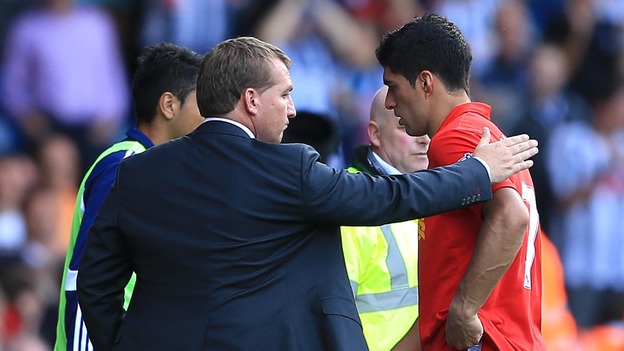 "Luis has made a huge contribution to the squad this season and we respect his decision to accept the ban.
"He will be missed for the remainder of this season and the early part of next, but we will have the opportunity to welcome a better person and player when he returns."
Liverpool striker Luis Suarez has released a statement explaining why he did not appeal against the 10 match ban handed to him by the Football Association.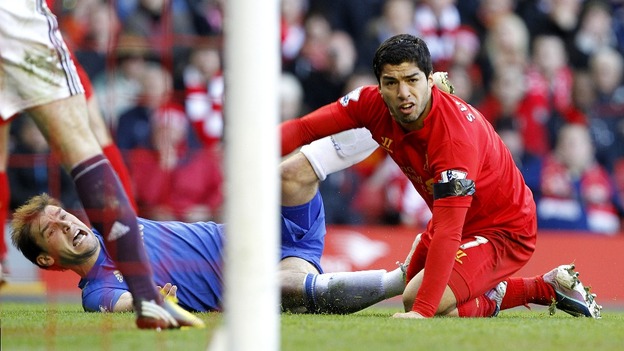 Luis Suarez said: "I would like to explain to everybody that I decided to accept the ban because whilst 10 games is clearly greater than those bans given in past cases where players have been seriously injured, I acknowledge that my actions were not acceptable."
"I do not want to give the wrong impression to people by making an appeal.
"I really want to learn from what has happened in the last 2.5 years, many things have been said and written about me, I just tried to do my best on the field. I hope to come back early to play."
Load more updates
Back to top