Weetabix hit by poor harvest
The cereal company Weetabix has been forced to stop production of its Weetabix Minis and Oatabix Bitesize due to last year's poor wheat harvest.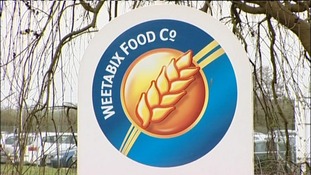 The cereal company Weetabix, based in Northamptonshire, has had to halt production on some products, after last year's poor wheat harvest.
Read the full story
In a statement Weetabix have confirmed that they have had to halt production of two cereals due to the impact of last year's bad weather on the wheat crops.
We can confirm that unfortunately due to technical issues we have been unable to make Weetabix Minis and Oatibix Bitesize to our exacting standards and have taken the decision to reduce production to resolve the issues.

This has meant a shortage of supplies of these products to the retailers.

This is a temporary reduction in production and we are working hard to fully restore normal capacity so our consumers can once again enjoy the products at their best quality.
The Weetabix Minis and Oatibix Bitesize range are made in a unique factory and no other produce made by The Weetabix Food Company are affected. We apologise for the inconvenience that this may have caused our consumers but assure them of our commitment to make great tasting nutritional breakfast cereals of the highest quality.

The problem is linked to the quality of wheat caused by the extreme wet and cold weather during last year's growing season. We remain committed to sourcing local wheat, weather permitting.
– Weetabix statement
Advertisement
Back to top