Firms back Bangladesh safety plan
The owner of TopShop has joined other retailers including Primark and H&M in signing up to a deal on better safety checks in Bangladesh aimed at preventing any repeats of the building collapse that left more than 1,000 workers dead.
Retail group Arcadia - which owns Topshop - have said they too have signed up to a deal on better safety checks in Bangladesh, but they sounded less than pleased that they only received a final copy of the accord late last night.
They added that Topshop has only bought £25,000 worth of goods from Bangladesh so far this year.
It follows commitments by several large retailers including Primark, H&M and Tesco to sign the accord.
Read: Bangladesh safety plan: 'A crucial victory for workers'
Wal-Mart has announced it will be conducting in-depth safety inspections at all 279 Bangladesh factories it works with, as pressure mounts on retailers to ensure worker safety after April's deadly building collapse in Dhaka, which killed more than a thousand people.
Advertisement
Ruth Tanner, campaigns and policy director at the anti-poverty charity War on Want, said companies signing up to Bangladesh Safety Accord represents a "crucial victory" for the "workers who make our clothes"
Thanks to global campaigns led by labour organisations and supported by hundreds of thousands of people around the world, Primark has followed H&M and Zara's Inditex by signing up to the Bangladesh Safety Accord.

This is a crucial victory in the fight for companies to take responsibility for the workers who make our clothes.

Safe working conditions for garment workers must be assured.

A tragedy like the Rana Plaza disaster cannot happen again.
– Ruth Tanner, campaigns and policy director at the anti-poverty charity War on Want
High street clothing retailer H&M has committed to a fire and safety plan in Bangladesh aimed at preventing any repeats of the building collapse that left more than 1,000 workers dead.
In a statement, the firm said it was committed to supporting the Accord on Fire and Building Safety in Bangladesh.
Fire and building safety are extremely important issues for us and we put a lot of effort and resources within this area.

H&M has for many years taken the lead to improve and secure the safety of the workers in the garment industry. Our strong presence in Bangladesh gives us the opportunity to contribute to the improvement of the lives of hundreds of thousands of people and contribute to the community's development.

By being on site, put demands on manufacturers and work for continuous improvements, we can slowly but surely contribute to lasting changes.
– H&M head of sustainability Helena Helmersson

The accord, over five years, is aimed at improving fire and building safety in the garment industry in Bangladesh to avoid a repeat of the tragedy.

The Rana Plaza building collapse is the latest in a series of deadly incidents in the country, whose garment industry supplies much of the western world.
Tesco confirmed it has signed an Accord on Fire and Building Safety in Bangladesh.
In a statement, the supermarket chain noted the "scale and horror of the disaster" that "has drawn the world's attention" and has "touched customers".
[Customers] have responded with empathy and deep concern, asking searching questions of their retailers. They want to know that this tragedy will change the industry in Bangladesh. Tesco did not use factories in the Rana Plaza building, but we are all responsible for ensuring we prevent another tragedy.

Today we are announcing that we will support the multi-stakeholder Accord on Fire and Building Safety, which aims to ensure good practice across the industry's 5,000+ factories.
– Tesco statement

The supermarket chain said that multinational retailers like Tesco, which source from Bangladesh, "must help it to change in a positive way, a way which sustains and improves the livelihoods of all those who work in the industry".
Retailer Primark has committed to signing the Accord on Fire and Building Safety in Bangladesh, it said in a statement.
A garment factory building in Dhaka - where a Primark supplier was based - collapsed on 24 April, killing hundreds.
Primark has committed today to signing the Accord on Fire and Building Safety in Bangladesh, initiated by the IndustriALL and UNI Global Unions.

Under the terms of this agreement, signatories commit to financing and implementing a joint fire and building safety programme.

This will include safety inspections, remediation and fire safety training at supplier factories.The programme will build on the National Action Plan on Fire Safety (NAP), which aims to improve fire safety in Bangladesh.
– Primark statement

Primark said the accord will "align its activities with the NAP, and ensure a close collaboration, including for example establishing common programmes, liaison and advisory structures".

The programme will "complement the work already being carried out by Primark's Ethical Trade team in Bangladesh for a number of years," the retailer said in a statement.
Advertisement
Nearly three weeks after a Bangladesh garment-factory building collapsed, the search for bodies has ended with a final death toll of 1,127.
Fire services and the army have left the Dhaka building site where the disaster occured on 24 April.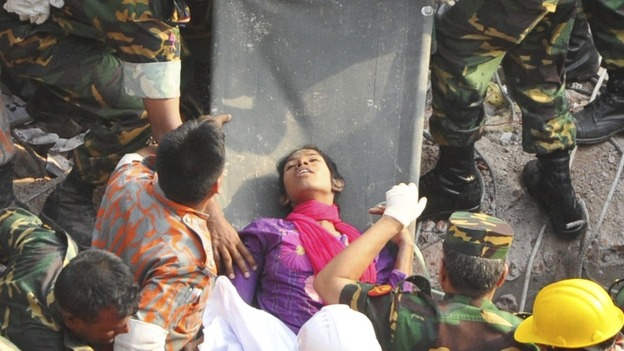 The last survivor was found on Friday, when rescue teams were stunned to discover Reshma Begum, a seamstress who survived under the rubble for 17 days.
The last dead body was found on Sunday night, and authorities said a special prayer service will be held Tuesday to honour the dead.
The collapse of the Rana Plaza building has focused global attention on hazardous conditions in Bangladesh's powerful garment industry.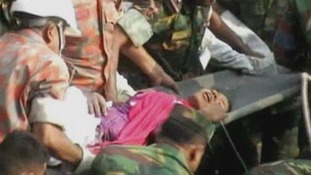 A young woman has been freed from the wreckage of a building in the Bangladeshi capital 17 days after its collapse killed hundreds.
Read the full story
Primark has said it is putting together a "comprehensive support package" for those affected by the building collapse in the Bangladeshi capital Dhaka:
The fate of all the employees in the entire complex has still not been confirmed and a list of employees has not yet been established because many records were destroyed when the building collapsed.

Immediately the company has a list of employees relating to its supplier, it will then be in a position to begin appropriate discussions on the practical implementation of this support ...
A recognised framework for paying compensation already exists, having been developed by trade unions and trade associations to deal with situations such as this. This framework has been accepted by leading NGOs. This means that compensation will be paid according to this pre-existing formula which is grounded in international insurance standards and local law.

A further comprehensive programme covering the immediate and long-term needs of the survivors and the dependents of the deceased is also being finalised. This programme will include medical and occupational rehabilitation.
– primark statement

Read: Western firms 'share blame' for Dhaka factory problems
A survivor who was pulled from a collapsed building in Dhaka today after 17 days has said: "I never dreamed I'd see the daylight again", the Associated Press reports.
The woman, believed to be called Reshma, is being treated in hospital.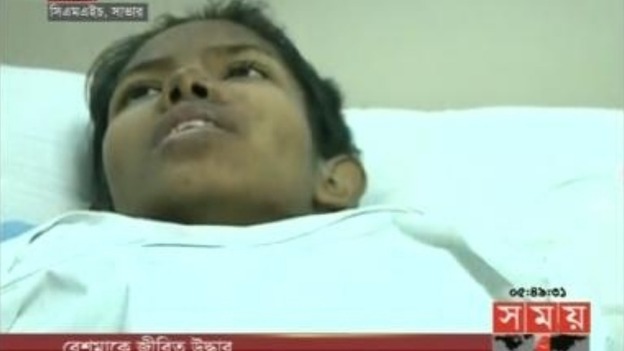 Load more updates
Back to top