Boyband JLS to split after tour
The boyband JLS is to split after six years together. In an online message to fans, they have said will bow out with a farewell tour and a greatest hits album. The group finished second in The X-Factor in 2008.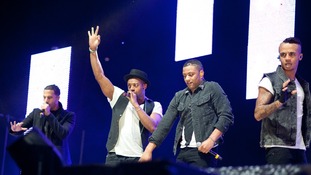 Fans of JLS are in shock over the news that the boyband announced they are to split. They said after 5 number ones it is time to separate.
Read the full story
There was devastating news for the fans of boyband JLS today after the group announced they are splitting up.
The X Factor 2008 runners-up will bow out with a farewell tour and a greatest hits album.
Sascha Williams reports:
Read: I want you back: Boybands who reformed after split
Advertisement
Alexandra Burke, who beat JLS in the X Factor 2008 final, tweeted that she had "tears in my eyes" over the boyband's split.
I'm speechless at my boys deciding to spilt. I honestly don't think it's that time for them. They have so much more to achieve..
I have tears in my eyes as I type this. My love for @jlsofficial is unreal. I will always support them and I wish them all the best...
Their talent speaks for itself... They will all go on to amazing things in life. Love you my bothers @jlsofficial xx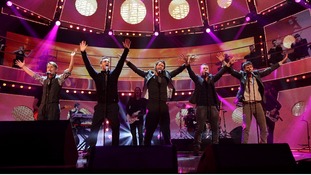 JLS fans may be upset that their idols split up today but do not worry, there is hope. Here are four bands who broke up but later reformed.
Read the full story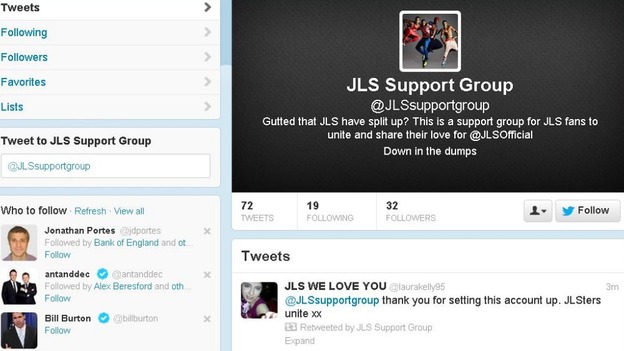 A support group has been formed on Twitter to provide a forum for JLS fans to "unite and share their love" for the band.
One follower commented that they were "crushed" to hear about the band's decision to split, while another wrote "those boys have so much more to offer the music business".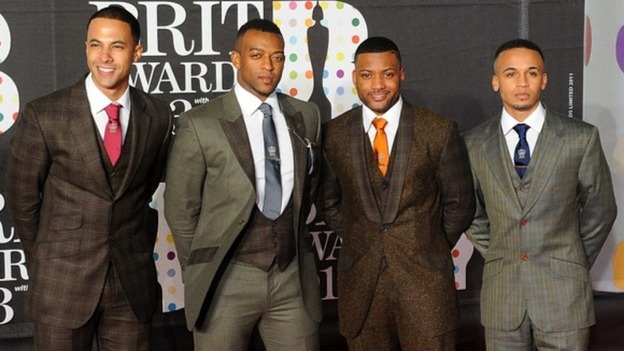 I asked the Prime Minister's spokesman whether David Cameron was disappointed that JLS were splitting up.
He said it was "a good question" but he had not managed to ask the PM about his music views this morning.
Read more: David Cameron appears in One Direction's Comic Relief music video
Advertisement
Boyband JLS, who announced they are set to split, have tweeted:
To our wonderfully heart felt fans, we've shared a phenomenal 5 years with you, memories that will never fade. Love you 4ever More! Ori????
JLSters, I'll forever be thankful for all you've done..we have to draw the positives from a sad time..it's been amazing!I love u all..Marv x
THANK YOU all for the happy sad stupid funny emotional exciting amazing supportive life changing times.. I love u!! Ax #AllLoveYourBoyInBlue
JLS has released a personal message to their fans this morning after it was announced the boyband is to split after a farewell tour.
To each and every JLSter, our beloved fans around the world. We wanted to make sure that you heard it from the four of us, that we have decided to bring our time as a band to an end.

It has been the most incredible journey over the last 6 years and we have achieved more things than we could have ever dreamed possible. Thanks to all of you guys, your support, your dedication and your love, you have changed our lives forever and we wouldn't be where we are today without you.
We are currently in the studio working on what will be our last album - Goodbye; The Greatest Hits. We will be bringing you a new single later in the year to coincide with the album and the tour.

Goodbye; The Greatest Hits Tour will be the last time that we will perform together as a 4 and we want to make sure that this tour is the best ever and that we end on a high! We will always remain brothers and friends and we will always be your boys.
– JLS STATEMENT

Read more of the message from JLS here.
The Sun newspaper's showbiz editor Gordon Smart spoke to Daybreak about JLS' rumoured split.
He said: "Normally in these kind of circumstances there has been some kind of fallout," he added, "In this case it is genuinely an amicable split.
"They're very mature, they've had everything planned from day one and I think they've just made the decision that it's best to part before there's a fallout."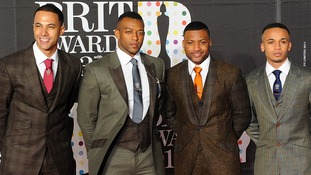 The boyband JLS are to split after six years together. They have said will bow out with a farewell tour and a greatest hits album.
Read the full story
Load more updates
Back to top