Faulty breast implant fraud trial
A British woman who had faulty PIP breast implants has given evidence at the fraud trial of the boss of the firm that sold 300,000 of the products.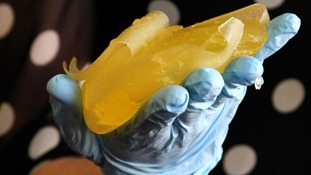 For the first time a British patient has given evidence against the man who ran the PIP company.
Read the full story
Today UK PIP implant patient Jan Spivey told the court: "within two years of having the implants I had severe symptoms, lost use of my left arm and shoulder and suffered severe inflammatory reactions."
At times she cried during evidence and said " the effect has been trauma for me, my friends and family....it was a terror....I was terrified I feel I have been poisoned"
She told the court she had spent time in hospital saying "my symptoms included change in breast shape and breast deflation....also sub tissue lumps"
In conclusion she said " I have to appeal to you to bring all those responsible for terrorising so many women, bring them to justice."
Advertisement
Jan Spivey was given PIP breast implants after having cancer, outside the court in Marseilles, where she is giving evidence in the trial of Jean-Claude Mas, Jan said she was, "heartbroken to see man who has created so much suffering to to many women."
The head of the French company that is accused of selling 300,000 faulty breast implants has gone on trial.
Here is a look back at the breast implant scandal:
Poly Implant Prothèse (PIP) was founded by Jean-Claude Mas in 1991.
Before the company went into liquidation in 2011, it is thought around 300,000 women were sold faulty breast implants.
Concerns were first raised in France over PIP's high rupture rate in 2009.
In 2010, France suspended the marketing, distribution, export and use of PIP implants.
The French government said it recommended all women with the implants to have them removed in late 2011.
A review ordered by the Health Secretary found that PIP implants were more likely to rupture or leak.
Mas offered an apology on April 24, 2013, for the implants, saying: "I apologise to the plantiffs for the gel used by PIP since 1992."
The Frenchman and four PIP executives face aggravated fraud charges and face five years each in prison.
Information from the Medicines and Healthcare products Regulatory Agency.
Before she gave evidence, Jan Spivey told me she was determined to speak for the 47,000 UK women who were given substandard PIP implants.
I watched as Jan, who had the implants after cancer, took to the witness stand. At times she cried, but remained clear and determined as she told the court:
I am here to appeal to you to bring all those responsible for terrorising so many women... To bring them to justice.

I was terrified, I feel I have been poisoned.
I am reporting today from Marseilles as, for the first time, a British woman gives evidence against PIP. The company's boss, who sold 300,000 faulty breast implants, is on trial here for aggravated fraud.
Jan Spivey had PIP implants after cancer and has suffered lumps, changes of breast shape and removal of lymph nodes after having them.
Advertisement
Back to top