Prince Harry thanks America
Prince Harry ended his US tour by thanking the people of America for their "extraordinary generosity". Harry spent his final day playing in his fund-raising Sentebale Polo Cup match.
The Prime Minister opened his address to business leaders by thanking the city authorities for "letting us bring that great Boris bus here to New York".
He said he had noticed the bus was taller than New York's traffic lights, which hang above the lanes of traffic, and said he was concerned they may "lose Prince Harry".
Pictures: PM and Prince Harry take the bus to New York event
The Prime Minister and Prince Harry arrived at a reception for British business leaders in New York City riding a Routemaster bus.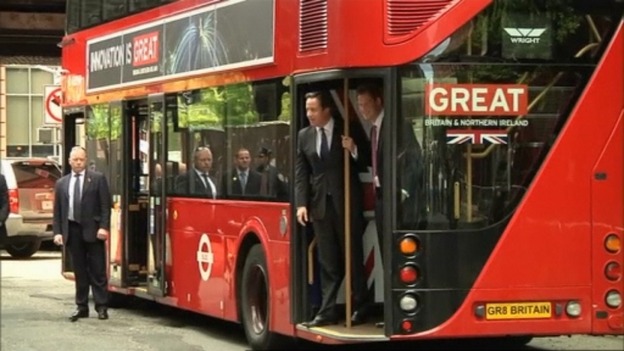 Earlier in the day, Prince Harry met survivors of Superstorm Sandy in New Jersey.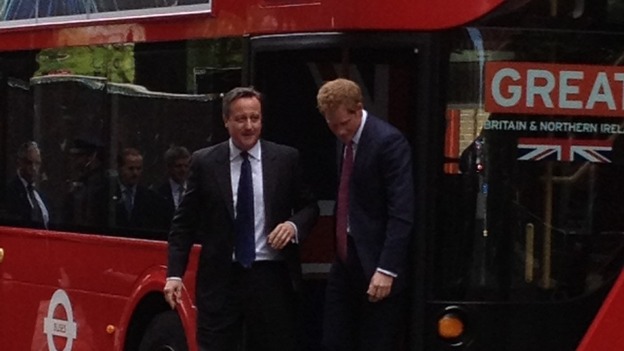 Advertisement
Prince Harry applauded the "American spirit" when he was asked by a reporter for his thoughts on seeing all the people who turned out to greet him in New Jersey.
Asked what difference his visit made to people recovering from Superstorm Sandy, he laughed and replied "none".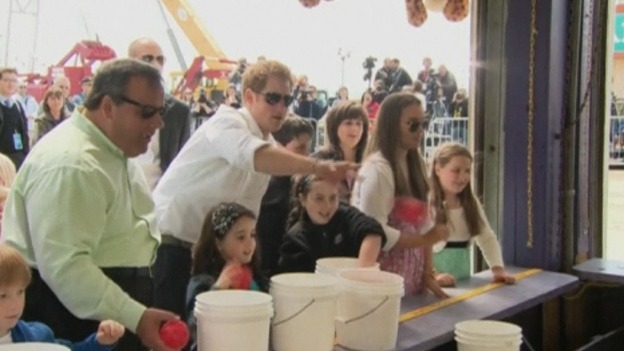 Prince Harry joined in several fairground games, helping one girl to win a large cuddly 'Hello Kitty' on one attraction.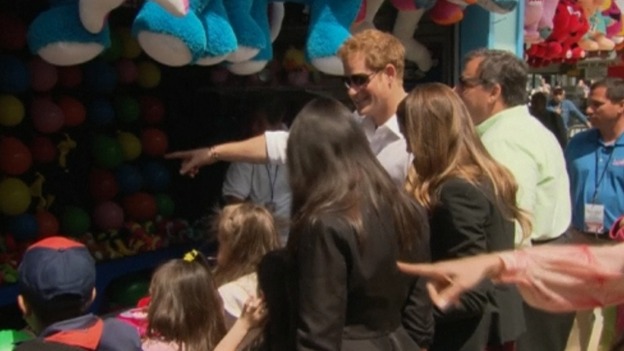 Prince Harry has arrived at Jersey Shore in the US state of New Jersey, where he will be meeting survivors of Superstorm Sandy and emergency services workers.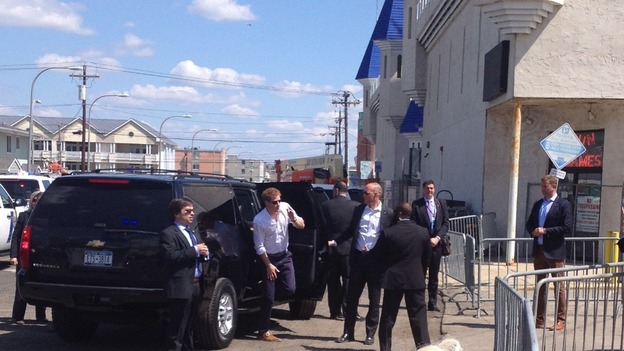 New Jersey governor Chris Christie has tweeted that he has welcomed Prince Harry to the state "the best way I know how - with his own Royal fleece".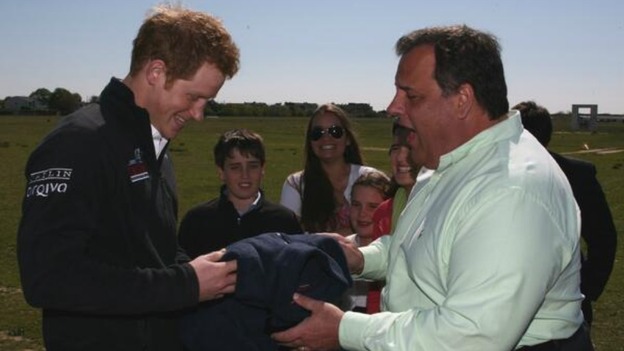 Advertisement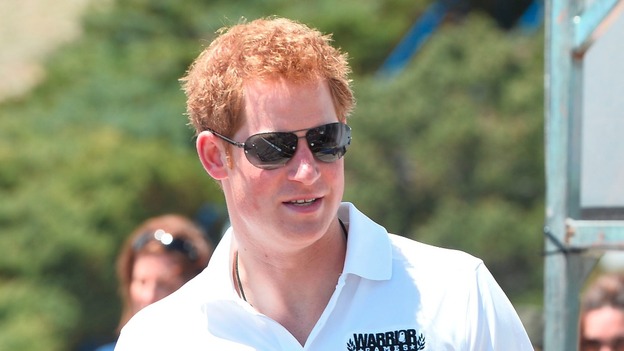 Prince Harry will today learn how survivors of Superstorm Sandy are rebuilding their lives, properties and businesses in New Jersey.
Coming to the end of his seven day tour of America, promoting British interests and his own charities, he will also attend a baseball event in the Big Apple as he promotes a sports programme involving his Royal Foundation.
Prince Harry took to the American football field on the latest leg of his US tour, prompting one coach to describe him as "a natural".
The US Air Force Academy's Falcon team even presented Harry with a team shirt, emblazoned with "Wales" on the back.
Getting in the spirit, the Prince joined a team of cheerleaders in a human pyramid as he promoted a sports event for injured servicemen.
ITV News Royal Correspondent Tim Ewart reports from the US:
Prince Harry started the first event of America's Warrior Games today as a leading Forces charity said it was determined to help the royal bring the championship to Britain.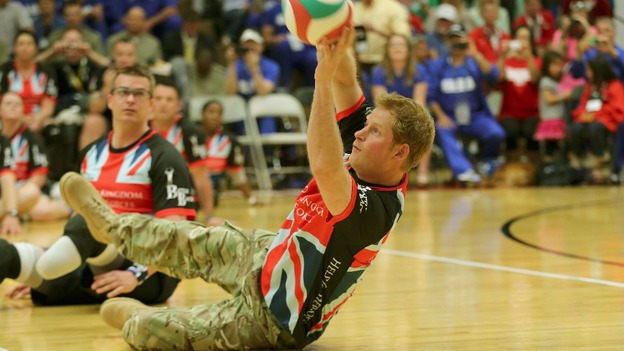 Harry, who is touring the US, was later given a tour of the air force base hosting the cycling races and also had an American football training session, during which he watched a display of gymnastics by the cheerleaders.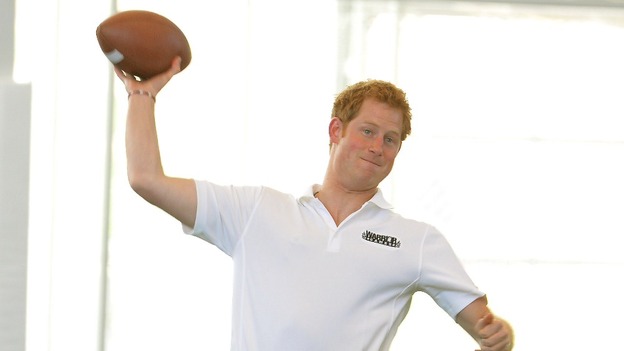 Before leaving he presented the medals in one of the women's cycle races, kissing the recipients on both cheeks.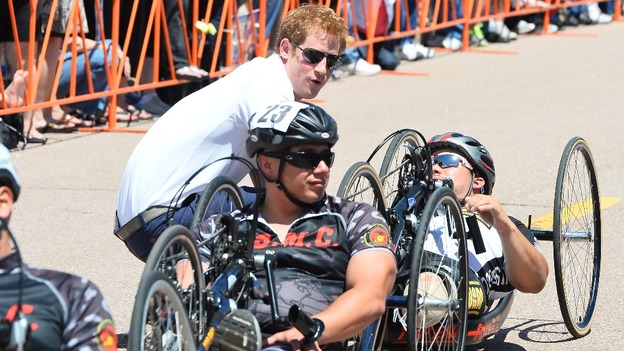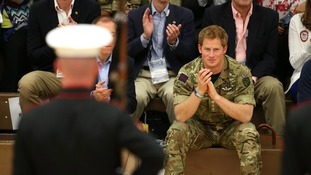 Prince Harry has opened America's Warrior Games - a sporting event for injured servicemen and women.
Read the full story
Load more updates
Back to top