Co-Op: No Govt help needed
The Co-op Bank has said "we haven't sought nor do we need government support" after the rating agency Moody's suggested it may need "external support" to help it absorb future losses. Its chief executive has resigned.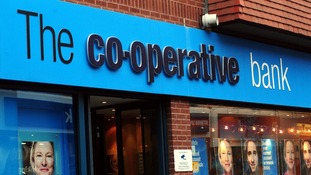 The C-operative Bank has insisted it does not need a taxpayer bailout after ratings agency Moody's downgraded it to 'junk' status.
Read the full story
The Bank is part of The Co-operative Group, the UK's largest consumer co-operative and includes Smile internet bank and Britannia.
The Bank has around 5.5 million customers.
It offers a range of financial products, including current accounts, savings accounts, credit cards and loans.
There are over 300 branches across England, Scotland and Wales.
Advertisement
In light of today's news, we would like to reassure customers and members that we haven't sought nor do we need government support
The Co-operative bank has issued the following statement after its recent Moody's rating agency downgrade.
The bank's chief executive has announced his resignation.
We are disappointed by the ratings downgrade announced by Moody's. We have a strong funding profile and high levels of liquidity, which are significantly above the regulatory requirements.

We do acknowledge, like the rest of our banking sector peers, the need to strengthen our capital position in light of the broader economic downturn and the pending introduction of enhanced regulatory requirements, and we have a clear plan to drive this forward throughout the coming months.
Our banking business is already characterised by excellent levels of customer service and advocacy, as recently highlighted in reports by YouGov and uSwitch.

Our primary current account base in recent years has enjoyed significant growth. The actions we will now take to strengthen our balance sheet and simplify our business model around a core relationship banking offer, will create a compelling co-operative banking business which is truly distinctive within the banking sector.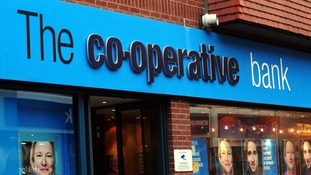 The Co-Operative Bank's chief executive has resigned after Moody's downgraded its debt to junk status.
Read the full story
Moody's has downgraded the Co-op Bank's bonds to junk after losses in its real estate business and weakness inthe rest of the bank to survive such shocks. The head of the bank has "stood down".
Co-op pulled out of the deal to buy Lloyds branches last month.
Advertisement
Back to top