Cable: EU vote bill 'damaging'
The Lib Dem Business Secretary Vince Cable has criticised Tory backbenchers' moves for an EU referendum Bill, as "just reopening a Pandora's box which potentially is not only damaging to them as a party, but it is damaging to the country."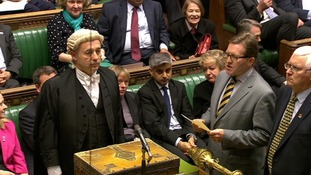 114 Conservative backbenchers have voted in favour of a eurosceptic motion to amend the Queen's Speech in defiance of the Prime Minister.
Read the full story
Foreign Secretary William Hague has denied being embarrassed that 114 Conservative MPs voted in favour of an amendment to the Queen's speech, insisting it was a "free vote".
He added that the "whole [Conservative] party would like to be able to proceed with legislation" for an EU referendum, but that it was constrained by its Lib Dem coalition partners.
Advertisement
The Press Association has a breakdown of the MPs who voted for a Tory MP's amendment to the Queen's Speech expressing regret that David Cameron had not included an EU referendum bill in its legislative plans for the upcoming year:
114 Conservatives
12 Labour
One Lib Dem
Four DUP
188 Conservatives did not vote. Tory members of the Government were told to abstain.
This vote is a further devastating blow to the Prime Minister's authority.

It demonstrates that David Cameron has managed to turn a Europe issue into a leadership issue.

This is a Prime Minister who has lost control of the agenda and tonight lost control of his Party.

David Cameron's backbenchers have shown they simply won't give up until he gives in.

The real risk is that he spends the coming month trying to get his party back in line, instead of focusing on getting our economy back on track.
– Shadow Foreign Secretary Douglas Alexander
Foreign Secretary William Hague has said that if any MP - Tory or otherwise - decides to take up the Private Members' Bill on an EU referendum, then the Conservative party "will get behind that".
But he added that he was not "predicting that legislation can necessarily be passed".
Richard Corbett, who advises the European Council President Herman Van Rompuy, has said that Brussels sees tonight's vote as an internal debate, adding that "some would say [it is] an internal debate within one particular party".
Speaking to BBC News, he likened Britain leaving the EU to "economic suicide" and said that 3.5 million jobs would directly suffer.
Advertisement
"Where now?" I ask John Baron MP after the vote. "How much longer will you bang on about an EU referendum?"
He replies that he will keep going until there is legislation for an EU referendum.
The Conservative MP John Baron tells me 115 Tories supported his amendment expressing regret that the Government had not included an EU referendum Bill in the Queen's Speech.
Watch: John Baron says the PM's draft EU bill shows he is listening to party
An unexpectedly high 130 MPs voted in favour of an amendment to the Queen's Speech to express regret that an EU referendum Bill was not included today.
A number of Conservative MPs are identifying themselves as having voted in favour of the amendment to the Queen's Speech on Twitter.
Just voted for amendment "regretting" the lack of EU referendum bill in the Queen's Speech
I voted 4 an EU Referendum. I trust the public to have an informed debate & crucially the final say, only the Conservatives can deliver this
I voted for amendment regretting lack of EU Referendum Bill in Queen's Speech - I believe my constituents deserve a say on the EU
Load more updates
Back to top