David Beckham to retire
David Beckham said he will retire from professional football at the end of the season. He said: "I feel now is the right time to finish my career, playing at the highest level."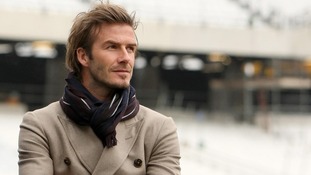 With professional football now behind him and money not an issue, what could David Beckham turn his hand to now?
Read the full story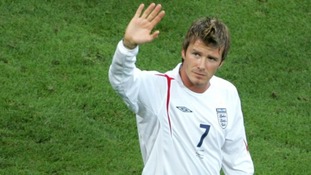 Former England captain David Beckham announced today that he will retire from football at the end of the season.
Read the full story
Advertisement
Phil Neville has paid tribute to his former England and Manchester United team-mate David Beckham, following the announcement of his retirement.
The Everton captain told ITV News he believes Beckham will continue to influence the game of football long into his retirement.
PR and brand consultant Mark Borkowski said "Brand Beckham" showed no signs of flagging despite the footballer's retirement:
Whatever David Beckham chooses to do it's going to make news. There's still gold to be plundered.

It's not about how successful he is on the pitch and it hasn't been for some time.

Forget all the footballing iconography and him posing in his underpants, he's a very powerful figure in terms of charitable causes. All sorts of causes could benefit from his brand.

But while he's still got his looks, youth and energy I think he will be linked more to media than perhaps causes.
– Mark Borkowski
Victoria Beckham said she and husband David were "excited about the next chapter in our lives" after the footballer retired today:
The children and I are so proud of David, it's been an incredible journey for us all as we have watched him play at clubs all over the world throughout the last 15 years.

This was not an easy decision to make, and to me and the children he will always be an amazing sportsman and a devoted husband and father.

He is, and will always remain, a true ambassador for sport and is not just an inspiration to myself and our children but for millions of people worldwide.

We are all excited about the next chapter in our lives and the adventures we will explore as a family.
– Victoria Beckham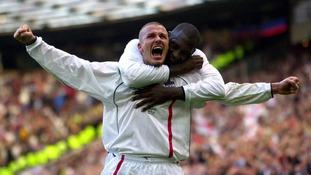 A look back at the career, on and off the field, of the world's most recognisable footballer.
Read the full story
Advertisement
London
Noel Gallagher tells Lucrezia Millarini that David Beckham should take up songwriting now he has announced his retirement from football.
The owner of Paris Saint-Germain said he hopes David Beckham will still have a role to play at the club after his retirement.
PSG President Nasser Al-Khelaifi said:
I am very sad, I would have loved to see him play one more year in the colours of Paris Saint-Germain.

I want to wish him, personally but also in the name of the club, the best for his future projects.

It was an immense honour convincing him to join Paris Saint-Germain last January, watching him bring his exceptional talent to the team and to know that the last jersey he will wear will be ours.

We are discussing the possibilities to keep working together at Paris Saint-Germain.
– PSG President Nasser Al-Khelaifi
In the first interview since his retirement, David Beckham told his close friend and former Manchester United team-mate Gary Neville he felt it was the "right time" to quit football.
He is a fantastic footballer and a fantastic person. All over the world you say 'David Beckham' and people know who that is.
– Former England coach Sven-Goran Eriksson
Load more updates
Back to top