A&E doctors warn over care
Top A&E doctors have warned the NHS that they are no longer able to guarantee safe care for their patients.
The shadow health minister Jamie Reed has said Jeremy Hunt's admission that A&E departments need more staff was "shocking" in light of the "chaos" and job losses his government has presided over.
This is a shocking admission from Jeremy Hunt - his Government has presided over the loss of 4,500 nurses since the election, and now he says that more A&E staff are needed.

With A&Es in crisis and the NHS in chaos following the Tories' £3 billion NHS reorganisation, it's time Ministers accepted responsibility and got a grip. The NHS is just not safe in David Cameron's hands.
Watch: 'More A&E staff needed' to deal with growing demand, says Jeremy Hunt
The College of Emergency Medicine, who last week warned that A&E departments are on the verge of collapse due to chronic understaffing and increased numbers of patients, has welcomed Jeremy Hunt's comments that more staff are needed to cope with demand.
In a statement they said:
The College welcomes the Secretary of State's statement that Emergency Departments are understaffed and under resourced. We look forward to working closely with his department and NHS England to help address the present workforce crisis in Emergency Departments.
Watch: More A&E staff needed to deal with demand, says Health Secretary
Advertisement
Today's admission by Health Secretary Jeremy Hunt that A&E departments need more staff in order to cope with growing demand for services comes after the College of Emergency Medicine warned that chronic understaffing levels is putting patients at risk.
Read: A&E collapse fears as departments 'struggle to cope'
The report found that departments are struggling to cope with "unsustainable workloads" as the amount of people visiting A&E increased by one million last year, bringing the total to 18,300,190.
Read: Widow's husband dies 'after ambulances unable to respond'
I was with Jeremy Hunt this morning when he visited Kings College Hospital in London and I asked some questions about the pressures on A&E Departments, which he recognises.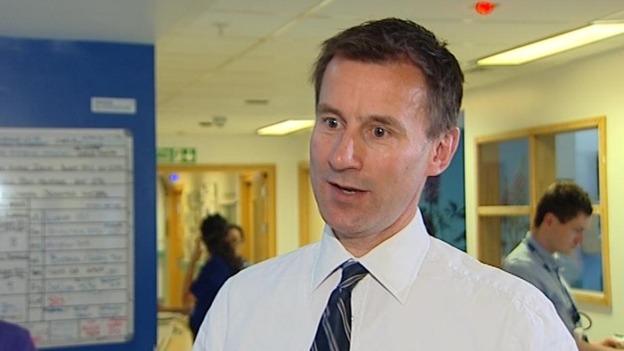 The Health Secretary believes much of the pressure in A&E departments is because the last Labour government allowed GPs to withdraw from out of hours schemes, which Labour hotly disputes.
And I think we can expect to see him tackling that issue very soon, perhaps as early as next week.
The Health Secretary says he wants to see more staff on Accident and Emergency departments.
He told ITV News that even though there were 6,000 more doctors than at the time of the last election, more staff were needed to cope with a surge in demand.
Load more updates
Back to top