BA engine doors 'left unlatched'
An interim report says engine-covering doors on both engines on the smoke-trailing British Airways plane in last week's Heathrow landing drama had been left unlatched during maintenance.
A passenger onboard the British Airways flight that was forced to make an emergency landing at Heathrow Airport captured this dramatic footage of the touch down.
A large section of the casing around the left-side jet engine appears to be missing, although problems with the right-side engine reportedly caused the plane to land.
London
A caller to LBC 97.3 named Aiden, said he was driving to Heathrow this morning and had to "hit the brakes" as he was worried debris might fall from the plane.
He told presenter Nick Ferrari:
"I thought to myself it was just the swirl of the wingtips and then I thought it was just too much for one side and I realised it was smoke.
The plane's coming right over the top of my head and I've had to brake because when I saw the right-hand starboard engine, it's just all blackened ... I didn't know if anything was going to fall off it. I've had to hit the brakes to make sure we don't coincide."
Advertisement
Customers and crew onboard a British Airways aircraft that returned to Heathrow this morning are safe and well after being evacuated from the aircraft.

Flight BA762 departed Heathrow at 8.16am and returned to Heathrow at 8.43am due to an engine technical fault.

The Airbus A319 aircraft was carrying 75 customers and five crew.

The aircraft landed safely and cabin crew evacuated customers using emergency slides.

Airline colleagues are now caring for customers in the airport terminal.
There is likely to be disruption to other flights today into and out of Heathrow.

Customers are advised to check ba.com for information about their flights before departing for the airport.

The airline has begun a full investigation into the incident and is working with the Air Accident Investigation Bureau to establish the cause.
– british airways
Heathrow Airport said both its northern and southern runways have been reopened.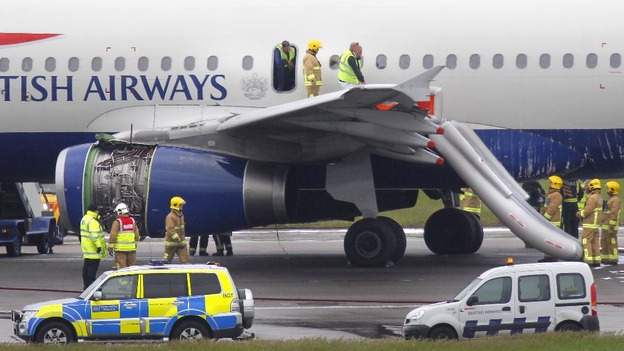 A spokesperson said 186 flights have been cancelled following the emergency landing of a BA flight.
This amateur footage claims to show the British Airways flights being sprayed with a flame retardant after its emergency landing.
ITV News cannot independently confirm its veracity. There is no sound.
Metropolitan Police have said they are not treating the emergency landing at Heathrow Airport as a terrorist incident.
Police at #Heathrow assisted in the response to the emergency landing. It is not being treated as a terrorist incident at this time.
Advertisement
The London Fire Brigade has left Heathrow Airport after successfully putting the fire out on a BA aircraft:
Our crews have left the scene of the aircraft incident at Heathrow. Thankfully all passengers and crew were safely evacuated.
Heathrow Airport's northern runway remains closed after a BA flight was forced to make an emergency landing.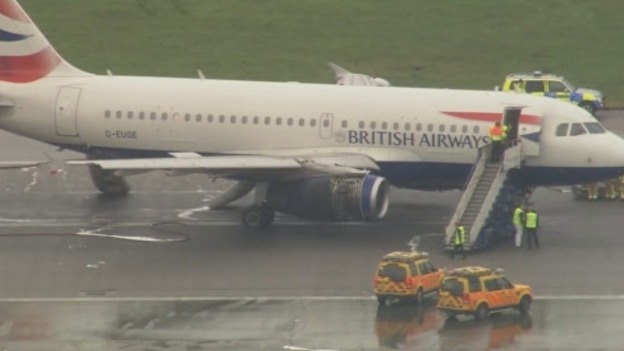 After the BA flight landed, emergency vehicles surrounded the plane and emergency chutes were deployed.
We have treated three patients for minor injuries following the aircraft incident at Heathrow Airport this morning
Eyewitness Manjit Gahir captured this video that appears to show smoke billowing from the British Airways flight moments before it made an emergency landing.
Load more updates
Back to top