Russian air missiles for Syria
Russia's deputy foreign minister has confirmed that Moscow will provide Syria with state-of-the art air defence missiles to prevent foreign intervention in the country.
Baroness Ashton, the EU's foreign affairs chief, said that any arms sent to Syria would be "intended for the protection of civilians."
William Hague said there was "no immediate decision to send arms."
The EU arms embargo on the Syrian opposition has ended but there is "no immediate decision" to supply weapons, William Hague said tonight.
Right EU decision tonight. Arms embargo on Syrian opposition ended. No immediate decision to send arms. Other sanctions remain
Advertisement
EU governments have failed to reach an agreement on easing an arms embargo on Syria to help rebels fighting President Bashar al-Assad, Austrian Foreign Minister Michael Spindelegger said today.
"I regret that after long talks it was not possible to find a compromise with the UK and France," he said.
EU foreign ministers have been meeting in Brussels to bridge their differences over the issue, with Britain and France pushing to allow European governments to deliver arms.
Discussions are continuing into the evening.
As William Hague meets EU foreign ministers today, he should be asking both is it legal, and is it advisable to send arms to Syria's rebels.

How would the Government prevent British-supplied weapons falling into the wrong hands, and how does supplying weapons help to secure a lasting peace?
Syria today is awash with arms and in the House of Commons last week MPs on all sides expressed real concern about the identity, intent and tactics of some of the rebel forces.

In Washington the Prime Minister clearly failed to convince president Obama of his case, so today in Brussels the UK's use of the veto would confirm that the Prime Minister had also failed to convince our European partners.
– Douglas Alexander, Shadow foreign secretary
William Hague says the "limits are being reached" in Syria. The Foreign Secretary spoke as he arrived for a meeting with EU Foreign Ministers in Brussels. He wants to find common ground while pushing for the European Union's arms embargo on Syria to be lifted.
We are concerned that supplying arms to the opposition won't level the playing field, in fact it will fuel a deadly arms race that will have even worse consequences for civilians.

The millions of people suffering in Syria right now don't need more arms, they need aid.

Providing more arms in times of conflict is simply adding fuel to the fire, it's fanning the flames of conflict and making the situation much worse.
– Anna Macdonald, Oxfam, speaking to BBC Radio 4
Advertisement
The current embargo on Syria expires at the end of the month
Europe's Foreign Ministers are due to thrash out a replacement package of measures
The UK and France will argue for changes to allow the supply of arms to "moderate" rebels
But other European nations are concerned about the danger of weapons falling into the wrong hands
The UK will push for the European Union's arms embargo on Syria to be lifted to allow the potential supply of weapons to forces opposed to Bashar Assad's regime.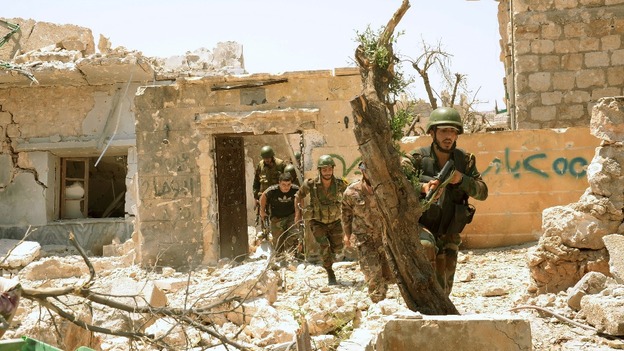 At a meeting in Brussels today, Foreign Secretary William Hague will argue there is a "compelling" case for easing the restrictions in order to strengthen the rebels' position.
Load more updates
Back to top