NHS tax avoidance investigated
Major accountancy firms stand accused of helping NHS Trusts in England avoid paying tax, ITV News can reveal. HMRC are to investigate the use of tax avoidance schemes when NHS Trusts pay agency medics in order to escape paying VAT.
Catherine McKinnell MP, Labour's Shadow Exchequer Secretary to the Treasury, responded to claims that some NHS Trusts have been using tax avoidance schemes.
It's deeply concerning that not only is the corporate world being advised on complex schemes to avoid tax owed, but this activity appears to extend to the public sector too.

The NHS has clear guidance that it should not enter into any schemes the primary purpose of which is to avoid tax, yet these allegations suggest that is exactly what has been taking place.

Treasury ministers should be conducting an investigation into these allegations as a matter of urgency, including whether these type of VAT avoidance schemes are more widespread in the public sector than just the NHS.
Financial services firms PricewaterhouseCoopers (PwC) and Liason released a statement in response to a report on ITV News regarding alleged tax avoidance among NHS Trusts:
STAFFflow is a service run jointly by PwC and Liaison that helps NHS trusts manage the recruitment of locums.

PwC provides consulting, pensions and tax advice. Liaison manages the day to day support and administration of the service.

Trusts using the service will engage locums directly, rather than use agency staff, with STAFFflow providing payroll and other HR support.
This direct contracting gives trusts greater visibility of and control of their recruitment costs - for example they can see exactly how much a locum is being paid and how much is going to the recruitment agency - and helps them manage their workforces more effectively.

There is a reduction in agency costs on which VAT is chargeable, as there is for any organisation employing someone directly rather than using agency staff.
Advertisement
Internal documents show Sherwood Trust boasting about savings they have made, saying by 'implementing the PwC VAT Liaison Model, commonly referred to as a VAT avoidance scheme….because the shift was covered by an employee or by a limited company the trust is not liable for VAT'.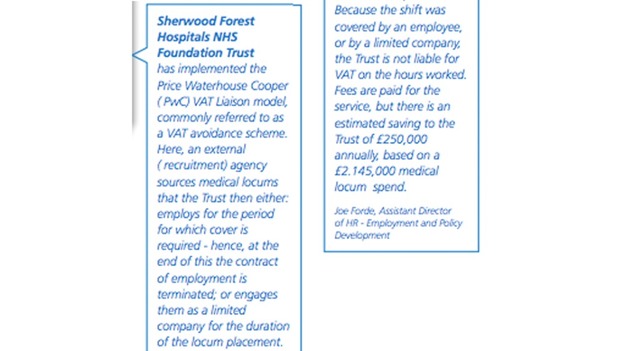 Kevin Green, Chief Executive of the Recruitment and Employment Confederation, told ITV News: "In reality we can't see any other benefits to the NHS other than avoiding tax."
HMRC is aware of this issue and we are actively looking into it to ensure the right tax is paid. A placement for a period of one or a few shifts is clearly not consistent with a contract of employment but, rather, a supply of staff by the agency, liable to VAT in full.

NHS Trusts can either employ people and assume the responsibilities that go with that or use agency staff and incur VAT in full. That choice is for NHS managers but the VAT rules are clear.
– HMRC Spokesperson
We discussed in detail the tax treatment of STAFFflow with HMRC when we started the service two years ago. HMRC agreed the position and have raised no concerns subsequently.
– PwC spokesperson
Advertisement
MTW has taken many steps to reduce its reliance upon expensive and inconsistent agency clinical workers.The replacement of these workers by bank employees paid through our payroll is better for our patients.
– Maidstone and Tunbridge Wells NHS Trust spokesperson
These tax schemes can be complex, and because of this, we have asked the for Treasury to provide clarity to NHS organisations on the implications of using them so they can plan budgets and ensure as much as possible is spent on patient care.

We hope they will be able to dothis as soon as possible.

Because this scheme is relatively new it would always be advised for NHS organisations to seek professional advice before proceeding with it to ensure it is not going against best practice.
– NHS Employers Organisation spokesperson
NHS trusts must adhere to current employment and tax legislation. HMRC is aware of the issue and actively looking into it to ensure the right tax is paid.

In the interim, VAT schemes are legal but trusts should think long and hard about their arrangements and make sure they are always in the public interest.
– Department of Health spokesperson
Margaret Hodge, the chair of the Public Accounts Committee, told ITV News: "I understand why they are tempted to go down this route but they are wrong. They should not be engaging in aggressive tax avoidance.
"I have to say the people who benefit from this are the accountants who have set up this system and they are taking money out of the NHS, out of direct services...and pocketing it and that is tax payers' money."
Laura Kuenssberg: NHS Trusts in England accused of avoiding tax
Load more updates
Back to top