Smethwick blaze CCTV released
West Midlands Fire Service has released CCTV footage of the moment it believes a Chinese lantern floated into a recyling centre in Smethwick, starting a huge blaze
Firefighters are still battling to bring the Smethwick blaze under control amid the devastation, with some standing on the remains of burnt recycled material to hose down the fire.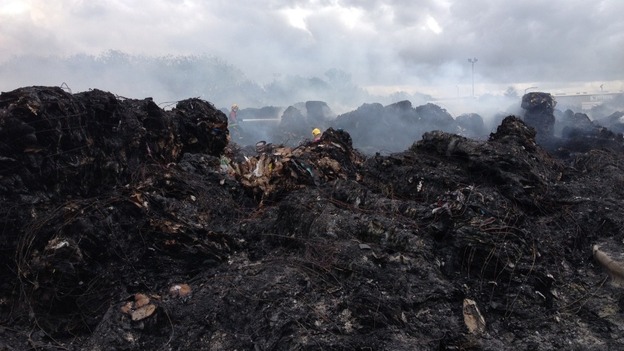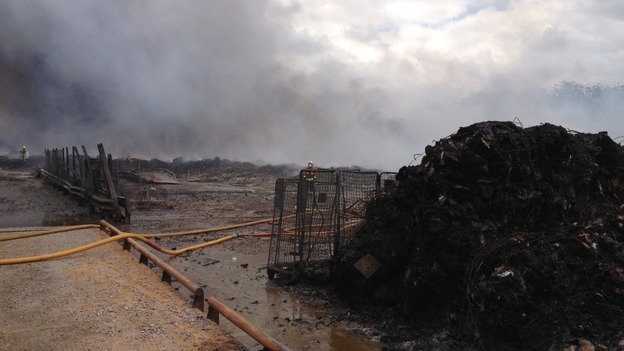 West Midlands Fire Service said firefighters have reduced the blaze in Smethwick to a third its original size.
Our firefighters have now managed to get the #smethwickfire down to a third the size of what it was at its height. But still loads to do...
Advertisement
West Midlands Fire Service has called for an urgent review of the legislation regarding the use of "airborne fire lanterns".
There is evidence of them causing fires, wasting emergency services' time, being mistaken for distress flares, misleading pilots and causing environmental damage.They also pose a risk to livestock, agriculture, camping activities, recycling sites and hazardous material sites.

The risk of further fires can only increase as the lanterns become more popular.

We do not support the use of these devices, and ask that members of the public and event organisers stop using them.
– West Midlands Fire Service statement

The brigade posted a statement on its website in response to what it described as "one of the biggest fires in its history in Smethwick, believed to have been started by a Chinese lantern at around 11pm last night.
Central
Twitter users have taken to the social networking site, reflecting the size and extent of the fire in Smethwick:
Fire still burning at Jayplas Recycling Plant in Smethwick - thoughts are with the 11 injured firefighters.
Ash cloud only just starting to clear from Smethwick & we're a good 5/10 miles away in Aston it was like it was a minute away was that bad.
Can actually see the smoke from the Smethwick fire on my road. I don't even live in Smethwick? #massivefire
Central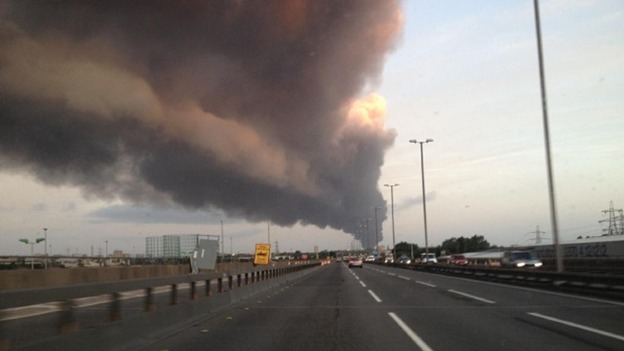 Advertisement
Central
The West Midlands Fire and Rescue Service has confirmed that 100,000 tonnes of recycling material is ablaze in Smethwick.
That equates to:
Four HMS Ark Royals at 22,000 tonnes each
769 Boeing 747s
More than 13 Eiffel Towers
Chief Fire Officer Vij Randeniya, says CCTV cameras nearby have picked up a Chinese lantern landing on the recycling plant on Dartmouth Road.
Central
A total of 11 firefighters have been treated by ambulance crews for a variety of minor injuries, include heat exhaustion and minor burns.
Local residents continue to be asked to keep doors and windows shut as a precaution, but there is not thought to be any risk to health from the fire.
– West Midlands Ambulance Service spokesperson
Central
The Chief Fire Officer for the West Midlands Fire Service, Vij Randeniya, has announced that the Smethwick blaze was caused by a Chinese lantern landing on recycling material.
The lantern, which is yet to be investigated by West Midlands Fire Service, was caught on CCTV hovering over the plant on Dartmouth Road.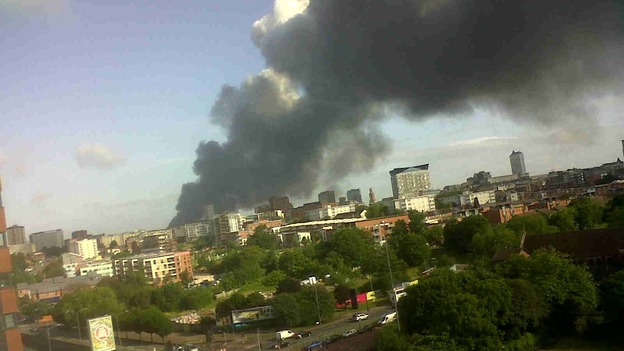 West Midlands Fire Service has confirmed 10 firefighters received treatment at the scene.A spokesman said two were taken to hospital - one with an eye injury and another with an ankle injury.Eight more were treated at the scene for minor heat-related injuries, he added.
A spokeswoman for Birmingham Airport confirmed the Smethwick blaze was not affecting flights.
She said: "Operations are continuing as normal and the fire has had no impact on any of our services."
Load more updates
Back to top