Bank's interest rise warning
The Bank of England, under the new leadership of Mark Carney, has hinted that the interest rate might not rise in the near future. The rate remains at 0.5% - unchanged since March 2009. It also suggested inflation "will further rise in the near term"
Leading UK shares have rallied after new Bank of England Governor downplayed an imminent interest rate rise.
FTSE shares rose in anticipation of the further continuation of cheap borrowing costs, with the FTSE 100 index gaining an extra 45 points to 6,345.
Sterling also fell, immediately dropping a cent and a half against the dollar to $1.5141.
In a rare statement, the Monetary Policy Committee (MPC) which sets rates said: "the implied rise in the expected future path of Bank Rate was not warranted by the recent developments in the domestic economy."
Investors have reacted quickly to Mark Carney's hint over the interest rate: the pound has weakened by 1.3 percent, the FTSE index of the top 100 companies is up 1.8 per cent.
Advertisement
The new Bank of England Governor is hinting that the Bank might not raise the interest rate for some time.
Read the full story
The Bank of England makes no change to monetary policy, as expected - the interest rate is still at a record low and Quantitative Easing is at the same levels.
But the Bank has warned that inflation will rise in the near term but will fall back later.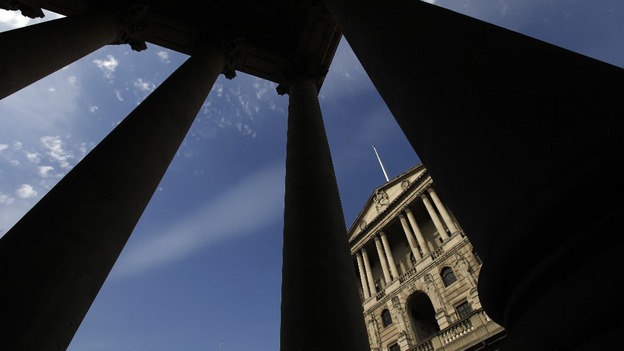 The Bank of England (BoE) has kept the interest rate at 0.5%.
The rate has remained unchanged since March 2009.
The rate decision is the first since Mark Carney took over as Governor of the Bank of England on Monday.
The Bank also left the scale of its quantitative easing (QE) programme to boost the money supply unchanged at £375 billion.
Back to top